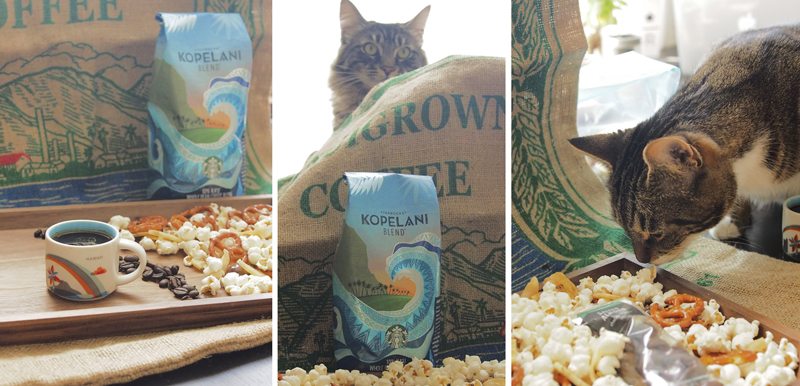 Introducing you to Kopelani Blend.
Melody, August 6, 2016
4
3 min

read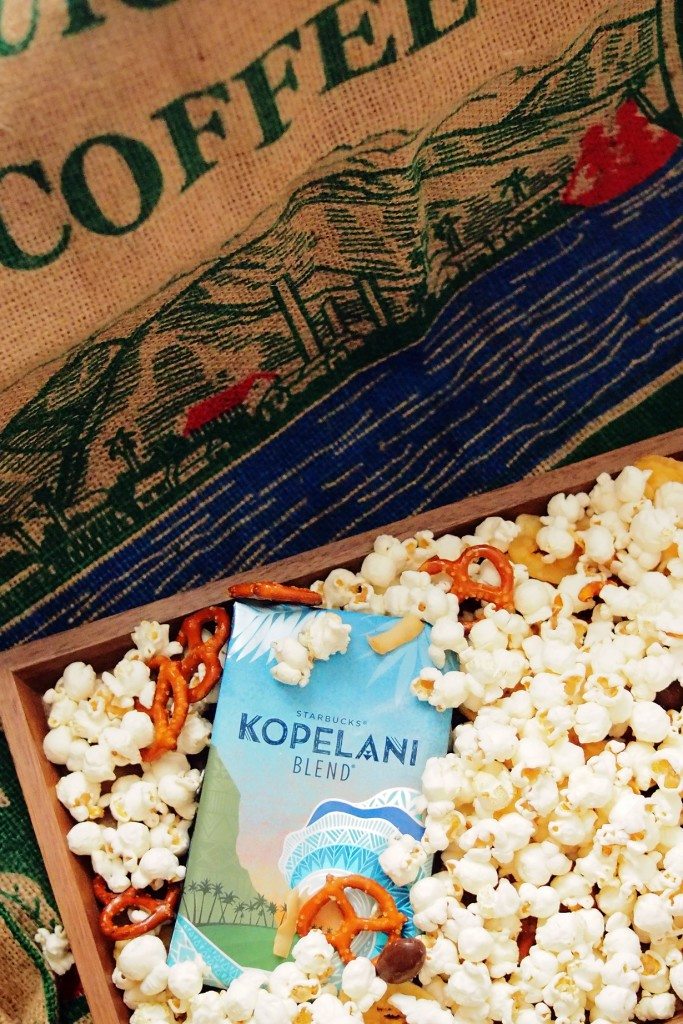 Starbucks Kopelani Blend is here.
You can buy it now on StarbucksStore.com online here. (It will be available in Starbucks stores everywhere on or about August 9, 2016).
My good friend, Jocelyn (also known as TheModernBarista.com) tried Kopelani blend and paired with a tropical popcorn mix. I'm going to pass on her news article:
"Once again, Kopelani has returned to Starbucks stores. This tropical inspired blend made its debut in 2008, exclusively on the Hawaiian islands. A blend of coffees from East Africa, Latin America and 10% Kona coffee, the name Kopelani translates to heavenly coffee, and this coffee definitely lives up to its name.
This year's blend of Kopelani is a bit different. The 10% Kona has been swapped out for 10% Ka'u, and the roast intensity has been turned way up! This dark roast has roasty sweet and caramel notes, and is prefect hot, iced, or my favorite, as a shot of espresso!
This is a limited time offering, and it will go fast (it always does)! Available in Starbucks stores and online!
I have two challenges facing me and coffee tastings right now. First of all, it is so hot. I feel like I say that all the time, but I am from the Pacific Northwest, so naturally I like the rain and the fog. I do not like this 90+ degree weather with matching humidity. And second, my oven is broken. Well, it works, kind of, but it's not consistent enough for me to bake anything. Plus, since it's so hot, I don't want to be anywhere near my oven. So, it's time to get creative.
To pair with the roasty sweetness of Kopelani, I used a popcorn cooked in coconut oil, and lightly salted with pink sea salt. You can make your own popcorn, or  you can buy a bag like I did! You could use the popcorn sold in Starbucks stores, but I found it to be too buttery for this pairing. I don't think I've mentioned this before, but I LIVE DOWN THE STREET FROM A PRETZEL FACTORY! I have been waiting to do a pretzel coffee pairing, and don't worry, there will be plenty more. I love pretzels, and it just so happens that these pretzels are the best I've ever had.. (yes, really).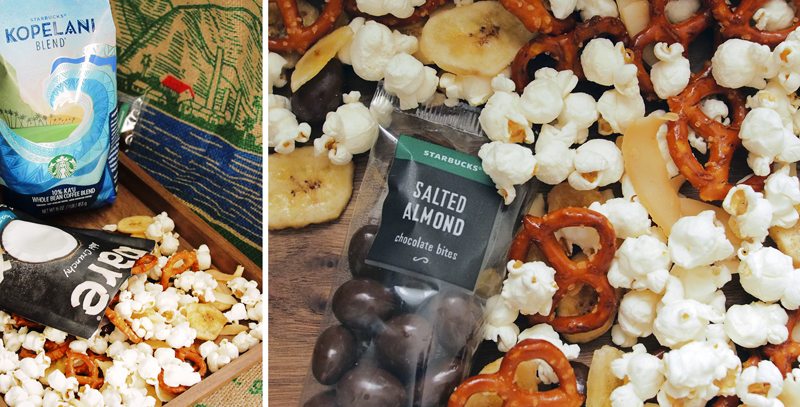 I am currently obsessed with these two snacks offered at Starbucks: Bare coconut chips  and Starbucks dark chocolate-covered salted almonds. The subtle sweetness of the Bare coconut chips add texture and draws out the sweet notes of the Ka'u, while the chocolate almonds intensify the roast. With so many different ingredients and textures, every bit is different. I personally love the banana chips and the dried coconut the best with the Kopelani! The dried banana chips bring out a sweet caramel flavor, which is my absolute favorite aspect of this blend!
Tropical popcorn mix:
Ingredients
4 cups of popcorn (look for popcorn popped in coconut oil and lightly salted)
1 package of Bare Coconut chips (1.4oz)
2 packs of Starbucks chocolate covered salted almonds
1 cup dried banana chips
1 cup pretzels (plain, but chocolate covered ones would be amazing too!)
Combine above ingredients in a large plastic bag, shake to combine.
It doesn't get much easier than this! 😉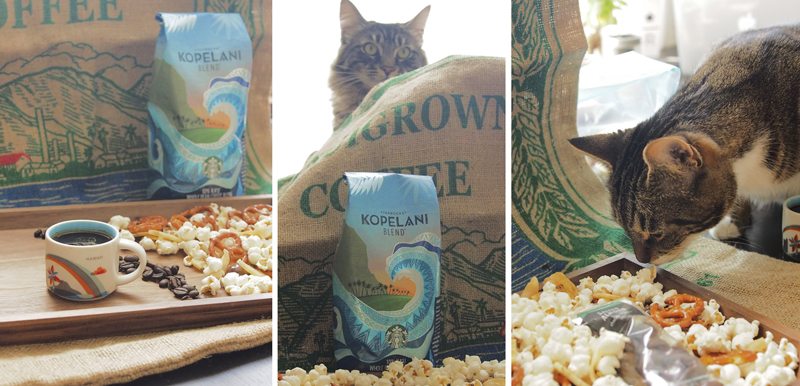 Thank you to TheModernBarista.com, who is unofficially a guest contributor to this site now and then! 🙂
Read the original article here.
Also please subscribe to this website (if you haven't already). On the desktop view, there's a place to put your email address in the sidebar.  On a mobile phone view, scroll to the bottom of the website to find the place to enter your address. You'll only get one email a week from me, with all the latest from that week.
Related posts