Coming soon, there will be an expansive, gorgeous Starbucks that will have coffee roasting operations, a café, and a specialty pizza restaurant operated by well-known Seattle chef, Tom Douglas.  This new and amazing Starbucks is called "The Roastery."
If you work there as a barista, you'll get the chance to have the latest beverages, coffee blends, Starbucks test concepts and you'll be serving your customers coffee that was roasted right in your café.
This is an amazing opportunity. And NOW is the time to apply for barista positions.
Here's the link to be a barista at the Roastery.
Just imagine, this will be the front door to your store: (under construction right now)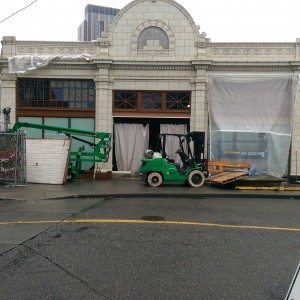 If you are a partner, and you don't know about the Roastery, you should! It's an important Starbucks concept.
I hope to see you there. The Roastery is on Pike Street between Boren Avenue and Melrose (where Minor turns into Melrose), right on the edge of downtown Seattle, Capitol Hill, and the First Hill neighborhoods.
You'll be in an extraordinarily high profile amazing concept Starbucks. If you're currently a partner, this is a fantastic chance to transfer to an amazing store. Partners are transferring from all over to be at this special location.
(If you are an existing partner, fill out a transfer request form and send an email to ReserveRoastery@Starbucks.com)
Good luck!
Related posts