This is a bit of Starbucks this and that. Weigh in the comments if you want to add anything Starbucks related. This is an open thread!
Register your partner card: (For Starbucks employees only)
Today is October 3rd! If you're a partner reading this, there are only two days left to register your Starbucks card to get to instant gold status (without having to climb through 30 stars first). Your gold status will appear on your Starbucks profile by October 13th. If you already have a regular Starbucks card registered, still be sure to add your partner card to your profile at Starbucks.com/card. Your partner card will add exclusive perks just for partners. You do not have to load money onto your partner card to register it. If your partner card is already registered, you're already in!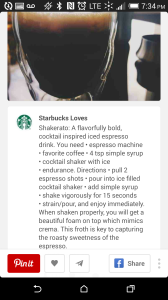 The Shakerato is a thing: I know the name sounds a little too close to the unfortunate movie title, Sharknado, but there are no sharks involved in this drink. It's basically just two shots of espresso shaken and sweetened. I had one recently and it was delicious. The barista who made my beverage, strongly suggested white mocha for the sweetener. Give it a try. For more information, see the Starbucks Pinterest pin describing it.
The key to the Shakerato is shaking the espresso with whatever you use to sweeten it (such as classic syrup) and then straining the ice and pouring only the two lovely, sweetened, shaken shots of espresso. It's frothy, cold, and delicious – and a petite amazing drink. Don't order this if you want a huge drink. This is only going to produce a couple of ounces of beverage.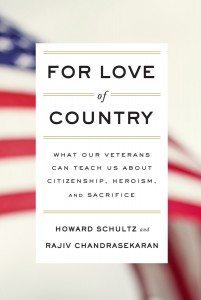 A new book by Howard Schultz is coming soon: For Love of Country. It will be available inside Starbucks stores beginning November 11, 2014. (I have to assume that's what's happening – the publish date on that link is November 11th, Veteran's Day, and Howard Schultz always sells his books in Starbucks stores. I'm just kind of putting two and two together here. If I've got this wrong, please let me know.)
I will definitely pick up a copy. As long-term readers of this website know, I was Air Force from age 18 to 22, so I have special interest in all veterans' issues.
I've heard a number of baristas mention to me that a special, collectible Starbucks card for Veteran's Day will be coming November 11th. I'm looking forward to seeing that too.
Reserve Cards: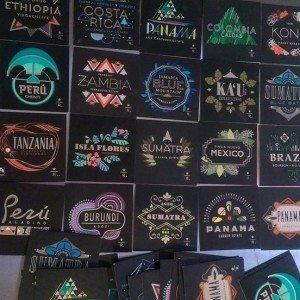 For no particular reason, I leave you with some Starbucks Reserve cards (for their Reserve coffees). I've been accumulating them! You will find Reserve coffees on StarbucksStore.com or in any Starbucks Reserve store. The Starbucks store locator lets you filter your search by Reserve store locations.
It's kind of fun to see some of the Reserve coffees that have been offered in the past.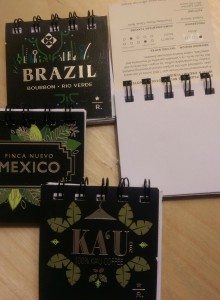 I have a friend who takes those Reserve cards and makes little note books out of them. They're very cute!
I'm going to pass on my collection to her so she can make more of these cute little booklets.
No new blog articles for a bit:
I may not get a chance to update this blog much over the next week. Please don't be alarmed if there are no new articles for a week. I'll be out of town this weekend, and the following weekend is the Coffee Con produced by Sue Fox. This isn't going to leave a lot of time for this blog. In honor of Coffee Con, the Kindle version of Tales of the Siren will be 99 cents only October 10th and 11th. Make a mental note of those dates if you're wanting to download a copy for 99 cents.
Please pardon typos. As with so many of my articles, I just wrote this out quickly without even much proof reading.
Looking forward to your thoughts in the comments.
Related posts