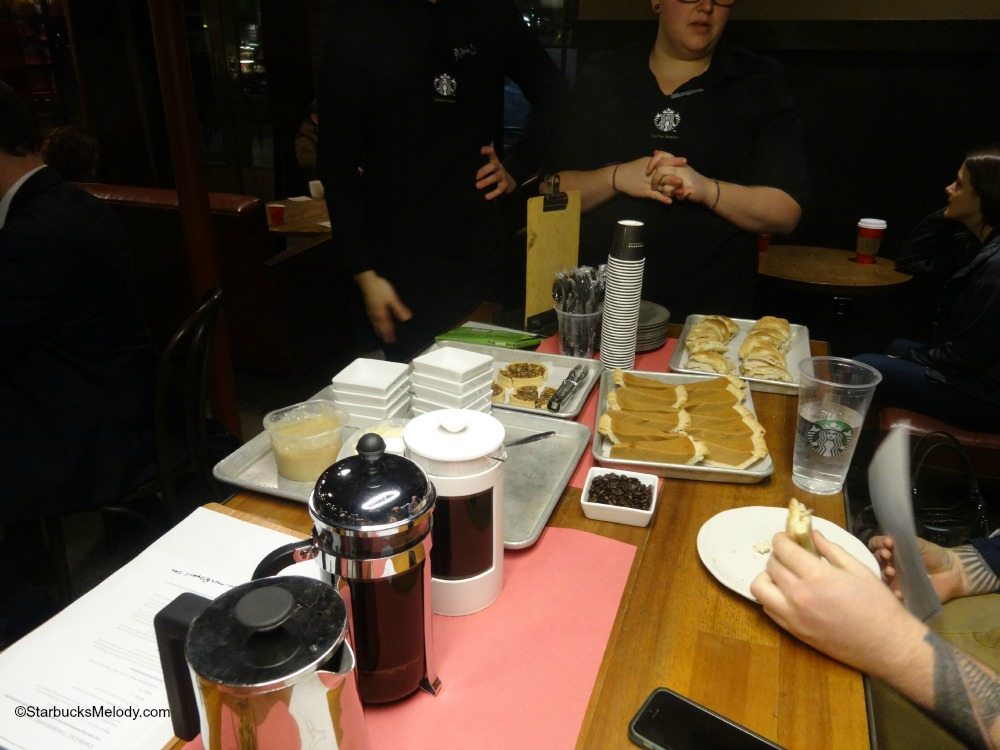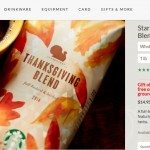 Do you have your Thanksgiving Blend coffee ready for Thanksgiving this week? You can find Thanksgiving Blend online at StarbucksStore.com or at your local neighborhood Starbucks.
Thanksgiving Blend was first introduced into the Starbucks coffee lineup on November 4, 2008. Here's the official Starbucks.com article (from 2008) on Thanksgiving Blend.
This past Monday, November 24th, I went to a great coffee seminar for Thanksgiving Blend, put on by Starbucks Coffee Master Megan at the East Olive Way Starbucks. I want to remind you that the East Olive Way Starbucks does regular coffee education events, every other Monday night. These events are free and open to the public. Please join us!
Coffee Master Megan put on an entire Thanksgiving dinner! It was delicious. For the turkey, we ate a sliced up holiday turkey and stuffing panini. If you haven't tried this panini, you should. It's delicious! It's all new this year: here's the official Starbucks.com article on the Holiday Turkey & Stuffing Panini.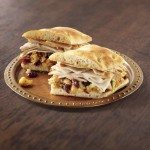 Thanksgiving Blend coffee is a blend of Guatamalan coffee and Sumatra (note, this is made from traditional Sumatran beans, not aged Sumatra). It's designed to go with every single part of your Thanksgiving dinner!
About 8 people showed up for Megan's coffee seminar. When we smelled the coffee, I heard people around describe the aroma as as "nutty" "herby" and even a little bit spicy, like "rosemary."
Our group described Thanksgiving Blend as a bit juicy, smooth, medium, low acidity coffee. Your own subjective taste may be different but those were some of the things I heard from the group around me.
The first pairing was the Thanksgiving Blend coffee with pepitas. Pepitas are like spiced, roasted pumpkin seeds.You can see how they normally come with wine at Starbucks, in this picture here: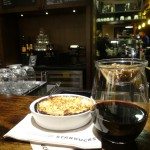 The spiciness of the pepitas really enhanced the spicy aspects of Thanksgiving Blend. Look at the amazing variety of food we tried this coffee with: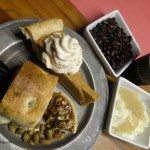 Thanksgiving Blend is a dark roast coffee. You can it even in the beans: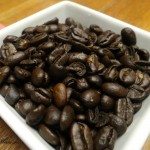 The turkey panini and the Thanksgiving Blend were fabulous together. The coffee seemed even smoother than before. The only pairing that I thought was a little weak was the mashed potatoes and Thanksgiving Blend. The mashed potatoes don't have any particularly overwhelming flavor, so it didn't seem to capture much of the special flavor notes in Thanksgiving Blend. The cinnamon in the pumpkin pie pulled out the cocoa and baking spice flavors in Thanksgiving Blend, which probably come from the Guatemala Antigua component of this blend.
Take a look at our fun pictures! Thank you for to Megan for the enormous hard work! That was a fabulous tasting!
Related posts