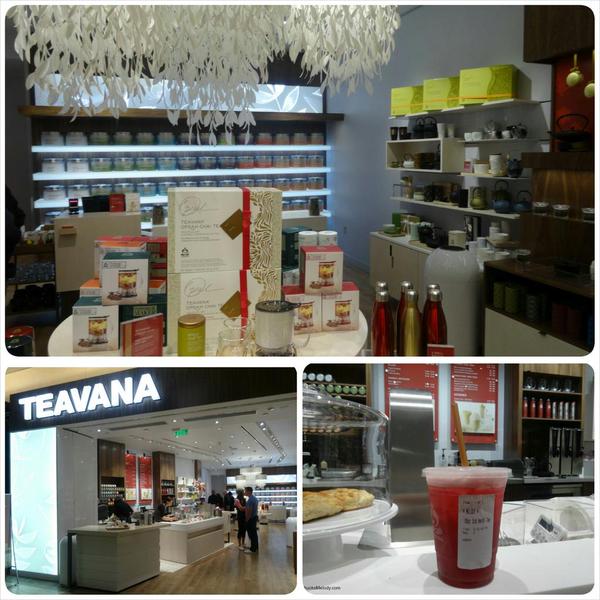 The Teavana store in Pacific Place has undergone a major renovation. It is now the first of its kind: A Teavana store inside a mall with a full tea bar for handcrafted tea beverages. (Starbucks wholly owns and operates Teavana. You can pay with your Starbucks card at Teavana and earn My Starbucks Rewards stars at Teavana stores.)
One of my own favorite iced tea beverages available at Teavana is the Raspberry Limeade herbal infusion, so that's what I got when I stopped by. This iced tea is a blend of the Teavana Raspberry Balsamico Herbal infusion and the Limeade herbal tea. You can see that my drink snuck into a couple of photos. 😉
Even the outside of the newly-remodeled Pacific Place Teavana looks fabulous and striking: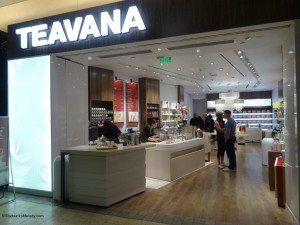 This Teavana location is at 600 Pine Street, at 6th and Pine, in downtown Seattle.
In terms of warmed food items, you can get a nice scone that comes with either raspberry jam and mascarpone, or marscarpone and salted caramel. I should have included a pic of the scone here! It's delicious. I've had it many, many times at the University Village Teavana location. For those of you who are familiar with the mall-based Teavana locations, this particular store design featured at 600 Pine Street is new and unusual, and not what you'd typically see at a mall Teavana location.
And all of the partners at the Pacific Place Teavana are super friendly! They'll be happy to help you pick out a loose leaf tea!
I hope you get a chance to drop by. I always enjoy getting a tea from the tea bar while visiting Teavana, so I like this enhancement to have a very prominent and full tea bar. I drink a lot of iced tea at home, and my own personal Teavana favorites include Precious White Peach, Dragonfruit Devotion (which seems to blend well with a huge variety of Teavana teas), Blueberry Bliss, Pineapple Kona Pop (which is wonderful when blended with Blueberry Bliss) and Rooibos Tropica.
Enjoy a few more photos from this Teavana store! Would you order an iced or a hot tea while visiting a Teavana store in a mall? Do you have a favorite Teavana tea?
Related posts