Beginning December 2, 2014, you can enter in a contest to possibly win a Starbucks For Life Card. This card will give you a free drink, every single day, for thirty years. Here are the websites to help you get started.
Looks at this gorgeous card!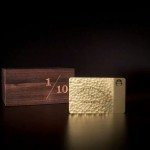 You might even notice signage for this promotion at your neighborhood Starbucks: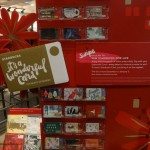 Now you need to know how this works. There are a number of rules. Don't assume that because you are using a registered Starbucks card, you must be automatically be entered. You must enter with a code that is found at the bottom of your receipt (this is likely how most people will enter – there is a way to generate a code without a purchase).
So how do you get a code? Go to Starbucks. Pay with your Starbucks card or using the mobile app. You do not necessarily need to be using a registered Starbucks card but you must be using a Starbucks card to get a code. You get one code per receipt – regardless of how many items are on that receipt. Take your code and enter into this website:
When you enter your code, from what I can tell, you will enter your email address also. This is how you'd be notified if you win something – via email.
This is important: According to the fine print, you are limited to entering in TWO codes per day on the Starbucks.com/play site to enter to win. The fine print is very clear that you cannot try to bypass the two codes per day rule by using multiple email addresses.
I don't want to confuse you – You can play two codes per day. This is NOT related to your earning stars. You can still, as always, earn as many stars as you like under My Starbucks Rewards. With more than 8 million registered card holders (and the many people playing this giveaway who will be using an unregistered card), it is bound to happen the someone somewhere is going to confuse earning My Starbucks Rewards stars and playing Starbucks for Life codes – two totally different things.
There will be a total of ten Starbucks For Life cards given away. It will work out to be two cards per each promotional period. There are five promotional periods (each one is roughly one week). If you are notified as a possible winner, you be contacted via email and have paperwork to fill out – releases related to publicity. Each promotion period, there is a small randomly selected group who are the "potential winners" – a small group of about fifteen people selected each "promotional period" and from that group, two winners of the Starbucks for Life cards will be selected.
There will be many other prizes too. You may win pounds of Christmas Blend, free beverages or other prizes.
As I read through the fine print terms and conditions associated with this promotion, I only found one possible ambiguity. I'm not totally sure what Starbucks intended: In the very first paragraph, it states that you must be over 18 to play. However, when you get to paragraph 7, it says that if you're selected as a potential winner and you're a minor, your parent or guardian must sign the paperwork for you.
So in summary, these are some bullet points to keep in mind:
Make a purchase and hang on to your receipt.
You must pay with any Starbucks card (whether registered or not!) or the Starbucks mobile phone app.
Enter your code from your receipts.
One code per receipt, regardless of how many items are on the receipt.
You may enter up to two codes per day.
Enter your code at this website: http://www.starbucks.com/play
There will be ten grand prize winners of Starbucks for Life cards.
There will be many winners of smaller prizes, such as free Starbucks Christmas Blend or free beverages.
The contest Starbucks For Life begins December 2nd.
The contest ends January 5, 2015
Starbucks employees are not eligible to enter
If you want to read all the fine print yourself, click here.
Are you ready? I'm in. I feel like I should get Starbucks For Life for this blog! LOL – I'm just kidding. I hope someone who is reading this wins!!! That would be super exciting to have a reader of this site be a winner. Of course, the odds of that would tiny, but it would be super cool. I'd be happy just to know a reader has won.
Good luck!
Edit on 11/26: What I did above was describe the U.S. version of this contest. There is a Canadian version of the contest – it's structured the same way – you enter with codes. But the Canadian version has 3 Starbucks For Life cards, not ten, and some different prizes, including Verismo machines.
Related posts