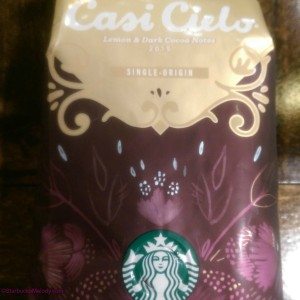 Casi Cielo coffee returns to Starbucks on January 6, 2015. This has been a customer favorite for many years! Here's an official Starbucks.com blog post on Casi Cielo coffee. This coffee is sourced from the Antigua growing region of Guatemala.
Many people know that you can use Casi Cielo for a shot of espresso – it's wonderful when pulled as a shot of espresso! In the 2009 – 2010 era of 15th Avenue Coffee and Tea (which is now a Starbucks, and not a concept store), 15th Avenue Coffee and Tea used to often pull Casi Cielo as an espresso shot offering – it was fantastic.
New this year, Starbucks customers (in select markets) will get the chance to have Casi Cielo as an espresso shot in their latte, mocha, or other handcrafted beverage. You might recall that Starbucks tested single-origin espresso earlier this year in Portland, Oregon and in 2013, Starbucks offered single-origin espresso in the UK.
To clarify, initially Casi Cielo will only be offered as an espresso shot in a few select regions: the Pacific Northwest, Chicago (and the greater Chicago area), and Northern California (which includes San Francisco). Of course, Casi Cielo will be available as a whole bean coffee (as shown in the picture) everywhere. I have heard mixed information about whether there is an upcharge for Casi Cielo, which is a single-origin coffee, as an espresso shot. Please don't be surprised if there is a small charge for using a single-origin espresso in your handcrafted beverage. My understanding is that in the select markets, both licensed Starbucks and company-operated Starbucks will offer Casi Cielo as an espresso shot.
As I understand it, the long-term plan for Starbucks is that eventually all of the U.S. will offer a second shot option and there will be more offerings than just Casi Cielo in the future, similar to the second espresso shot offerings already available in Starbucks UK.
Now it's your turn to weigh in!
Related posts