The Starbucks Refill Policy: First Beverage Can Be Anything
Melody, December 23, 2014
50
3 min

read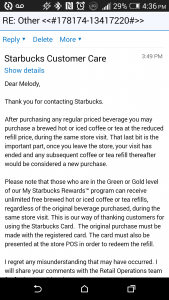 I emailed Starbucks Customer Service recently.  You can see the reply that I got from them. What this tells me is that the Starbucks Refill Policy  is unchanged from when I wrote this article in 2013. You can read the official Starbucks Refill Policy on their website here.
The key points with the Starbucks refill policy are unchanged and consistent:
Order any beverage (let's use a tall mocha as an example)
Do not leave the store.
You may receive only a few things as a refill: tall iced coffee, tall iced tea (or hot tea), or tall brewed coffee of the day, such as Pike Place Roast.
If you wanted another latte, mocha, or anything that is not listed as available for a refill benefit (meaning, tall iced coffee, tall iced tea (or hot tea), or tall brewed coffee of the day) you will pay full price.
You will pay a refill fee of about 50 cents (I don't want to quote exactly because sometimes prices can vary a little from region to region).
Present your Starbucks card (registered, and your MyStarbucksRewards profile must be Green benefits or higher), and the register will not charge you the 50 cent (or whatever it is) refill price.
There is never any refill perk when you are in the drive thru.
Once you walk out the front door of the store, all refill perks have come to an end.
You can't walk in, new to the store and get a refill. You have to have ordered and consumed that first beverage inside the Starbucks. I have seen many, many partners ask me, "Is that your first one of the day?" and then give me a refill price when I haven't been in the store. This shouldn't happen, technically speaking.
The funny thing about all this is that I wasn't contacting Starbucks Customer Service to get another recital of the Starbucks Refill Policy. (Since it's not obvious from the attached email, I received the attached email on 12-20-14). I had emailed trying to get some clarity about the Starbucks January "Coffee Refill Tumbler." I still think the January Coffee Refill Tumbler is ambiguous. It's a fair thing for customers to ask, "What does this include?" I can see questions like, "Can I get a vanilla syrup with my blonde roast coffee?" "Can I get an add shot?" "Can I get an iced coffee – after all, that is coffee that's brewed, it's just cold." "If I can get an iced coffee or an odd shot, why not an iced tea?" I don't think I'm going to get any answers about what the tumbler includes. I contacted an official Starbucks spokesperson at the SSC (Starbucks calls their headquarters the Starbucks Support Center, or SSC) and didn't get any answer to those above questions. I contacted Starbucks Customer Service and asked about the January Refill Tumbler and got a recital of the refill policy, which isn't what I was looking for. Given the ambiguity, I think we'll just have to wait until January and see what happens. I hope that partners resolve ambiguity in favor of customers, but we'll just see what happens.
Edit on June 6, 2015:
Added this image: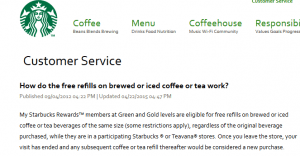 Related posts