New Starbucks Reserve: Ka'u Launches August 20th.
Melody, August 19, 2013
10
2 min

read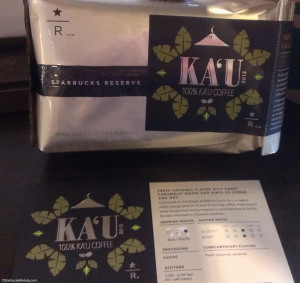 Starbucks is introducing Ka'u into their Reserve lineup beginning August 20th.  It's already available on StarbucksStore.com.  It's a coffee from Hawaii, from an area bordering the Kona growing region.
Today (August 18, 2013), I went to a coffee seminar for this new coffee.  Kevin, at the 7th and Pike Starbucks, walked us through a tasting for this coffee.  I learned that this is a washed coffee, and grown in a region that was once used for sugar plantations!  Kevin prepared the new Ka'u coffee with a French press, and paired it with the small caramel bites.
As an aside, if you see these little containers of chocolate bites at the registers at Starbucks, definitely take a look.  There are four flavors, and they are delicious!
Back to the Ka'u from Hawaii:  this coffee is said to pair well with coconut, caramel, and nuts.  Kevin didn't have a coconut option to try the coffee with, but I definitely thought that the pairing with the caramel bites was good – it definitely brought out a sweetness to the coffee.  The aroma of this coffee had some of the nut aroma.  I thought it was squarely a medium-body coffee, with a fairly clean finish.
The four steps of a coffee tasting are as follows: 1) Smell – cover the cup and really smell 2) Slurp – aerate well  3) Locate where the flavors hit in your mouth and 4) Describe the flavors.
Kevin is a Coffee-Master-In-Training.  Here he is leading our group:
Starbucks has offered the Ka'u coffee before as a Reserve coffee.  Kevin explained that generally, when a coffee returns as a Reserve, it is a signal that Starbucks has purchased a new harvest of that farmer's coffee. I think this year's Ka'u is a little nuttier than last year's!  I loved that Kevin was very knowledgeable about the coffee and easily spoke about this being a wash-processed coffee, and could explain quite about the coffee's growing region.  And of course, it was obvious that he genuinely loves coffee!
If you ever want to go back and browse previous coffee tastings articles on this site, click through here.
I bought a half pound to take home with me.  My normal preferred at-home method of coffee brewing is with a pour over – it's very simple, and very difficult to mess up!  And many coffees will taste wonderful made through a pour over.    This coffee, too, is great from a pour over.  I think that highlights a little more of the nuttiness.
Here are the rest of the pictures – Enjoy!  Have you tried this year's Ka'u?
Related posts