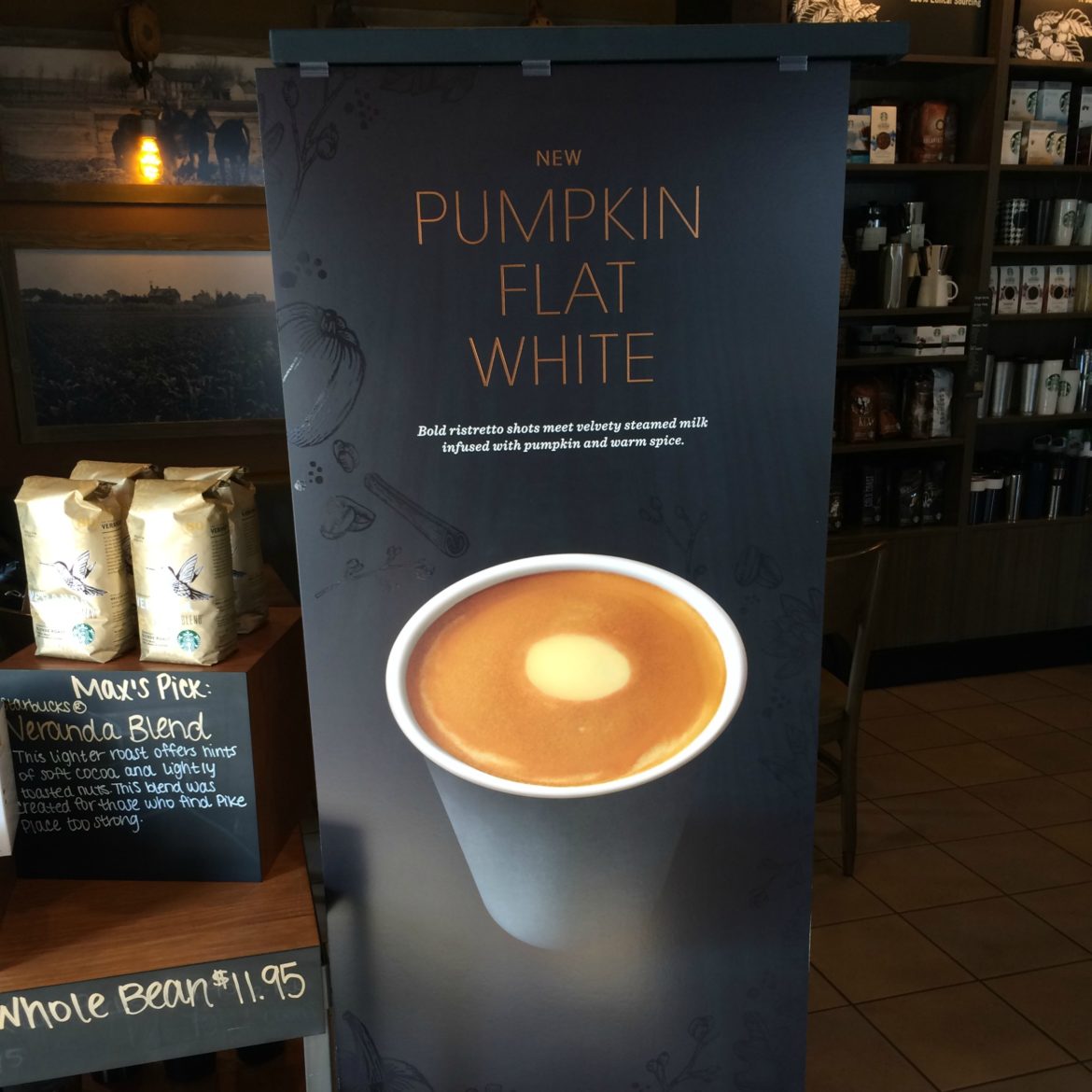 For a small number of Starbucks stores, Starbucks introduced an entirely new Pumpkin Spice beverage. It is the Pumpkin Flat White. It launched in September this year, and customers in select stores may see signs for the new Pumpkin Flat White that look like this: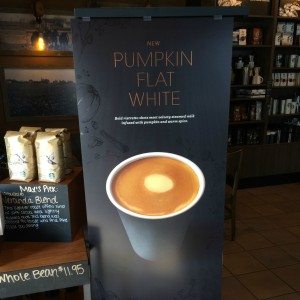 This is not Pumpkin Spice syrup and milk steamed together. You might recall, this year the Pumpkin Spice Latte went through a big recipe change. The syrup this year is more natural than in past years.
So what is the Pumpkin Flat White and where would you find it?
The Pumpkin Flat White is being tested in Chicago-area Starbucks stores. I believe that stores that got the Pumpkin Flat White did not get the all-new Toasted Graham Latte, though I'm not 100% certain of that.
The Pumpkin Flat White starts with a pumpkin base. Partners have told me that it's fairly thick, like a pumpkin filling: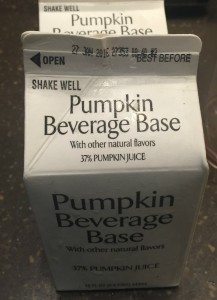 The baristas mix together whole milk, this pumpkin beverage base, and I've heard some spices get added, and have the base ready-to-go in large pitcher: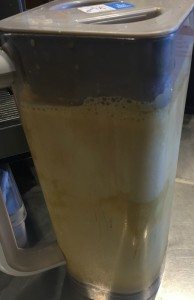 Steam the base with ristretto shots of espresso and you get a beautiful Pumpkin Flat White: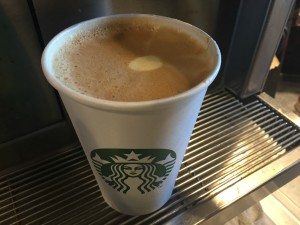 There are some things to know about the new Pumpkin Flat White test beverage. First off, it contains egg. The final base is a nog-like product. Also, I have been told that the new Pumpkin Flat White uses organic pumpkin.
If anyone has more information on this new test drink, I'd love to know more. You can always contact me via the contact form on this site or the "submit a pic or tip" button on this site. (I will not automatically have your email address to contact you, if you use the "submit a pic" button.)
I have joked that Starbucks is the king of creating "new nog." It is amazing how they can innovate around new beverages. I strongly recommend reading my past article on the French Vanilla Custard Latte, which also was a test nog-like drink (and absolutely delicious)!
I always like to keep you up to date on Starbucks test items, new up and coming drinks that will be released soon, new promotions and more. Please enter your email address and subscribe to get all the latest Starbucks news. In the desktop view, there is a place in the right sidebar to enter your email address to subscribe.
Find even more test items in the "test category" on this Starbucks news website.
Related posts