It's time for another episode of "From the StarbucksMelody.com mailbag".  Thank you to the readers who have sent in their Starbucks photos!
A reader in North Carolina commented that she dropped into a Starbucks in Raleigh, and found a sign for sweet tea!  She didn't try it but snapped this photo, thinking I might like to see it.  (Yes, indeedy!) From what I know, it appears to be a test involving many Starbucks locations in North Carolina. This test began on September 3, 2013, at the start of the fall launch promotional period, and I would assume that it is a fall test.   If you order this tea, it is the Tazo black tea with cane sugar, and there is no classic syrup.  In case you missed it, at the same time, there is a small Teavana hot tea test going on in a small number of Starbucks stores in Atlanta.  Those stores have removed Tazo from their retail wall, and offer Teavana hot brewed tea options.
(Edit 0n 9/16 – Based upon comments below, it appears that the Starbucks sweet tea is offered in a variety of places: Florida, Texas, as well as North Carolina.)
Here's the pic she sent in: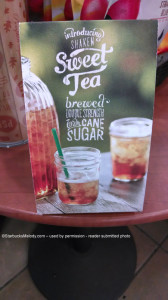 A reader in Folsom, California, wanted me to know that her area has a beautiful, new Starbucks – Reserve Clover store!  I found a news article mentioning a the grand opening of the Palladio Mall Starbucks, in Folsom, California, and it looks like the grand opening would have been September 6. 2013.  From the store locator, this new Clover – Reserve Starbucks is located at 350 Palladio Parkway.  Here are the two lovely pics from the brand new Starbucks in Folsom:
Lastly, a reader in Sea Girt, New Jersey sent in two photos of a Reserve – Clover Starbucks.  I thought the wall art was interesting – very personalized to that area.  I definitely like that.  Here are the two Sea Girt Starbucks photos:
There you have it! Thank you again for your submissions.  Email me your photos, blog article ideas, or what have you to Melody at StarbucksMelody dot com.
Related posts