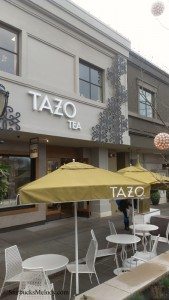 I thoroughly enjoy visiting the Tazo Tea store.  There is one single store, and it's in Seattle's University Village shopping area.  Each time I visit, I notice something new.  I dropped by the Tazo store on March 1, 2013, and took some quick photos.  By the way, one thing you must do while you're there, is order a sparkling iced tea!  The iced tea of the day was Bramble Wine tea by Tazo, and it was fabulous iced and sparkling!
I have to mention the chocolates at this store.  One of the chocolate bars uses dark ganache chocolate, and a Lapsang Oolang black tea, with a little sea salt.  That's a remarkable combination of flavors!  I smelled the actual Lapsang Oolong, and that was the darkest, smokiest tea I have ever smelled.  It is the French Roast of the Tazo Tea store.  It's amazing but the smokey  flavor, mixed with dark chocolate, and sea salt really creates a stunningly rich and delicious chocolate bar.  Pick up a Lapsang Dark Chocolate Ganache bar when you're there.  I also bought some Sultry Strawberry tea to try at home iced!
If you visit, be sure to pick up a Tazo Tea card for your Starbucks card collection.  It can be registered and use just like any other Starbucks card.
I don't think I'll say a lot more about the Tazo store.  All the photos speak for themselves.  (And I took all of these pictures on March 1, 2013.  If you like pretty pictures of Starbucks and Starbucks-related things, you can also check out what I've uploaded on Pinterest.)
Related posts