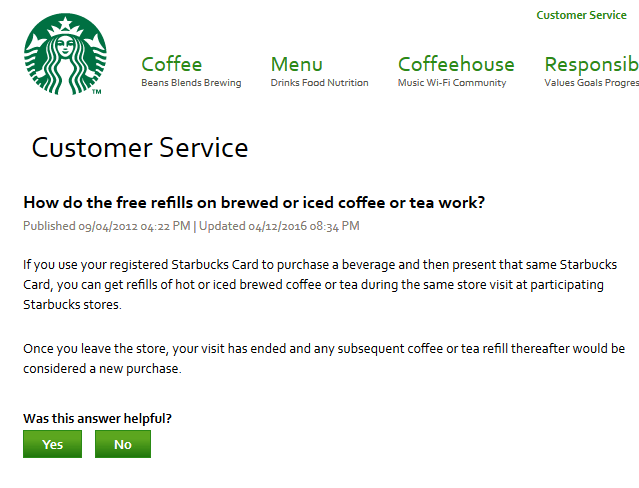 The Starbucks Refill Policy Update.
Melody, April 14, 2016
50
4 min

read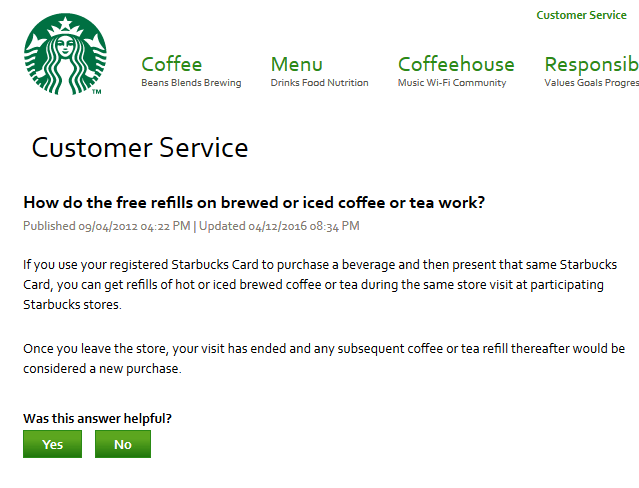 Just a few days ago, our friends at the Seattle Starbucks headquarters updated and re-wrote the Starbucks refill policy. Isn't hasn't changed hugely, but seems to be more clear that the original beverage can be any beverage. It's worth taking a look at the new and improved version (as of April 12, 2016) of the Starbucks Refill Policy.
What's new?
The words "regardless of original beverage" have been removed and replace with the more simple, "purchase a beverage." It is still the case that you can buy any beverage and get a refill of the 4 "refill" items.
All references to Teavana stores are gone. (This is a good thing as Teavana never did have the same "refill" policy as Starbucks).
The words "some restrictions apply" are gone.
All references to the "Green" and "Gold" level of Starbucks Rewards are now gone.
Just as a review, here's how the refill policy works (in Melody's words):
Buy any handcrafted beverage and pay with your registered card. Buy any second beverage while still in the store (you cannot walk out the front doors and come back) and it's free with your registered card. However, there's a big catch: Your second beverage can only be one of four things: iced tea, iced coffee, hot tea, or hot coffee. You should not be charged – even if you're getting a tea sachet.
While you can get an iced tea as a refill, you cannot get an iced tea lemonade drink as a refill. Your iced tea must be one of the following: Iced Passion Tango Tea, Iced Black Tea, or Iced Green Tea.
A basic hot brewed coffee is just the brewed coffee of the day. For example, hot brewed coffee may be Pike Place Roast, Veranda Blend, Gold Coast Blend, or any other core coffee that the store has readily available as a brewed coffee. A basic brewed coffee only includes those coffee which are brewed as the daily brewed. It does not include the barista making a handcrafted cup of coffee via the Clover brewer.
There is never a refill benefit when you are in the drive-thru.
You have to have consumed the first drink, whatever that may be, and ordered your second beverage (only of the limited 4 items) all within the same-store visit. You must purchase the same size.
You cannot start with a non-handcrafted beverage, such as a bottled water or bottled Refresher.
You must be at a participating Starbucks: Some licensed stores may not participate in the refill benefit.
I realize my version of the refill policy is longer but I'm confident it's accurate.
In off the record conversations, I'd often been told that the previous words, "Some restrictions apply," referred to same size limitations. That is you cannot start with a short latte, and get a refill of a Venti Iced Passion Tea. Since the new refill policy uses a lot fewer words, it's not clear to me that the restriction of same-size is still pertinent or has it been removed? Also, the new refill policy makes no mention of whether the first drink has to be handcrafted or not, but my understanding is that it does.
Partners: The right answer is almost always yes. Just as the company is generous with you: stock options, meal benefit, free beverages while at work, partner discount, and more, the company in turns wants you to pass on that goodwill spirit to your customers. Do not assume the worst in people. Frankly, there really are a lot of confused customers out there. It doesn't come out of your paycheck. It's very silly to act like this is a life or death matter and give yourself worry wrinkles, gray hair and high blood pressure. Be generous. This brand is not about cherry picking who gets great customer experiences.
Customers: Do NOT try to ask for a refill when you are in the drive thru. Do not walk into a store with an empty cup and just ask for a refill without having FIRST purchased a first beverage within the store. This is absolute!!!!!! Never walk into a store and start with a "refill." That is NOT a refill. I don't care if you just work in the floors of the building above or you just were at a different Starbucks 5 minutes ago. Once you leave the front doors of the store, all refill benefits will come to an end. Do not try to ask for a refill price on anything other than the 4 items I mentioned: Iced Coffee, Iced Tea, Hot Brewed Coffee of the Day, and Hot Tea.
If you do not have a registered Starbucks card, your refill is not free. It will be about 50 cents, however there may be tax and local variation to the refill price. Please do not quote me on the refill price.
Related posts