The Starbucks Black Apron: What is a Coffee Master?
Melody, February 4, 2014
34
6 min

read
A few days ago, I posted this photo of barista Kelton on my blog's Facebook page: (Please "like" that page. Thanks!)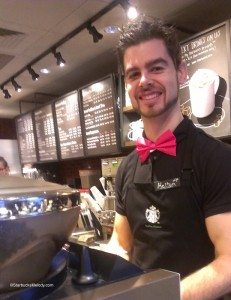 Kelton only recently certified as a Starbucks Coffee Master, and so I wanted to congratulate him on his new black apron!  Congrats Kelton!  As I read through the comments on Facebook, I saw that there were a few customers who didn't know what a Starbucks Coffee Master is and/or the significance of the black apron.  A barista cannot wear a black apron unless he or she has earned it:  There is a whole process involved in becoming certified to wear one.
If you are a customer, and you have a question about coffee, look for the Starbucks baristas in black aprons:  They can talk to you about the four fundamentals of great coffee (water, proportion, grind, freshness), or if you want a low acidity coffee, a black apron Starbucks barista might steer you in the direction of Italian Roast, or if you want to try something fun and new as an espresso shot, again the barista can help answer those questions.  (The new Yirgacheffe works beautifully as a shot of espresso!).
So now you know to look for someone in a black apron, just like the one that Kelton is wearing above.  But you might be asking yourself, what did that person do to earn a black apron?
Before a Starbucks barista can even start the certification, he or she has to be approved by his or her store manager.  The store manager is supposed to look for people with great qualities like a willingness and desire to share coffee stories, having completed a coffee passport within the past one year, is familiar with beverage quality standards and models excellent beverage quality, a positive attitude, good communication skills, and is respected by others.
Once a barista is approved to begin the Starbucks Coffee Master certification, then the work begins.  The baristas gets a journal that is full of coffee education about roasts, blending, how coffee is processed, and much more.  The journal looks like this: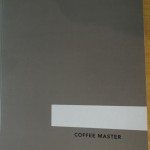 In the beginning of the journal, it says "you are chosen":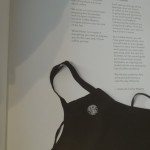 The Starbucks barista works on contrasting and comparing many coffees to learn their flavor profiles, and generally increases his or her coffee knowledge.  He or she will have a coffee passport to fill out during this process as well.  Inside the coffee passport is a page for every core and regularly-appearing seasonal coffee (with information about that coffee) plus extra pages for Reserve coffee offerings.
One reader of the blog sent in this great photo which shows his past coffee passports, plus part of what the old coffee master program looked like, and you can see my passport too.  The Starbucks Coffee Master program has been through changes over the years, so some baristas who were certified in the past had to re-certify under the newer program:
Certification requires approval by both the store's manager and district manager.  The partner should be working through the workbook, and at the end should comfortably be able to sit down and do a coffee tasting for his or her district manager and store manager, comparing at least two coffees.  The partner should be able to easily answer questions such as these:
What is the general taste profile for the 3 main growing regions?
How does coffee processing affect flavor?
What are Starbucks ethical-sourcing guidelines?
How does the roast profile affect the coffee?
What is the acidity body and flavor of each coffee?
Based upon my experience (and I mean both in my experience in going to coffee seminars as well simply watching the kinds of questions that coffee masters get thrown at by customers) a good coffee master should really be ready to easily answer any of the following questions:
Why do we "compare and contrast" coffees to learn about them?
How does the brew method affect the flavors of the coffee?  Can you describe three or four brew methods and talk about why each coffee might be suited for a different brew method?  Why is it important to pre-wet the paper filter when doing a pour over?
What does it mean when people talk about the "bloom" of a coffee during some brew methods?  What is a coffee bloom?
What can you learn about the coffee by trying it at least two or three different temperatures?
Customers will ask things like, 'Why doesn't my coffee at home taste like yours in the store?'  How do I store coffee?
What is a "cupping" as opposed to a traditional coffee tasting?  What is the purpose of a coffee cupping?
Why do we learn about food pairings? What are the pros and cons of learning about coffee with food or without food?
What is the history of this coffee for Starbucks?  (For example, I have an article on Breakfast Blend history here and a very old article mentioning some of Verona's history here.)
And of course, baristas should very easily be able to talk about the four fundamentals of a great cup of coffee.
What is an aged coffee?  How many Starbucks blends use aged beans in them?  (Anniversary Blend, Christmas Blend, and Tribute Blend).
How is coffee like any other farm product? Can you make a good analogy to how coffee changes flavor with crops the same way that apples and oranges may have good crops and bad crops?
What is a varietal?  What is a peaberry? What is a bourbon coffee?
So, if you're a customer, now you know to go find a black apron barista and talk to him or her about coffee!
By the way, clearly, I am not a coffee master.  I don't work for Starbucks.  However, I have fielded questions in emails (and in person) from both partners and customers about coffee education.  All I've really done in this article is tried to give you some discussion topics when it comes to coffee education.  This article is only getting the conversation started between customers and partners, and partner to partner.  It's okay by me if you think that being a black apron barista has other significance.  This is a customer perspective on the black apron, and as I already said, I'm not a coffee master.  But I will gladly talk coffee anytime you like!
About two years ago I wrote an article on tips on how to put on a coffee seminar.  There are aspects to that old article that are now out of date, but I still think there are some good points in it:  Top 10 coffee tasting tips.
Finally, I see a black apron Coffee Master as one who has an ongoing commitment to coffee education.  It's not a one time certification test, rather a daily experience in sharing coffee passion with both customers and other partners.
What does the black apron mean to you? And customers, have you ever stopped to talk to a black apron Starbucks coffee master?
Related posts