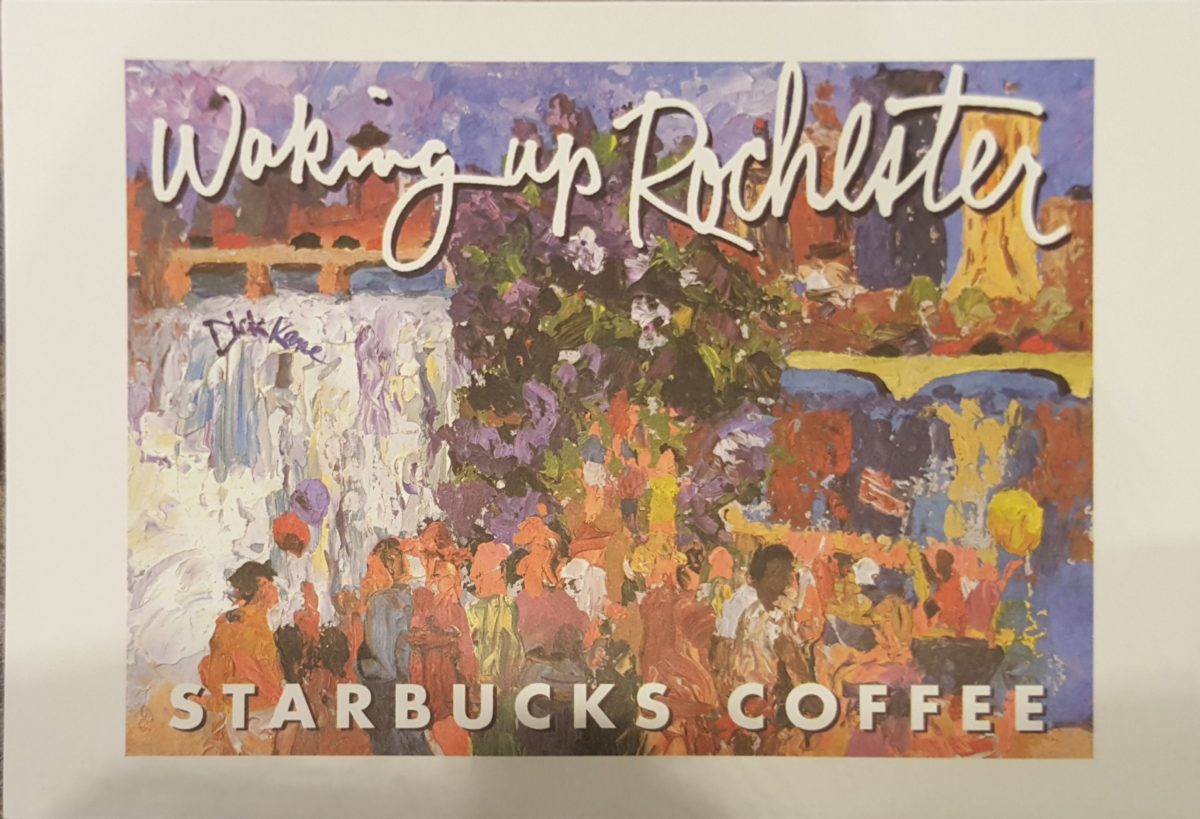 #TBT Waking Up Rochester, New York
Melody, January 28, 2016
1
2 min

read
Today's "throwback Thursday" news story is about this Starbucks in Rochester, New York:
Starbucks in Rochester, New York on Mt. Hope Avenue
That store first opened in May 1997. The "sneak preview" event for the new store opening was May 29, 1997. It was the first Starbucks in the city of Rochester, New York. I have one of the original cards, inviting area residents to a preview of their first Starbucks store, which included funded raising for the Rochester Chapter of the Literacy Volunteers of America. Local Rochester artist Dick Kane painted a wall (which presumably was in the original store, though I can't say that for sure), which was used as the image for the original invitation card.
There are so many things about this card that are interesting! First off, I know from years of studying Starbucks,  when a new store opened (in the 1990s era), Starbucks would call it "Waking up…." a city! Starbucks would "Wake up Washington D.C." or "Waking up Buffalo" and so on!
Also, in that era, Starbucks frequently partnered with literacy organizations. When the Starbucks Mt. Hope store opened, the store took $5 donations at the preview party to benefit the Literacy Volunteers of America.
The original address of the store was 1380 Mt. Hope (officially first opened for business on Saturday, May 31, 1997) and the current location is listed at 1394 Mt. Hope. According to Winter's "StarbucksEverywhere" page, the original store was torn down in 2013, and it moved to its current location in a new building.
Here's the original invitation card to the store's grand opening: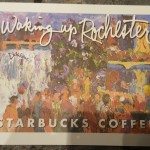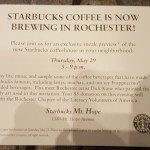 Here's what the store looks like now, in its current location: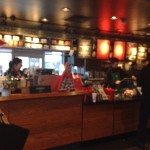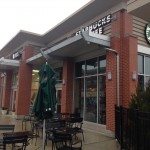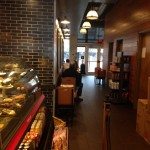 Current photos courtesy of a friend of mine who traveled to Rochester over the Christmas holiday season, to visit family. The original invitation card was a gift to me from Sandy Nelson Design.
You can see many more stories of Starbucks of yesterday by visiting the Starbucks History Lessons category on this site, including the very first Starbucks Annual Report from 1992.
(If there is anyone reading this from Rochester, New York, please say hello! Or if you are reading this and can share this with that store on Mt. Hope, that would be awesome!).
Related posts