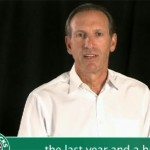 This month, tens of thousands of Starbucks partners (Starbucks employees are called 'partners') will take a survey about the current quality of the partner experience. The feedback will be used to shape the future (I assume). At the end of the survey, Howard Schultz speaks, promising a brighter future for Starbucks partners. He sounds absolutely committed to it.
In listening to him, I am reminded of his message to shareholder's in the 1992 annual report. (For complete 1992 annual report message click here.):
To Our Shareholders:
Every successful business has its competitive advantage.  At Starbucks we have two: Our coffee and our people. …

Our "employees" are called partners, and this is literally true, since every individual is offered stock options.  We seek to seamlessly interweave variables that ensure quality for the customer with literal ownership in the company.  We want to be the employer of choice in each market in which we do business.  In order to achieve this goal we pay fairly, provide benefits to all whether part-time or full-time, and encourage individuality and open communication. …

Howard Schultz


————————————–
This isn't one of those exercises of compare and contrast, but in comparing the two, his commitment to Starbucks partners is unwavering.  And here is the March 2010 message to partners about the state of the Starbucks experience at this time and his commitment to improve it:
Hello partners,
First and foremost thank you so much for taking this important survey.  You know it is hard for me to express to you what the company has been through the last year and a half.  And we certainly have asked a lot of you during this period.  The truth of the matter is that we had to make very tough decisions, emotional decisions to manage through the very tough cataclysmic financial crisis that we were experiencing.  But as we go forward, my number one commitment of myself and our leadership team is to reaffirm our commitment to our partners and reinvent the partner experience at Starbucks.  Now this isn't going to happen overnight just like the transformation agenda didn't happen overnight. It's going to take some time.  The survey you just completed is going to give us a lot of insight and a lot of information.  And my words, and the words of others, are not going to be good enough.  We have to be measured on deeds and our actions.
I've always said from day one that we can't exceed the expectations of our customers unless we exceed the expectations of our people. And that's exactly what we're going to start doing.  And my promise to you is that we will do all that we can to really create the kind of partner engagement, respect and dignity, and raise the level of insight and ultimately the experience and the commitment that we have to our people. And we will exceed your expectations. Give us some time but you have my promise that it will take place.
Thank you for taking the survey.  I appreciate all you do and wish you the very best. Thank you very much.
I don't expect a lot of comments in response to this. I only post it because I've personally heard the sad tone of voice from long-term partners who say their work environment has changed a lot in the past few years.  At one time, people would say that working at Starbucks was the best job of their lives.  In my office, there is an attorney who at one time worked at the University Village Starbucks in the very early 1990s.  And I've heard her say, on more than one occasion, "hands down that was the best job of my life.  We scooped coffee out of bins and we had fun."
But now, in 2010, changes have lead to dis-empowered baristas which in turn diminishes the customer experience.  The barista who is worried about whether a DM will bark at him or her over speed of service isn't likely to extend any extra effort to the customer.  Of course at my core I'm an eternally optimistic person. I find Howard's message above, especially in combination with the idea of a confidential survey, to be a healthy and bright sign for the future.
Source: como comprar bitcoin
Related posts