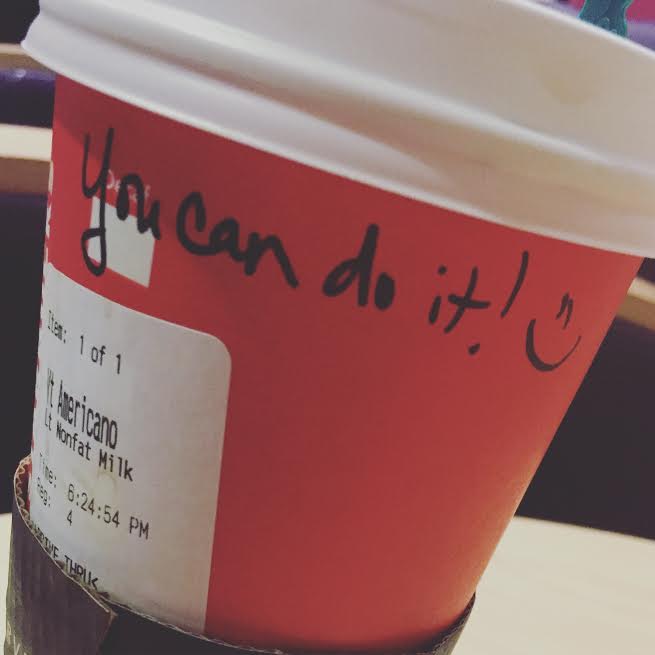 Your Starbucks Experience: What you shared.
Melody, February 18, 2016
5
8 min

read
I asked you to tell me about "Your Starbucks Experience." You told me a lot. I heard about favorite drinks, favorite stores, friendships, children and great experiences. You surprised and delighted me. You really did. I wish I could afford to buy each and every one of you sent in (via the contact form) a personal story or photo a cup of coffee: I'd like to say to you, "What are you drinking at Starbucks today? Your drink is on me."
It was extremely hard for me to pick a handful of great stories and photos. (These are in no particular order). I hope you're touched too:
1. Evan T. – 
"My favorite moment was going to Starbucks with my best friend, Chandler, when we were in grad school. The Starbucks in downtown Athens, GA is great."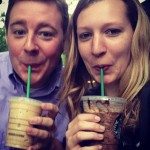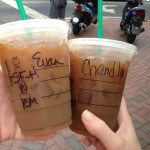 2. Marshall D. and stepmother Jewell:
"This photo is of myself and my beautiful stepmother, Jewell.  In this photo she was 97.  This was taken during this summer of 2015.  The reason this was so special was that in the spring, she almost died from c- diff, a terrible digestive disorder.  She is a big Starbucks fan!  So I had told her that when she was recovered and up to it, I would take her to The Roastery!  We naturally had a ball!"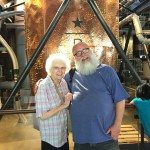 3. Anastasia S., the pediatric nurse:
"I am a pediatric critical care nurse who works 12 hour night shifts. My job is emotionally and physically draining. I pulled up to my usual Starbucks drive-through before my fourth shift in a row and the barista asked me if I was headed in to work. I guess I looked pretty bummed when I said that I was, because she handed me back a cup that said "you can do it!" It was just a simple little thing that made my whole night."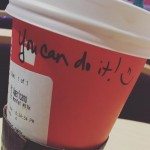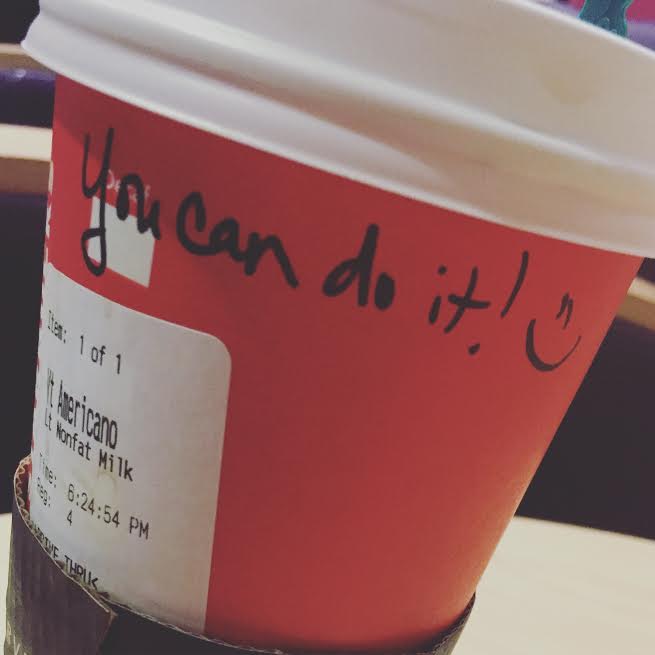 4. Amber in Alaska:
"Hello my name is Amber I am at 27 year Starbucks customer, and 3.5 year partner. Being a military spouse I have work in two Hawaii locations, Texas, and now the great State of Alaska. I knew, I love the company I worked for but my passion for coffee began in Hawaii watching the life cycle of the coffee plant on the North Shore of Oahu. It was touring coffee & cocoa farms on Hawaii that made me appreciate the care & love that goes in a cup of coffee. I started to roast my own coffee and home and that passion was later shared with my partner, friends, and family. While we have been stationed up in Alaska I became a coffee master and love to share my love for the bean and planning  coffee tastings. In the morning I love to ask guests, if I can get them a cup of coffee today? They find that funny. In the afternoons/evenings it's enjoy your coffee break. I try to always tell soldiers in uniform thank you for your service. It warmed my heart that a customer from a previous duty station saw me a different Starbucks and told me I made his day by simple kind words. My coffee palette changes but Jamaica Blue Mountain, Kona Peaberry , and Casi Cello are favorite  coffees. Thanks for being a part of my Starbucks experience ♡"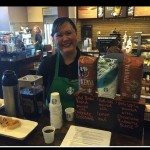 5. Laura Jenkins: Laura sent in a picture of her daughter with the caption, "We really miss those cupcakes you used to sell years ago!"
Laura added, "March 2009-my daughter is almost 3 years old.  Taken inside the Indian River Road Starbucks in Virginia Beach, VA.  Starbucks and their vanilla cupcakes-they were the best!!!  I miss those days taking her for a cupcake while I drank my drink of the time…white chocolate raspberry mocha.  Now she is almost 10 and drinks tall hot chocolates (not kid temp-no whip)."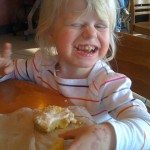 6. Hayley Sheaffer wrote, "My favorite moment was when I got to visit the SSC! I wish I could have taken this mug with me!"
Those Starbucks Support Center visitor mugs are pretty special!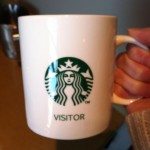 7. Megan C. has a long Starbucks history!
"I've had some great memories while going to Starbucks for the past 16 years.  In the most recent years, I really enjoyed meeting all of my online friends in Seattle and seeing so much Starbucks History.  I also really enjoyed visiting Sue Fox and seeing her massive card collection.
My all time favorite thing about my Starbucks experience is my first Store, in Milford, Michigan.  That was "my store" for around 8 years and I met so many awesome people there.  I got to do some fun things there, like art on the chalkboard.  My photo I'm sharing is with two of my good friends I met there.  Zach Romeos is in the middle, he was our funny barista friend, Debbie Gibson is on the right, she did the handwriting on the chalkboard, and then I'm on the left, I got to do the drawings on the chalkboard.  Unfortunately, camera phones didn't take the highest quality photos in 2008.  It's was so different than how Starbucks is for me these days.  Whenever I went there, there was always somebody I knew to sit down and talk with.  Nowadays, I know who some of the partners are at my neighborhood store, but that's about it. I haven't been back to Milford in years, but it's okay because I know that none of my old regular friends are still regulars there."
And she made it into Starbucks on Valentine's Day with her hubby Mitch and took a cute photo with the photo props!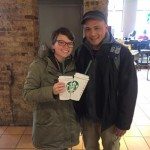 8. Lyddy R. – Lyddy's story: You never know what your neighbor, the person next to you, what any person is going through…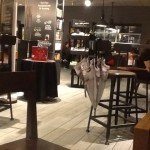 Melody, my home is in San Francisco, but I have been in Canada for medical treatment after being thrown off my medical plan 18 months into cancer treatment. Because my mom was Canadian and I have a Canadian passport, I am able to receive medical treatment here in B.C.  Although I was told to expect to be here for 4 to 6 months, I have been here for 18 months (as of today actually!).
I am staying in my little (14 foot) travel trailer parked in someone's yard. I do not know a single soul here and, because I have been here much longer than expected, my medications cost much more than anticipated and my bills at home in San Francisco still go on whether I am there or not, I am on a pretty tight budget:  a movie once a month, window shopping only and definitely no eating out. To make matters worse, I am in the Vancouver suburbs and for someone who has lived their life in the center of the city, it's a tough adjustment.  
But I always make room in my budget for my daily trip to Starbucks #60, Ocean Park store, located at 1658 128 St. in South Surrey, BC. Although not a large Starbucks, it is a very busy one.  Depending on my medical appointments, I am sometimes there just after breakfast when the moms come in for coffee after dropping their kiddies at school or finishing their jog.  Other times, I am there in the early afternoon when a lot of seniors come in for a drink after finishing their shopping at the Safeway next door.
Lately,  I have been there in the late afternoon,after finishing my radiation treatments and a 75 minute Sky Train and bus ride from the city. I cannot tell you how wonderful it is to sink in to those soft seats, with a Vente Earl Grey latte, a London Fog or an Oprah Chai Tea in my hand and just try to unwind.
Just being among other people, especially those who are not sick but going about their everyday lives, makes me think positive thoughts about my future. Hearing kids laugh, watching what people wear (I admit to being a bit of a fashionista in my 'normal' life), eavesdropping on conversations about what color to paint the walls or where to go on vacation returns my reverie to the positive side of things after what is often a black day(and I'm not just talking about the Canadian weather!).
In the past couple of weeks, I have fallen asleep in those chairs (radiation can be very draining…I hope you never have to find that out for yourself). A few times, after a short snooze, I have heard people make snide remarks about my sleeping, but I forgive them…they know not of what they speak.
But the Starbucks staff here?   Princes and princesses among mere mortals. Always kind, always welcoming. I haven't told any of them of my situation here, but I suspect they know more than I think.
9. Carrie E. – Carrie sent in a pic of her pup, "Tex", getting a puppuccino! It reminds me, please be sure to visit PetsOfStarbucks.com too!
"A barista at the Starbucks on the west side of Great Falls, MT treated my energetic puppy "Tex" to a "Puppiccino" when he arrived at their drive thru window. This has made this our favorite Starbucks. They have a new four-legged fan!"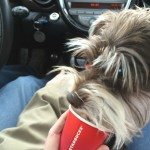 10. Tyler wrote in simply because he appreciates a beautiful flat white. I do too! And after my milk steaming lesson earlier this week, I'm impressed with all the partners out there who can consistently produce an excellent flat white.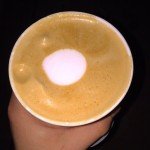 Thank you for sending in your photos, pictures and stories!
Related posts