5 years of MyStarbucksIdea.com
Melody, April 5, 2013
29
4 min

read
This March, MyStarbucksIdea.com celebrated its fifth year anniversary.  That's a long time. I joined in the very beginning, in March of 2008.  The site was officially unveiled at the 2008 Starbucks annual meeting of shareholders.  Before the meeting started, there were partners walking around with little cards that said something like, "Do you have an idea for Starbucks?" and some of those early ideas were uploaded onto MSI from the paper cards.
There is no doubt, MyStarbucksIdea.com has influenced some of the things that Starbucks has done over the past five years.  The yearly return of Tribute Blend can be directly tied to MyStarbucksIdea.com!  And, I am thankful for that one being launched!  That might be my favorite of launched idea.  The StarbucksStore.com starting selling gear and clothing in response to customer demand on MSI.
I wanted to pass on this infographic because I thought that the stats in it were totally interesting.  Who knew that the San Fernando Valley of California sells the most Frappuccinos?  I would have guessed somewhere in Arizona?  And who knew that Fridays are the most popular days for cake pops?  LOL.  That's funny.  I haven't liked all of the cake pops, but there was a rocky road a while back that was wonderful!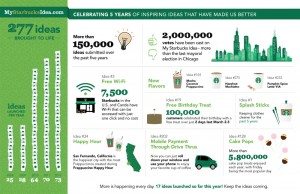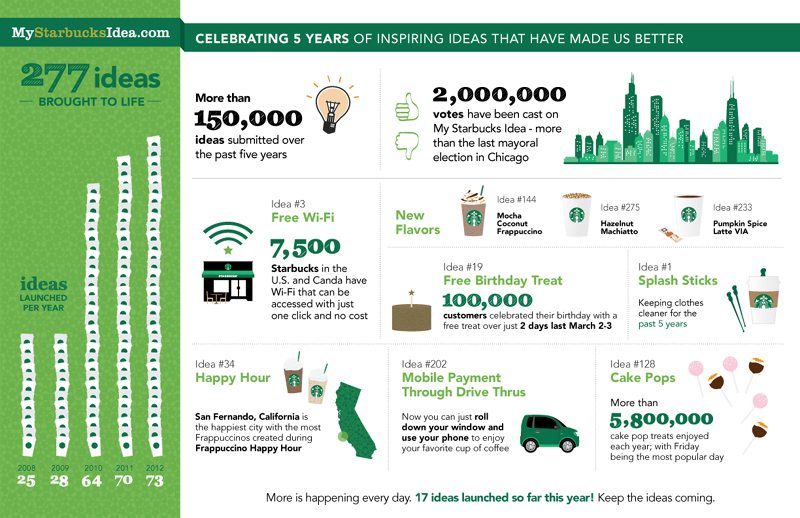 I still have a wish list for MyStarbucksIdea.com.  I would love to be able to have the ability to report a thread more than one time.  Right now, if there is an "abuse" problem in a thread, a user can click a button that says, "report abuse."  You get one chance per thread to report abuse.  That's it.  If the same thread becomes a problem again, hours later, weeks later, months later, there's no way to go back and re-report the same thread.  You've already spent your one chance.   Thankfully, one might not even need this function often, but when you need it, you really do need it.
What do I think of MyStarbucksIdea.com?  I think it serves a valuable role.  It's like a weather vane which always lets Starbucks knows which way the wind is currently blowing.  It's not an exact science.  And sometimes weather vanes don't tell you everything you need to know about whether going outside is a good idea, but it is still a valuable role.  On top of that, you never know when someone is going to post an idea that really touches a chord and is introduced in a meaningful way.
When it comes to a company filtering new ideas and products, there is a Howard Schultz moment which I find to be near brilliant.  I leave you with that:
Howard Schultz:
Even though Starbucks has become a big company – and I think especially  since when I came back – I wanted to kind of reignite the entrepreneurial DNA of the company. And great entrepreneurs have to have the curiosity to see around corners.  And then the organization must have the courage to kind of go after it.  I think we don't want to bet the company on a new idea but we want to stretch the envelope a bit.  This is not a science; it's more of  an art.  Some of  it is intuitive.  We do use some forms of research sometimes.  We want to be able to test things and surprise and delight our customers.   So… but the majority of ideas that get generated don't make it to the store.  There is just so much we can do.  But every now and then I think you gotta take a very big swing, like we did with Via.  And demonstrate that you could take the road less traveled and bring quality  and execution to a category that has not had it.   And I think great companies, whether it's Apple or Nike or other consumer brands, provide the market place with products and services that perhaps the customer didn't think they needed.  And all of a sudden they say "God, I can't live without this."  And those things are hard to research.  A lot of it is intuitive.
Feel free to talk about anything related to MyStarbucksIdea.com.
Related posts