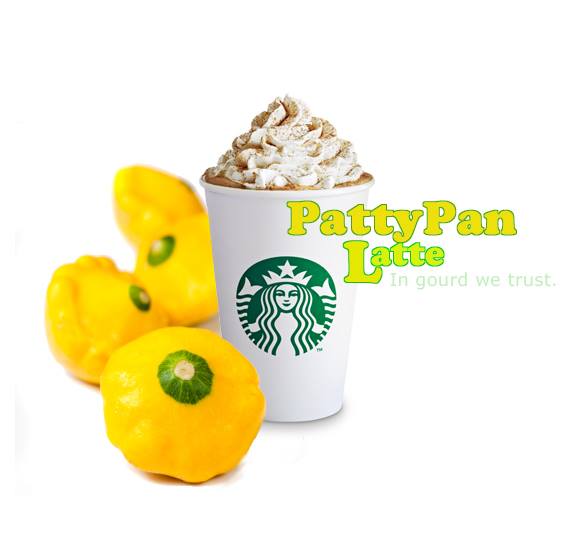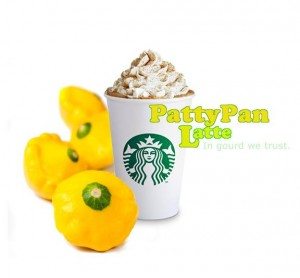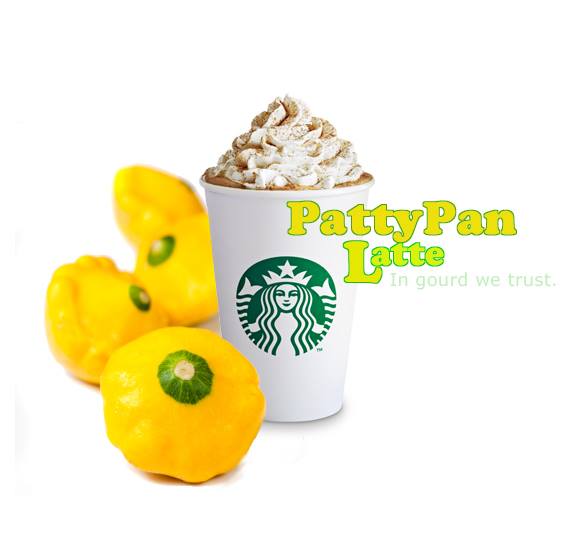 Beginning April 1, 2016, there's a new beverage at Starbucks. It's the Patty Pan Latte. Inspired by the Pumpkin Spice Latte, and further testing of seasonal drinks such as the Pumpkin Flat White and the Acorn Squash Latte, Starbucks has come up with a flavorful fall-inspired drink, just in time for spring weather.
The Patty Pan Latte is steamed milk, with a proprietary summer squash flavored syrup. The special syrup, which was developed after years of testing and reformulation, has a hint of salt and pepper flavor to it. The latte is topped with whipped cream and then gets a sprinkle an all-new bacon-cinnamon flavor topping.
The Patty Pan Latte is a seasonal item! Like the Pumpkin Spice Latte, when the syrup runs out, it's all gone!
I talked to Starbucks Media Relations representative Pam Beesly, who told me this: "Starbucks is proud to innovate again around the espresso category, our core competency, and to bring innovation to the Starbucks espresso lineup unlike ever before. Customers can enjoy this drink as a latte, flat white, or even a Patty Pan Frappuccino. We took a long time to get this just right. We're sure customers are going to love the balance of sweet and savory while enjoying an early summer drink, the Patty Pan Latte."
Starbucks beverage innovator Peter Dukes teamed up with a newer up-and-coming beverage developer, Dwight Schrute, to come up with both the perfect syrup and topping. The bacon-cinnamon powder topping is light and delicate but definitely will make you think you're enjoying summer squash wrapped in bacon. Dwight Schrute said that the drink was inspired by his mother's favorite recipe, back in Scranton, New Jersey, squash baked with bacon.
I think you're going to love this new drink!
Happy April Fool's Day!!
Have in jest, and half serious, I've started another blog. It's not like I needed more blogs to keep up with. I already produce TeavanaMelody.com, DiscoverStarbucksReserve.com, StarbucksMelody.com, and now there's "MyShoeDiary.com". Whether or not I'll keep up the shoe blog remains to be seen. I figured that I have to announce it on April Fool's Day, just in case I want to go back and call it a joke. The real shoe adventure will begin May 15, 2016, which is "International Fluevog Day."
Related posts