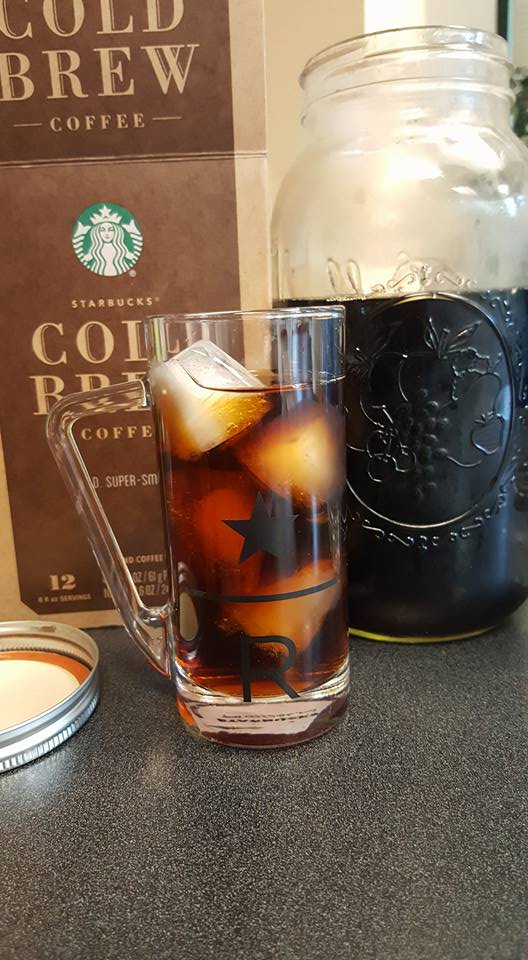 Do you want wonderful cold brew coffee at home? One easy option is the Starbucks Cold Brew pitcher packs: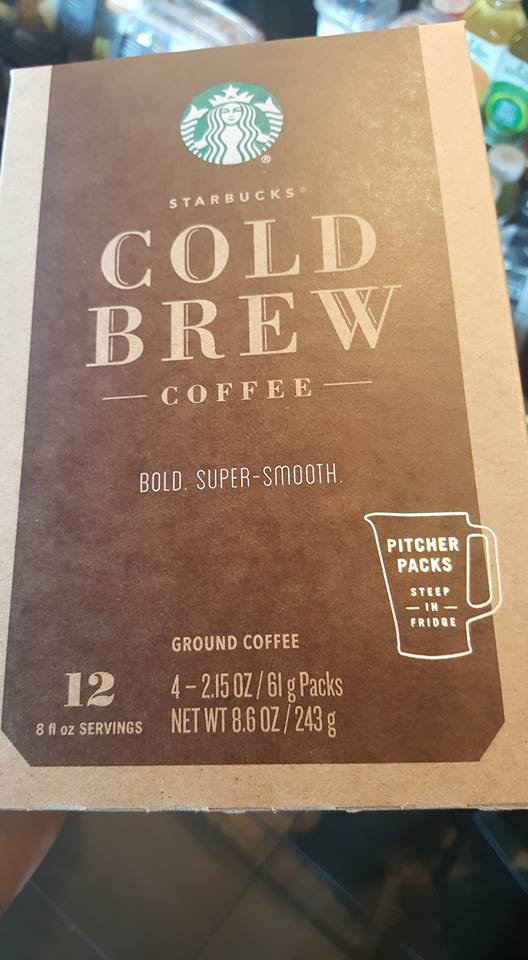 First off, the Starbucks Cold Brew Coffee Pitcher Packs officially launch in stores on July 12, 2016.
Over the long 4th of July holiday weekend, I visited a number of Starbucks locations in Orange County, California. I noticed that one of them had put out their Cold Brew Pitcher Packs early. So I snatched one up. The above photo was me taking a picture as I was standing in line.
I took the pitcher packs home, reviewed the instructions, and got on my way making cold brew coffee: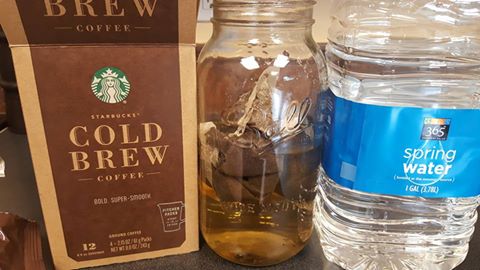 So here's what you'll need to effectively make this delicious cold brew coffee at home:
A very large jar, like a big mason jar or pitcher that holds at least 6 cups of water.
Fresh, filtered water.
Something to measure a few cups of water.
The Starbucks Cold Brew Coffee Pitcher packs.
The directions are on the side of the box: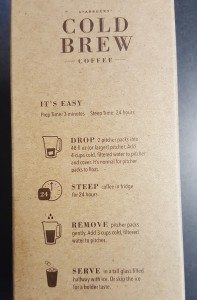 Once you open up the box, you'll see two large foil packages. Inside each of the two foil packages is your actual coffee for the cold brew: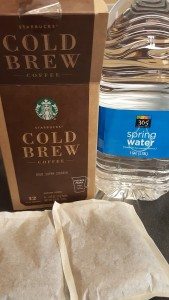 You open the brown foil packaging (not shown above) and you'll find two, smaller, paper enclosed packages of ground coffee.
STARBUCKS DIRECTIONS:
Drop 2 pitcher packs into a 48 fluid ounce (or larger) pitcher. Add 4 cups of cold, filtered water. Cover.
Steep for 24 hours
Remove pitcher packs gently.
Add 3 cups cold, filtered water to pitcher.
Serve in a tall glass, filled half way with ice.
Voilà! Beautiful cold brew coffee!
Starbucks says the brew time is 24 hours. You don't have to consider that as written in stone. If you dig online, you'll find that cold brew coffee can be brew brewed anywhere from 12 to 24 hours. I brewed mine for 16 hours. I personally prefer a brew time from 16 to 20 hours. In one Facebook group, a barista wrote that she tried these out, but forgot about them. She had a 28 hour brew time, and in her opinion, it was still fine. Melody's recommendation is a 16 to 20 hour brew time.
Be extremely carefully pulling the 2 packets of coffee out of the pitcher. The packaging is not like a tea bag. It's a more paper-like packaging. It rips very, very easily. If you are not careful, you'll end up with a pitcher full of coffee grounds. It could be that the packaging of the ground coffee is intentionally in a compost-able, but fragile packaging. When you're all done, you can toss your used coffee packets into your city compost.
The only major downside of using a pitcher pack like this is that you can't experiment and use your own favorite coffee as a cold brew.
Cold brew coffee is naturally sweet, soft, very low acidity, and delicious. The final product here is very, very close to what you buy in Starbucks stores. It's a little expensive – I think the box was about $16 with tax, but it's MUCH cheaper than buying cold brew by the glass inside Starbucks stores.
Cold brew coffee is super delicious in the summer. It is seriously one of the hot things to talk about in the world of coffee right now. You can even blend your cold brew with ice cream and make a great coffee shake.
The world of Starbucks cold brew coffee has exploded. It's a big thing:
You can buy Starbucks bottled cold brew in limited stores and areas of the country.
The Starbucks Reserve Roastery and Tasting Room in Seattle offers a malted cold brew shake.
Starbucks is testing out nitrogen-infused cold brew in some stores. That's known as "Nitro Cold Brew."
You can buy a variety of cold brew kits to make it at home. I happen to really like the Roastery's Cold Brew Coffee Sock kit (which you can also find at coffeesock.com).
Enjoy! I want to know what you think!
Related posts