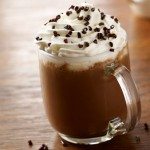 Starbucks is introducing the dark cherry syrup into its lineup for spring. It's wonderful. It will be in every store by March 9, 2010, and is currently being offered in limited locations now, as a soft launch.  Starbucks announced this new beverage here on February 22, 2010. Turning back to last December, I had a strong hunch that this beverage would come to North America.  With over 60 comments and for nearly three months, one of the most popular threads at StarbucksMelody.com has been this one:
Should Starbucks Bring the Dark Cherry Mocha to the US?
I've had the chance to try the syrup in a few things, and I can say it's a wonderfully mild syrup that goes well in many beverages.  I have tried dark cherry with hot chai, dark cherry with Yirgacheffe from the Clover, dark cherry vanilla bean Frappuccino, dark cherry in my oatmeal … all are wonderful.  I haven't tried a dark cherry hot chocolate but that is on my to-do list.  I drink very few espresso beverages so it will be a while before I try the dark cherry mocha.
A tip for baristas: I have been able to verify for certain that dark cherry is a "premium" syrup so it does not become a free perk with a registered card under the new My Starbucks Rewards (of course, if you have customers using the old ten percent off it's not a perk anyway).  This might be good to know if you have confused customers adding the dark cherry syrup to everything under the sun, as I have done.
Now is your chance to rant and rave about this syrup. I bet I will hear more raving than ranting!
Related posts