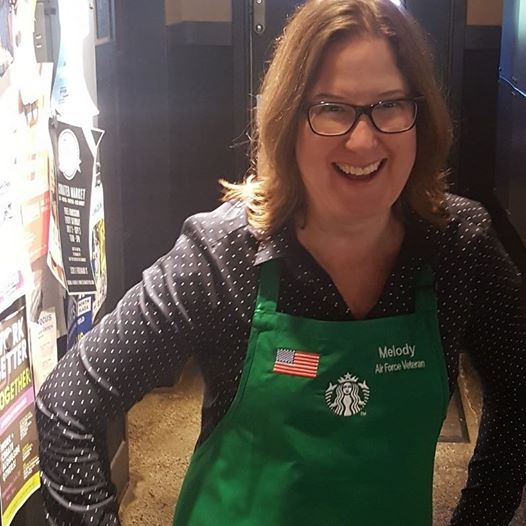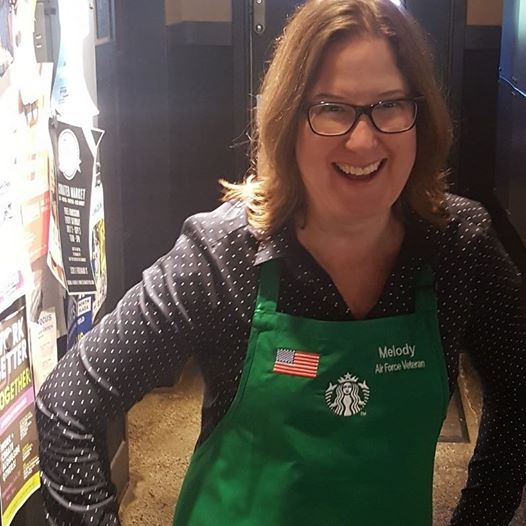 Starbucks has just announced a major revision to their dress code. You might recall, previously store-level partners (Starbucks calls their employees, 'partners') had to wear shirts with a collar and were allowed a very limited range of colors. Black and white. Blue denim jeans were not permitted.
Take a look at the new dress code!
Starbucks store partners now follow a style guide called a "Look Book."
Here is in a nutshell:
Partners can now wear a large range of colors: In general, look for black, white, dark denim, navy, gray, and brown. Solids are excellent choices. Patterns are permitted if the shirt has a small, tight and low contrasting pattern.
(Previously, the acceptable colors at Starbucks were only black and white.)
Hair: Partners now can have an unnatural hair color. Pink, yellow, multi-colored. You name it. However cannot be sprayed or have glitter in it for food safety reasons. It has to be permanent or semi-permanent, but not a temporary spray on color that may erode or flake.
Shirts: Shirts don't necessarily have to have a collar anymore. The big shirt 'no nos' are hoodies, plain white t-shirts, a plunging neckline dropping below the green apron, any pattern on a shirt not within the color palette, any pattern too busy or too loud. Also, a manufacturer emblem cannot be too large, and a shirt cannot have large ornamentation or embroidery.
Bottoms: Partners may wear pants, shorts, skirts, or dresses in black, gray, navy, or khaki. White is not acceptable for bottoms, skirts, or dresses.  Lighter hues of denim jeans are not allowed. Partners may not wear leather pants, sweat pants, or leggings. Skirts and dresses may not be more than shorter than four inches above the knee.
All clothes and aprons must be clean and good repair. The Look Book reminds partners that they are the face of the brand.
Here are a couple of official Starbucks photos that feature the new dress code: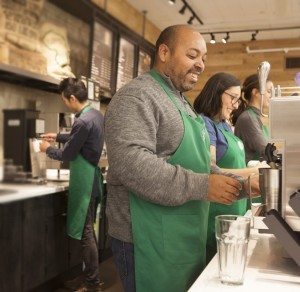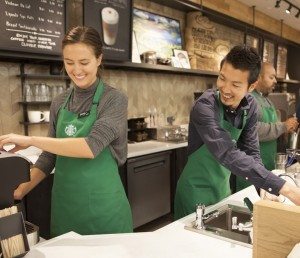 Melody's thoughts:
When I saw the new look book, I wondered how easily I could just pull things out of my wardrobe and dress in accordance with the new dress code. It's definitely true that there is a lot more freedom in what a partner can wear to work in stores. It is not a free-for-all. I even spent nearly a whole afternoon shopping, trying to figure it out.
Patterns: It's a little bit hard to find very muted plaid or tightly-patterned shirts. Plenty of shirts have a wonderful navy, black, or white main color but then have patterns that are too large or contain colors that are not within the approved color palette. Brown ladies shirts are less common than you might think. Maybe it will be easier to buy brown shirts when fall collections appear.
I grabbed an old gray turtleneck from my wardrobe, and bought two new items from H & M (I love that store). I put the wardrobe to the test. I wore an old pair of cheap Levi's which I bought eons ago at Fred Meyer.  (Fred Meyer is a Pacific Northwest chain of stores which look and feel a bit like a Target, however they're owned and operated by Kroger.)
I went to East Olive Way Starbucks and decided to try on clothes there and take selfies of myself with the interior of store as the background. I camped out fairly close to the ladies restroom and went at it. I already owned a couple of aprons. This Starbucks is in Seattle's Capitol Hill neighborhood. It must be an interesting place to work at. Honestly, it would take a lot to phase either the partners or customers there. The fact that a girl is running in and out of the restroom, changing her outfits, and taking massive selfies of herself in Starbucks aprons just doesn't phase anyone. It's that kind of a store where anything can happen. (It is one of my favorite stores).
One of the first outfits I picked out was this: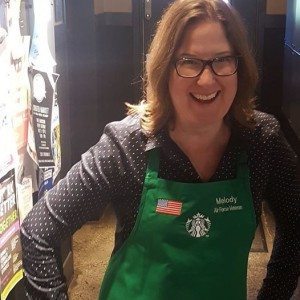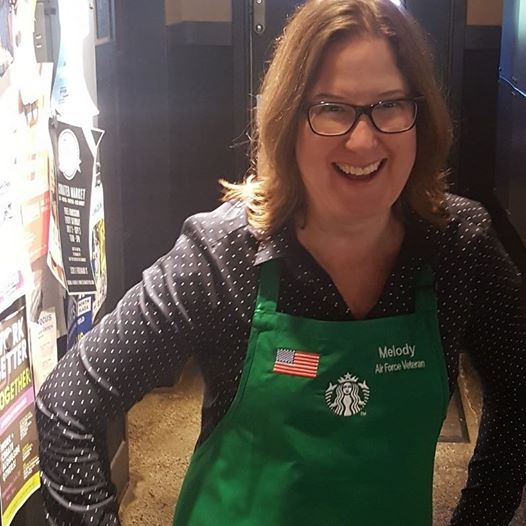 I was attempting to take a selfie of me in this dotted shirt, and it wasn't going too well. A customer literally got up, walked up to me, and said, "Would you like me to take a picture of you?" I have no idea who the handsome, young, gentleman was but I was laughing a bit as I tried to explain, "I don't work for Starbucks. I'm just taking pics of myself in a variety of clothes and aprons." In no way did this make him nonplussed. He happily snapped the above great photo. Anything can happen at East Olive Way.
This shirt demonstrates that patterns can be difficult to pick out. The base of that shirt is navy, which is definitely within the acceptable color palette. It has very small white dots. White is also within the color palette. I think it's possible that a few store managers would say that the pattern is too busy. However I know that it would pass muster with me, if I hypothetically did work for Starbucks. I think this shirt would be okay with the overwhelming majority of store managers.
I took a selfie of me in an old gray turtleneck that I've owned for years. It was way too hot today in July for a turtleneck, but I briefly put it on: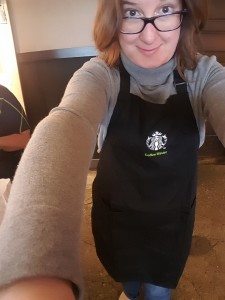 And lastly, I wanted demonstrate that there's no need for a collar anymore. Here's a simple button up cardigan (in navy):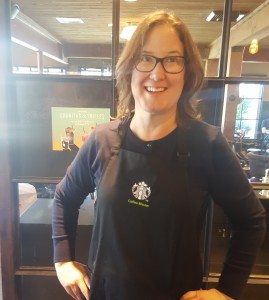 Please note that the images of me in the black apron are not in perfect dress code: I should be wearing a name tag.
So I think it's very fun that partners have a ton of freedom now. It will still be some work to find the right pieces that look perfect, but it's a lot more fun than black, white, and khaki (previously, khaki color was only permitted for bottoms.)
The areas that I saw that were vague were as follows:
The Look Book wasn't clear if pants could have a pattern.
It will be subjective what's a "too busy" pattern.
The Look Book doesn't address kilts for men.
It's not clear if there will still be a tiny number of stores that are not permitted to follow the new dress code. I am thinking specifically of the "Downtown Disney" Starbucks stores which are owned and operated by Starbucks but sit on Disney property. I've heard it said that partners in these stores must satisfy both the Disney dress code (much more strict than Starbucks) and the Starbucks dress code.
I can't believe I used pictures of me for this blog! Oh well.
I think this change is a change in the right direction. There are ways that I want Starbucks to improve. There are times I've talked about both the customer and partner experience being in crisis. Endless arguing at the register. Unhappy partners. Partners who don't care. Perhaps what I just wrote there is unfair and a sweeping generalization but I strongly believe there is a lot of work needed improve experiences for both customers and partners. It will take affirmative and decisive steps from the headquarters. Over the years I've come to believe that partners have no need to dress like they're ready to step into a courtroom: They're making coffee and smiles not closing arguments.
Weigh in. What do you think of the changes? Will it impact you or your Starbucks experience?
Honestly, I love the new dress code. As I've said multiple times already, it's a great step in the right direction.
IMPORTANT NOTE: I do not work for Starbucks. I did gather materials and information directly from the Starbucks headquarters to prepare this article, including reading the Look Book myself. Some of what is contained in this article is just my opinion. I have a continuous dialogue with the Starbucks headquarters, even as a customer. So despite that you see a lot of details here directly from the Look Book, which was released to store partners (in a digital format) on July 25th, and despite that there are images of me in Starbucks aprons, please remember that I do not work for Starbucks. I'm just a customer in Seattle. I know that once in a while, this little website of mine confuses people.
Related posts