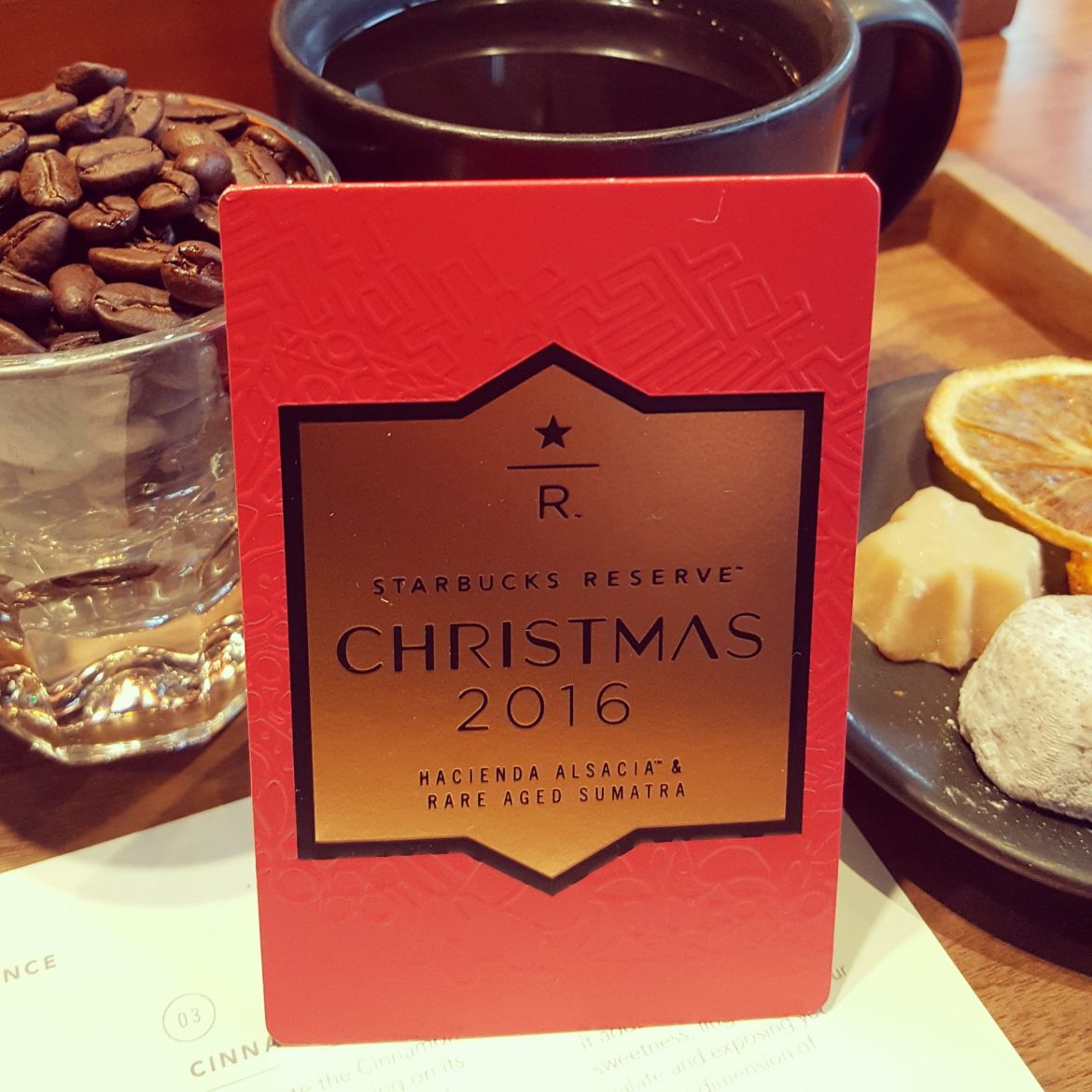 Christmas Reserve Blend: December 8th it arrives.
Melody, November 29, 2016
5
3 min

read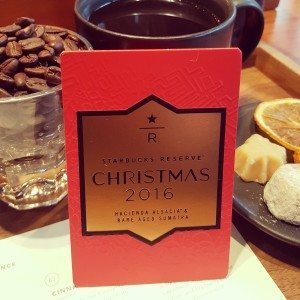 Starbucks is releasing Starbucks Reserve Christmas blend on December 8, 2016. Mark your calendars.
It will be a limited release, going to 3,660 Starbucks stores across the United States and Canada, and officially launches on December 8th. You'll also find this limited offering in select Starbucks locations (look for Reserve stores) in 30 countries worldwide. On December 1, 2016, it will be available on StarbucksStore.com. You can purchase it now at the Starbucks Reserve Roastery and Tasting Room in Seattle. All of these outlets for this coffee are 'while supplies last', so don't wait!
It will be gone quickly. This year's Reserve Christmas coffee is stunningly good. Like last year, it is a blend of Aged Sumatra and Costa Rica Hacienda Alsacia, yet it's even better. It's true, since coffee is a farm product, crops can vary in flavor and coffee blends can have some variation from season to season.
This is the second time I've written about this coffee. The first time I recommended Starbucks Christmas Reserve pulled as an espresso shot, and showed a few images of Aged Sumatra. I've had it as a cup of coffee, iced, and an espresso shot and can say it is a versatile coffee.
Starbucks describes it as having flavor notes of "Warm woodsy aromas and holiday accents of mulled spices and orange zest." Complementary flavors are maple, cloves, cinnamon, and sweet citrus.
I tried it as part of the Roastery's tasting experience, specifically designed for this coffee, and thought the cinnamon and sweet orange notes were the most prominent. The Roastery's guided tasting for this coffee involves a maple sweet, cinnamon cookie, and freeze dried orange: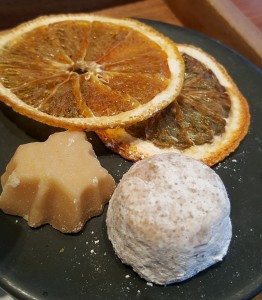 The powdered sugar cinnamon cookie made the cinnamon in the coffee pop. The freeze dried oranges highlighted the citrus notes. I noticed the maple notes were the more subtle.
Here's the coffee tasting journey for Reserve Christmas: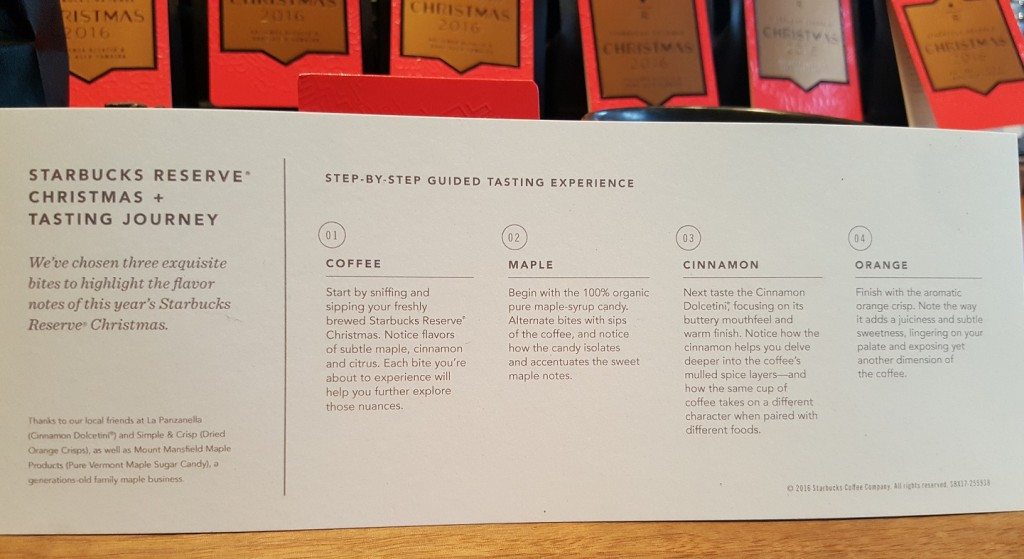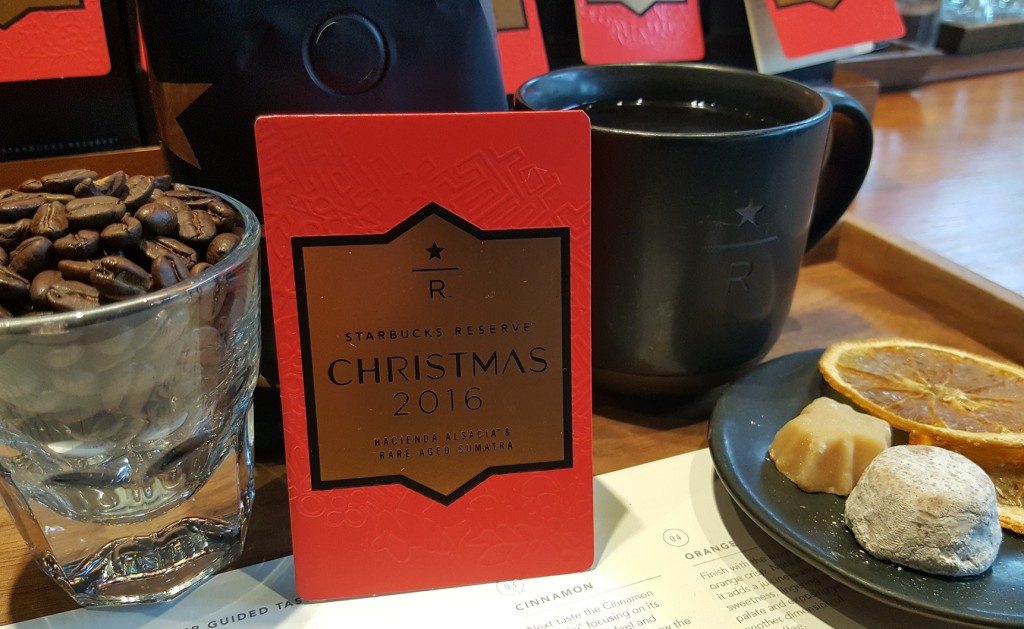 This coffee is considered to be a medium body, medium acidity coffee. ome of the cSoffee is semi washed (the Aged Sumatra portion) and the other component is wash processed (Hacienda Alsacia). (The terms 'washed' and semi-washed' are common terms in the coffee industry to describe methods that the farmers use to remove the coffee cherry from the bean itself.)
The Reserve tasting card art is inspired by the blending of these two coffees: Aged Sumatra and Hacienda Alsacia. In keeping with the spirit of the holidays, the embossed design on the red area of the card represents two different patterns blended into a wreath.
If you are looking for this coffee, first check at your nearest Starbucks Reserve location. In the U.S. and Canada, there will be some core Starbucks stores (those that do not offer Reserve coffees) which will get Reserve Christmas 2016.
I want to hear how you like it and what you tried it with. By the way, if you're an aspiring coffee master, this coffee would be an excellent coffee to do a compare and contrast with Reserve  Christmas compared to Aged Sumatra (not as a blend, but just as Aged Sumatra). Since Aged Sumatra is a component of this coffee, it would be interest to try the two coffees side by side to better learn to discern the Aged Sumatra notes in the Reserve Christmas blend. If you still have a bag of Aged Sumatra laying around, this is a great coffee education idea.
Related posts