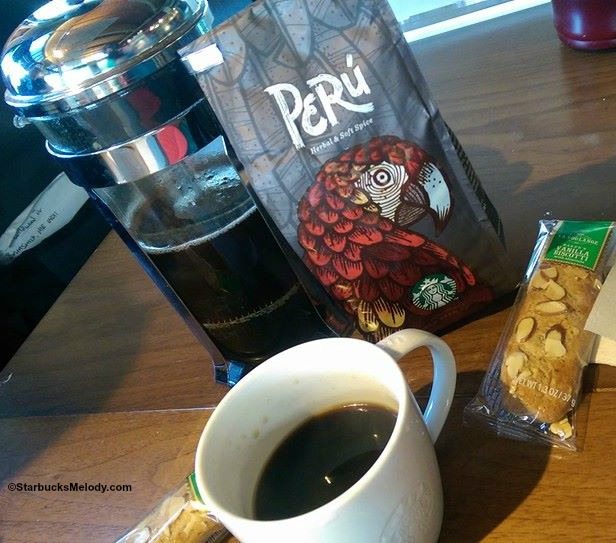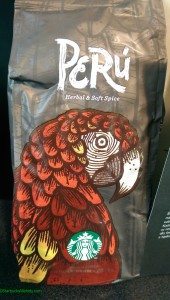 Right now if you're visiting a Starbucks store in Europe or in the Middle East, you'll find a special seasonal coffee: Peru. A reader in Poland sent me one bag of it. Lucky for me, the Peru coffee arrived shortly before a planned get together with a friend (on 4/4), at the First and Walker Starbucks.It was absolutely wonderful to sit down over a French press, catch up, and connect over coffee.
This coffee is a core coffee for Starbucks stores actually located in Peru, but as I mentioned before, a seasonal offering for the Europe and Middle East Starbucks locations. The description is a round, balanced coffee with medium body, soft acidity and mild nut flavors. Complementary flavors for this coffee are nuts and chocolate.
For a limited time in Starbucks stores in Europe and the Middle East, you can order this Peru (instead of the standard espresso roast) as your shot of espresso in your favorite hand-crafted beverage.
The bag is just beautiful. It was designed by Starbucks creative designer Victor Melendez, who told me his thinking that went into his design: "The macaw is a beautiful bird with brilliant bold colors and so it happens to feature the colors of the Peruvian flag, red and white. So I decided to show the red and white in the front along with the subtle dark feathers in the background."
I had it in a French press and definitely got some of the herbal qualities.
Hope you get the chance to try this wonderful coffee!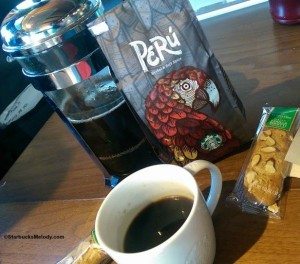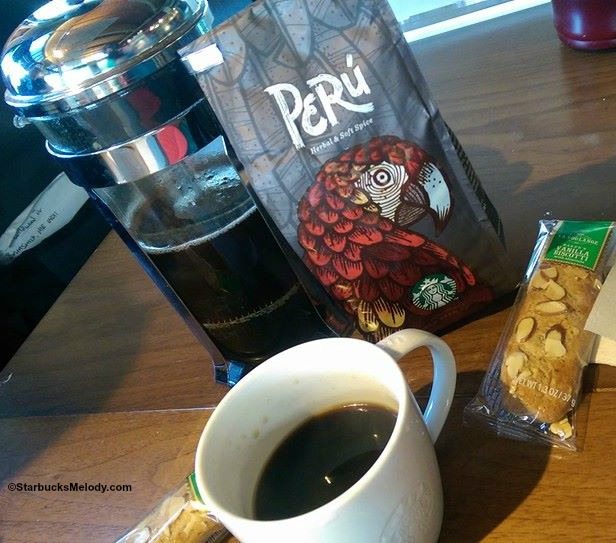 Related posts