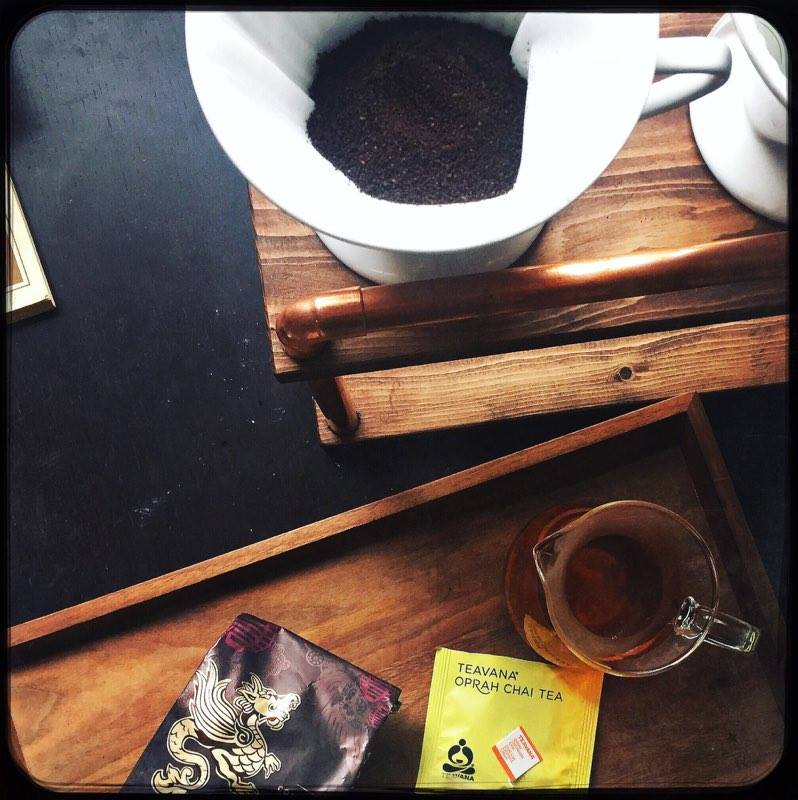 #CoffTea – Teavana Infused Coffee
Melody, February 12, 2017
2
3 min

read
Here's something new in the world of Teavana teas and Starbucks coffee: An infusion of the two of them together. You can call it whatever you like, though I think #CoffTea kind of fits.
I had seen this happening on Instagram, where I stumbled upon the ModernBarista infusing Komodo Dragon with Oprah Chai tea: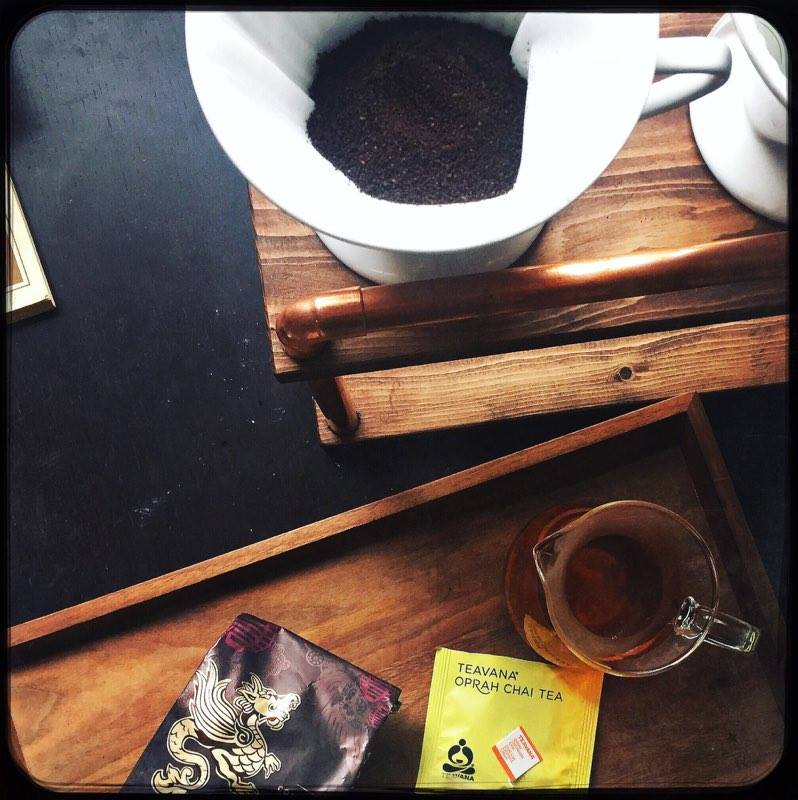 I decided to recreate the above tea infusion experiment, trying three different coffee-tea infusions:
Reserve Ethiopia Shakiso with Teavana Youthberry Tea
Starbucks Veranda Blend with Teavana Earl Grey Tea
Starbucks Komodo Dragon with Teavana Organic Chai. (I tried it with the newer chai tea, as Starbucks is phasing Oprah Chai out of Starbucks stores).
First off, you still want to follow all of the "4 fundamentals of a great cup of coffee." Use fresh, non-expired coffee. Use filtered water. Use the right proportion of coffee to water. Use the right grind for your brew method.
You want to steep your tea before making the coffee. However, have your coffee ready to go before you start steeping your tea bag. Measure out the right amount of hot water. Drop one tea bag in, and steep for just one minute: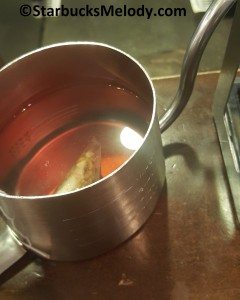 For this experiment, we used 30 grams of coffee to 16 ounces of water. Grind your coffee for a pour over. Get your water, just off the boil. Drop your tea bag into it. Steep for just one minute.
Then use the water in your kettle (now the tea) to make a pour over of coffee. You essentially are making a pour over of coffee substituting tea instead of water. You only want to steep the tea for just one minute to make sure that the water doesn't cool off too much and so that you don't have such powerful tea that it overwhelms the coffee.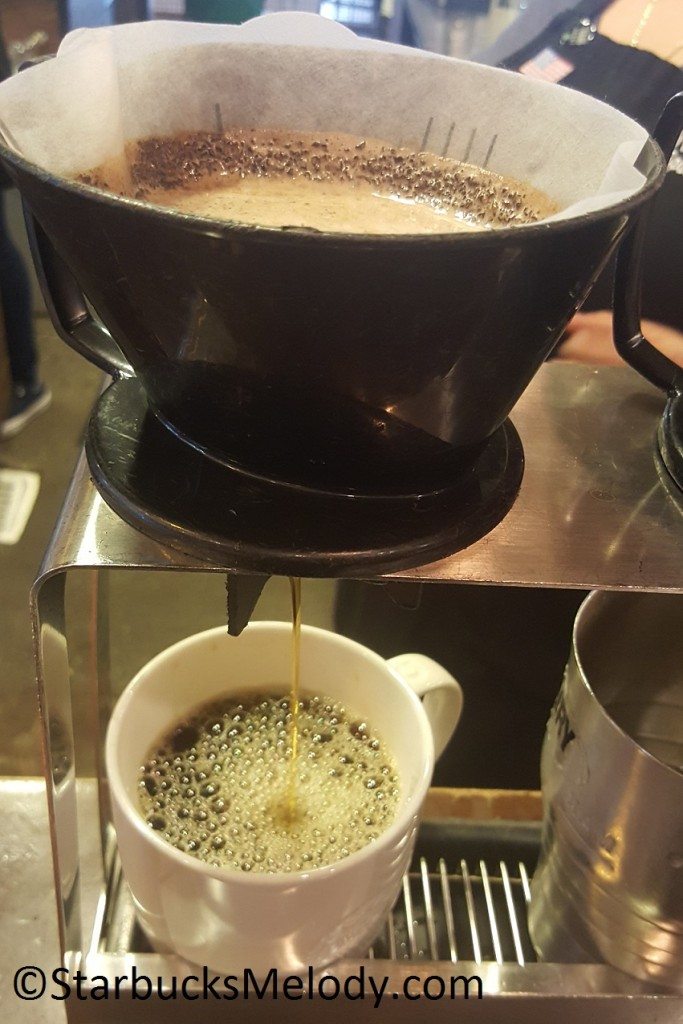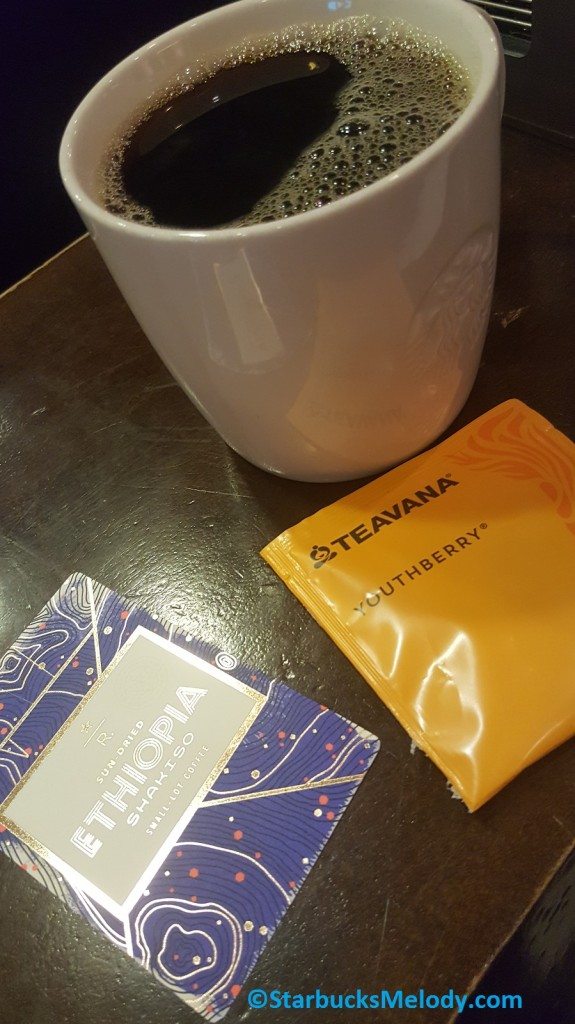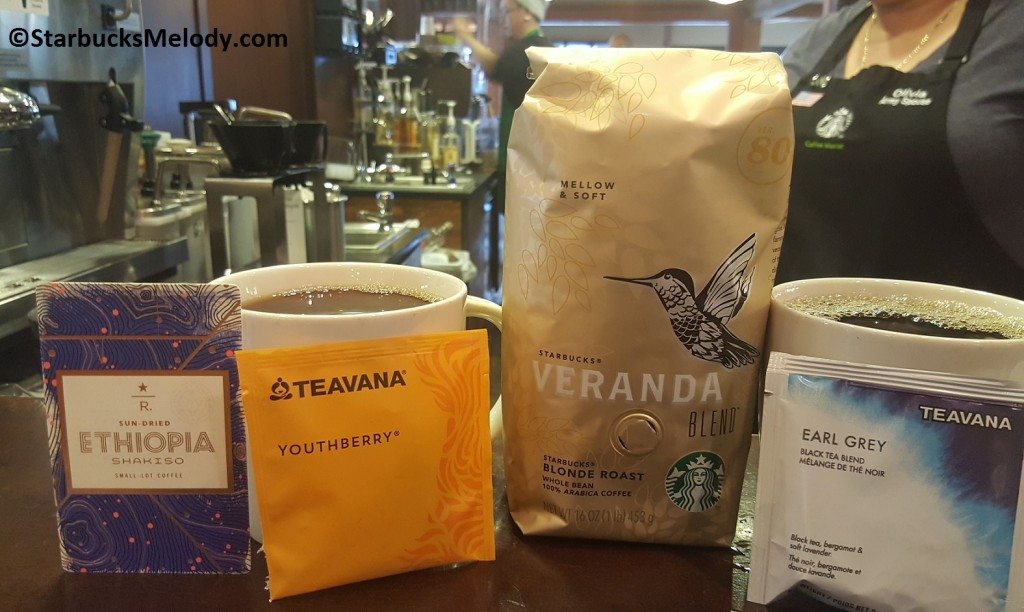 Here's the Komodo Dragon with Chai being made: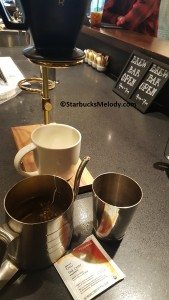 Here's what I thought of these:
Ethiopia Shakiso with Teavana Youthberry: This was sooo good! You get a burst of berry notes, and very easy to drink coffee. The aroma is amazing.
Veranda Blend with Earl Grey – This is an interesting combination. Your coffee becomes remarkably complex with all kinds of flavor notes. The Veranda blend gains a lot of softness and smoothness from the tea.
Komodo Dragon with Chai: This becomes a very spicy coffee. All of the spicy notes in Komodo Dragon just pop. One barista who tried it with me described it as, "your coffee becomes like eating chili."
I definitely want to try these again, and I would LOVE to try the first two (Shakiso and Youthberry, and Veranda and Earl Grey) iced. I think there would have to be some adjustment of the recipe, but I can see that an iced Ethiopia Shakiso infused with Youthberry would be a fabulous Reserve bar type drink.
Your local baristas might be confused by this. Also, in order to get your baristas to do this, you may have to purchase both a tea and a coffee. Don't try to spring the idea of Teavana infused coffee on your local store during peak rush hour. This would be an excellent experiment to try at home too.
I'm campaigning for these coffee-tea infusions to make it on to a Reserve Starbucks bar beverage menu!
Enjoy!
Related posts