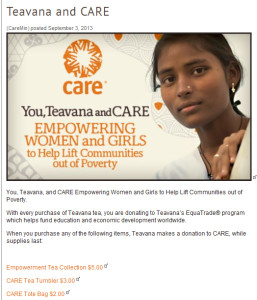 Teavana and Care.org have partnered to empower women in poverty in Asia, India and Africa.  The promotion began in early September, and donates money to Care.org when a customer makes a purchase of the Teavana – Care branded merchandise.  I think this is pretty cool.  The Care – Teavana merchandise includes tote bags, a tea tumbler, and an "Empowerment Tea Collection."  Teavana will donate $2.00 care for each Care – Teavana tote bag sold, $3,00 for every tea tumbler sold, and $5.00 for each Empowerment Tea Collection set.
There are three designs to the tote bags – I bought the one that is the India design.  It's the only one with the affirmation, "I am powerful" on the side of the bag.  There are a little over 300 Teavana stores nationwide, so if you get the chance to drop by one, check out this partnership.  Care.org is a well-established non-profit working to eliminate poverty, and life up those in third-world countries. At one point in the 1990s, Starbucks was the largest single financial donor to Care.org.  (See the 1993 Annual Shareholders Report.)  I personally would like to hear of more exciting ways that Starbucks and Care.org are working together.
Take a look at the Care- Teavana merchandise:
I went into Teavana tonight partly because I heard that right now they're offering a delicious seasonal Spiced Apple Cider.  You can see lots of dried fruit pieces, cinnamon sticks, and plenty of spices.  I ordered a cup of it hot, so that I could try it right away.  It's delicious.  I was immediately greeted by a large banner sign for the new Spiced Apple Cider.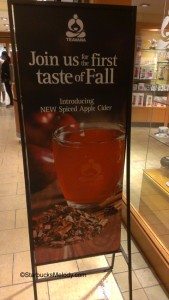 This was a light Spiced Apple Cider.  If you are used to drinking an apple cider made with spices added to heated apple juices, then this might seem a little thin at first sip.  But think of it as an amazing way to have apple cider without the added calories from the apple juice!  I thought this was great.  It's versatile:  You can make a wonderful hot apple cider tea by brewing this Spiced Apple Cider, or I am sure you could add it to apple juice to add a nice spiced flavor.   Here's my apple cider and the loose leaf Spiced Apple Cider:
I definitely enjoyed my Apple Cider Rooibos tea!
Last but not least, as a reminder, you will earn a My Starbucks Rewards star for each transaction at Teavana.  You can also pick up the Teavana-branded Starbucks card at Teavana stores.  Register it, load money on it, and use it to pay for your purchases, and you'll start earning rewards under the My Starbucks Rewards program.
Hope you enjoyed this quick trip to Teavana with me.  Thank you to Julie, the store manager at Pacific Place Teavana, who is always super friendly and helpful.  Whenever I walk in, she remembers me and is eager to show me what's new.  I just wanted to make sure I gave her a shout out!
Related posts