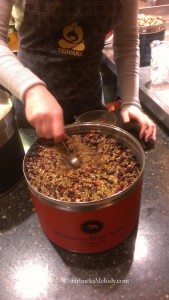 At the end of 2012, Starbucks purchased Teavana.  That means that Teavana is officially in the Starbucks family of brands.   Welcome Teavana!
The Starbucks brands now include Tazo, Seattle's Best Coffee, La Boulange, and Evolution Fresh.  (Technically, Starbucks owns the Torrefazione Italia brand as well.)
I am very excited to be able to start writing about Teavana too!  So I thought I'd drop by and see what's there.  The closest store to me is the Teavana in Pacific Place.
Momentarily, I was worried that taking photos inside the Teavana would be a problem.  Here in Seattle, I very rarely have any problem taking photos, as it seems as if downtown Seattle partners know the Starbucks photo policy.  I took a handful of photos with my phone during my visit, and it didn't seem to be any problem.
I went in and just pretended to be completely new to tea.  (That's not very hard to pretend.  I am much more confident about my coffee knowledge versus my tea knowledge.)  I wanted to know what kind of experience there was to be had at Teavana.
I pretty quickly found the large containers of iced tea for sampling – the store was sampling iced "Blueberry Bliss" sweetened with "German sugar."  I easily fell in love with this tea.  It was so delicious.  One thing I would like Starbucks to do is offer a few more iced teas in the store – or at least one more iced tea.  A Teavana partner showed me the loose leaf Blueberry Bliss.  One thing that I found interesting is that the only way you can buy Teavana is as loose leaf tea.  It's surprising to me that there aren't any kind of packaged sachets available.  I was delighted that you can buy an iced tea (made to order) in the store.  I liked the Blueberry Bliss tea so much that I bought one in the store too.  You can see the sample containers and the tea here:
I commented off-handedly that, "I'll never be able to make my tea at home taste as good as yours," and it was clear that the Teavana partner took this as a challenge to load me up with everything that I would need to make the exact same iced Blueberry Bliss at home too.
Emily, the Teavana partner helping me, was extremely good at telling me just what I would need.  At one point, she said, "You're going to need a pound of German sugar" and it more phrased as, 'you'll buy this too,' rather than "would you like to buy the right sugar too?"  So when it was all done, I had a special tea maker intended for making both hot and iced tea, some Blueberry Bliss loose leaf tea, a pound of German sugar (because one pound is the smallest size it's sold in), a perfect tea measuring scoop, and small booklet with more information about Teavana teas and brewing tea at home.
Here's my haul: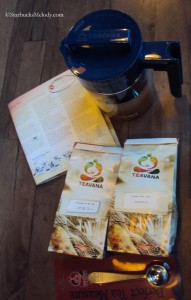 Just a few more photos from this trip into Teavana.  (I added a couple of the pics to my Pinterest page, and hope to add more in the future.) Notice how pretty their special sugar is!  This is just my first my Teavana story on this little site.  I'm sure there will be more in the future. 🙂  Hope you enjoyed this first look at Teavana too!
Related posts