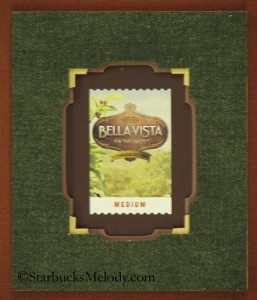 I have a friend in Belltown who runs her own framing business.  Molly has  a classic small, solo business, and she has a passion for framing.  I love dropping by her store nearly every weekend.  It's  like a fast rotating art show.  And she's doing it all herself.  She takes a lot of the photos that I use too.
For a long time now we've talked about framing Starbucks coffee stamps using some scrap mats.  She has about a dozen stamps that I've collected, and each one is to be beautifully and individually framed.  I helped pick out some mat colors but that's the extent of my help.  She is working on all the little stamps, squeezing them in between her much larger and time-sensitive projects.  She has a number of the little stamps matted, but not yet framed.  Once she showed me the matted coffee stamps, I couldn't wait to see more!
The image here is just a teaser of what will be coming later, courtesy of Seattle Custom Framing.
On a more serious note, right now I am going through a brief period of slowing down content on the blog.  I have tons to do at work, and next weekend I will be out of town.  I'm in a funny lull of wondering what to say on this blog.  In the news, Starbucks is launching a Facebook game tomorrow where a person can earn the chance to get the Pumpkin Spice Latte to be pre-launched in their city.  Also in the news, Starbucks is now giving away iphone apps.  New store opening are always a lot of fun, and I think that Western Washington will get a few new stores this fall (as always, I hope to be able to preview them), but that's still too far away to really write about.    For those who missed it, Starbucks' own Stephen Gillett was named "Geek of the Week" by GeekWire.com.  I'd say that's better than getting named "Customer of the Week"  every week for a whole year! 😉  Howard Schultz has been in the news numerous times talking about political campaign donations.  For those who have been reading this blog since the very beginning, you may recall that a couple of long-standing things I've wanted to do were interview Howard Schultz, be able to do a tour of the roasting plant, and a few other projects related to Starbucks history lessons.  I'm no where near close to accomplishing those things.  In a previous blog post, I announced that Breakfast Blend Via is coming this fall, but sadly it looks like I might have posted that in error.  I was sure that at the quarterly conference call I heard Howard talk about Breakfast Blend  Via (and House Blend Via too!) coming this fall, but one partner told me that there's nothing in the upcoming workbook to suggest that this product is coming soon.  In the absence of any official word from our friends at the SSC, I'm left to surmise that Starbucks toyed with the idea of launching Breakfast Blend Via this fall, but it's not happening now.  This remains a part of the Via lineup in the UK.
So far right now, at least over the next two weeks or so, it will be a little slower than usual at StarbucksMelody.com.
Talk amongst yourselves.
Related posts