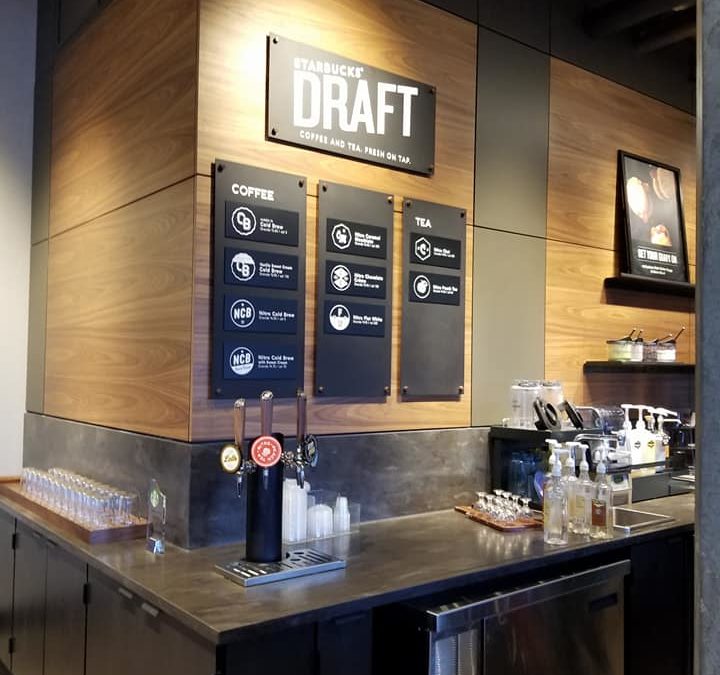 Starbucks Draft: Nitro-infused milk is fabulous.
Melody, February 25, 2018
6
2 min

read
Starbucks has been experimenting with an elevated draft experience for a long time. One fabulous innovation is milk via nitro draft. It sounds simple, yet it adds so much to a drink! A full, creamy, cool, nitro flat white or other nitro milk creation is delicious.
The Starbucks at Broadway & Denny (here in Seattle) has a snazzy nitro draft set up, complete with signage on the taps, like bar taps:
I wrote about the Nitro Flat White last September: Nitro Flat White article. The Nitro Peach Tranquility tea has been in testing since 2016! The fact that it's still available at select stores with the elevated nitro draft system suggests that it will have some staying power. It's delicious!
Stores that feature this elevated nitro draft system are also spotlighting the Nitro Chocolate Crème. I tried this beverage last month and it is delicious, but is also a sweet treat of a drink!
Starbucks describes the Nitro Chocolate Creme as "Our signature, super-smooth cold brew and velvety sweet, nitrogen-infused whole milk swirls superbly with rich chocolate cream."
Here's a closer look at this drink, including a screen cap of the nutrition fact from Starbucks.com:
I'm only aware of 3 Starbucks locations that have this elevated nitro draft system which offers nitrogen-infused milk: Two stores in Seattle and one in Tacoma, Washington.
If you've seen this before, I would love to hear about it! I will work on getting information on how many stores have this and then update the article.
I'd like to see this available at more locations. My favorite nitro milk creation is simply a Nitro Flat White: No need for any sweet chocolate or other flavoring.
Related posts