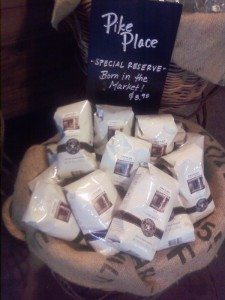 In Seattle, whether the skies are a cold grey or bright blue, there is a street called Pike Place, running north-south through a small market area.  It is not called Pike's Place.  It is not called Pike's Peak. ("Pikes Peak" can be found in Colorado, NOT Seattle, Washington).  And just like baristas do not serve Gold's Coast, it is NOT Pike's. On this old brick road called Pike Place lies a very small store with no seating, sandwiched between two east-west streets called Virginia Street and Stewart Street. At this address, 1912 Pike Place our story begins …
And of course this really is the "Three Coffee Conundrum" episode of Starbucks: Howard, how could you do anything more confusing than giving THREE whole bean Starbucks coffees nearly identical names!
COFFEE #1:
**** PIKE PLACE BLEND:[2003 to about 2008] [[BOLD]]
This coffee is NOT produced anymore and NOT for sale.  This coffee was sold exclusively at the first Starbucks at 1912 Pike Place, and somewhere in the early 2000s it was introduced into the whole bean line up, at the market.  I have almost no information on this coffee! THIS IS NOT THE SAME COFFEE AS PIKE PLACE ROAST!!!!!! I found a random photo online of the brown simple packaging of Pike Place Blend, from that long-past era of when it was sold at 1912 Pike Place and image from a seemingly now defunct Starbucks page: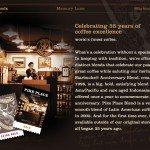 The image that I've loaded called "Pike Place Blend history" came from this web address:
http://www.starbucks.com/retail/anniversarypopup.asp – Notice that the accompanying marketing language states that Pike Place Blend was introduced at the market in 2003. Definitely, during that era of Starbucks, this coffee was sold ONLY at the original Pike Place Store.
Here are a few more random Pike Place Blend images from my google searches on this coffee: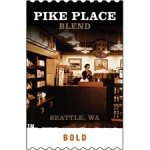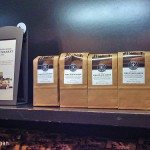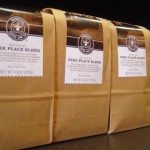 COFFEE #2:
****PIKE PLACE SPECIAL RESERVE:[April 2008 to present] [[BOLD]]
Pike Place Special Reserve is NOT the same coffee as PIKE PLACE ROAST!!! Pike Place Special Reserve IS currently for sale at two stores only:  1912 Pike Place and the Heritage Starbucks at First and Pike.
I know a lot more about Pike Place Special Reserve than its predecessor Pike Place Blend.  In 2006, I began working in downtown Seattle, and in about 2007 I began to frequent the store at 1912 Pike Place because I realized at that time that it was one of the very few Starbucks that still had a manual espresso machine.  At some point in late 2008, I became aware of a coffee called Pike Place Special Reserve. Let me make this totally clear: This coffee existed well before the opening of the Heritage Starbucks at First and Pike and it absolutely definitely pre-dates Pike Place Roast!
I have asked a number of Starbucks partners and baristas at the original store this question:  "Is Pike Place Special Roast the exact same coffee as Pike Place Blend, but just renamed??" and I have gotten a variety of mixed answers, but the majority of partners will say, "Yes – It's the same coffee but it has a new name".  From the conversations I've had with various coffee masters, I think this may very well be the exact same coffee as the predecessor Pike Place Blend, just with a fancy new name.
The coffee tasting information for Pike Place Special Reserve is as follows:
Description:  A blend of  Starbucks' finest single-origin Latin American coffees that speak to the perfection of the Starbucks Roast and the rich coffees that are a part of both the Starbucks past and future.  Pike Place Special Reserve is balanced, well-rounded with a smooth complexity and a touch of roast intensity.
Similar coffees: House Blend, Guatemala Antigua, Columbia Nariño Supremo.
Complimentary flavors: Nuts, cinnamon, brown sugar, and chocolate.
It is absolutely worth noticing that if a customer is buying this coffee at the first store at 1912 Pike Place, it comes with an extra layer of packaging on it – There is a brown paper bag with a very large Pike Place Special Reserve sticker, and the white and brown flavorlock bag is inside the brown paper out coverings. If a customer is buying this coffee at the Heritage Starbucks at First and Pike, there is no outer brown packaging and it is often found in woven baskets throughout the store.  It is the exact same coffee either way!
Heritage Starbucks at First and Pike opened brand new to the public on Friday, March 13, 2009. I was there the morning it opened and remember it well.  Right from the outset, that store got the privilege of selling this coffee which previously had been exclusive to 1912 Pike Place, and to this day, as I write this, continues to sell this rare coffee.  The larger upper-left image of Pike Place Special Reserve was taken inside the Heritage Starbucks.
Why was this coffee re-named from Pike Place Blend to Pike Place Special Reserve? The lore and legend of it that I hear from long-term Starbucks coffee masters is that Starbucks wanted to make sure that this coffee had a distinctive name from Pike Place Roast, and that it is 'specially reserved' to the Pike Place Market area of Seattle. I can honestly say, I think this was a confusing strategy for Starbucks to take, but that's just me.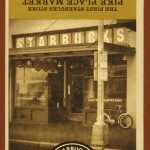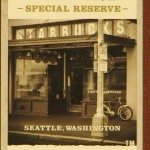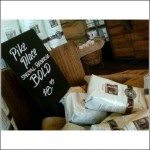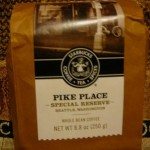 COFFEE #3:
****PIKE PLACE ROAST:[April 8, 2008 to present] [[MEDIUM]]
Pike Place Roast is the "everyday brew" for ALL Starbucks and was launched on April 8, 2008, with much fanfare, at Seattle's Pike Place market.  It was the new blend of Starbucks coffee that Starbucks promised would re-invent and revitalize coffee at Starbucks.  I remember that day well too. I had heard that there would be festivities at the market for the new brew starting early evening, so after work, I hustled down to the market so that I wouldn't miss a thing! There was a stage set up on Pike Place nearly in front of the old 1912 Pike Place Store, and a ban played, followed by speakers from various corporate levels of Starbucks.  Lots of coffee samples were being given out – cups of brewed Pike Place Roast, and small whole bean samples of Pike Place Roast.  Starbucks launched a comprehensive website for this coffee as well – http://www.starbucks.com/flash/pikeplaceroast/index.html – As I write this, that appears to be still a functioning website.
Towards the end of the event, the mayor of the City of Seattle, Greg Nickels, spoke and presented Howard Schultz with a certificate forever declaring April 8, 2008 as "Pike Place Roast Day" in Seattle. I had with me an old very poor quality cell phone and I snapped a few pictures of the happenings, though sadly most were blurry or not close enough. This one here shows mayor Nickels in a blue suit and reddish tie, standing next to Howard Schultz: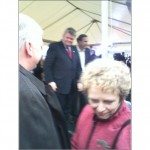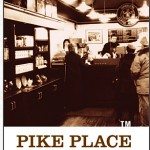 Related posts
Socialize

Subscribe
Join the StarbucksMelody.com mailing list to receive a weekly email with new posts.
Recent Comments