Starbucks Via Ready Brew earrings & enthusiasm
Melody, October 14, 2009
12
1 min

read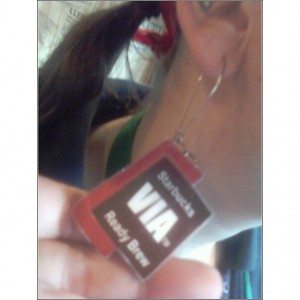 When I first heard Starbucks was launching instant coffee, I was skeptical and suspicious. After trying it, hot and cold, I came around. I don't know how it happened, but I became a Via believer.  Those mornings where I didn't have enough time for a morning Starbucks run became Via mornings, and I was glad to have my emergency sticks of Via in my office.  My first blog entry on Via was a store review of the North Bend Drive-Through Starbucks Via Challenge.
This morning, I saw some fabulous Via enthusiasm at a downtown Seattle Starbucks: Via earrings! I love it! I thought I'd share the Via earrings picture. I promised the barista it would be just her ear all over the internet and not her face, and all I had with me was my cell phone so the quality of the pics isn't that great.  I asked about the earrings and learned that the partners got together and made a whole bunch of them so that every barista would have Via earrings to wear!  That's so cool! (Though I assume the guys in the store aren't wearing them.)
Enjoy!
(Decaf Via arrives in stores November 17, 2009)
Related posts
Socialize

Subscribe
Join the StarbucksMelody.com mailing list to receive a weekly email with new posts.