Streetlevel 101: There are two mercantile non-branded Starbucks.
Melody, December 12, 2009
26
7 min

read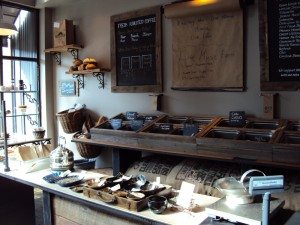 There are two mercantile non-branded Starbucks. Not three. Not four. TWO. Why am I writing this? I recently was reading a blog entry posted by Jon Cook to a Reuters blog about Starbucks and brand avoidance. To be clear, I understand that not everyone is a Starbucks fan, and there is some intense Starbucks negativity out there.  However, I've read a few blogs here and there which confuse various concept and heritage store design branded-Starbucks with the two non-branded "inspired by" Starbucks stores.  This recent Reuters blog begins with the very same mistake which I've seen elsewhere on blogs:
"Last week, Roy Street Coffee and Tea, located at the corners of Roy Street and Broadway in Seattle, opened.  This is another one of those stealth Starbucks – Starbucks stores without the Starbucks name over the front door – the coffee giant has been opening in its hometown and in London as of late."
By reading the above, one might be under the impression that there is a mercantile Starbucks in London, which is simply not true.  The above example confuses the Conduit Street LEED registered concept store with the "street level" non branded Starbucks.  Even more importantly, as I am talking to my friends on twitter, my colleagues, and those around me about the experiences to be had at 15th Avenue Coffee and Tea, and Roy Street Coffee, I realize that many people have no idea what I am talking about.
Consider this blog post your introduction to the "mercantile Starbucks" stores, or "Street Level Starbucks".
So again, there are ONLY TWO "non branded" Starbucks. Sometimes you'll hear these Starbucks called the "street level stores" or sometimes they're referred to as the "inspired by Starbucks" and sometimes it is the "mercantile Starbucks".  Pick your pleasure which of those phrases you want to use to describe these TWO stores.  And again, the two stores are 15th Avenue Coffee and Tea and Roy Street Coffee.
So the logical question is "what's different about these stores?".  I want to answer that question from the perspective of someone who spends time in these two non-branded locations. I've read writers/bloggers talk about these different stores with descriptions that make it sound like they've never stepped foot into a mercantile Starbucks.  So to highlight a few differences between these two stores and a Starbucks:
What's different about the two mercantile non-branded Starbucks?
There is no green classic Starbucks logo.  However both stores have the words "inspired by Starbucks" somewhere on or about the entrance.
In the mercantile Starbucks there is no "Venti" size – You can order 8 ounce, 12 ounce, or 16 ounce beverages.
These stores use a manual espresso machine. Roy Street Coffee uses a Synesso espresso maker.
There is no whole bean wall of beans in flavorlock packaging. Beans come fresh from the Kent roasting plant and are scooped out on a bin, sold in one-fourth of a pound increments. Generally, beans have been roasted within the previous 2 weeks of being sold at the streetlevel stores.
The stores occasionally receive small quantities of rare international Starbucks whole bean coffee.
At 15th Avenue Coffee and Tea there are no blenders, so there are no Frappuccinos or any other blender beverage.
At Roy Street Coffee there are blenders, but Vivannos are not on the menu.
Pastries are locally sourced from the Essential Baking Company, and thus have nothing in common with Starbucks pastries.
There are no drip brewers: Coffee is either offered as  Clover, a Pour-Over, or in a French press.
At 15th Avenue Coffee and Tea, a customer can also order coffee brewed in a Chemex coffee maker.
There appears to be no barista dress code.
The selection of syrups is very limited (no Pumpkin Spice or other typical Starbucks syrups) and syrups are Monin brand syrup.
Simple syrup from Monin is available at the condiment area.  Also Agave syrup in on the condiment counter.
Tea selection is only full-leaf Tazo tea.
Coffee or tea cuppings are done daily.
Milk is strictly steamed per beverage and there is never a pitcher of milk to make multiple espresso beverages.  There are no thermometers.
Whole milk is the default milk.
The mocha syrup is ganache from Essential Baking Company.
Both serve hot tomato soup from Tom Douglas restaurants.
Beer and wine are available for purchase.
Roy Street Coffee offers Dry Soda.
Both serve local foods including a Beecher's cheese plate, and a Salumi meat tray.
Merchandise does not have green Starbucks logo, and merchandise is much more tied to the core competency of coffee. One does not find books and CDs.
15th Avenue Coffee and Tea sells little potted coffee plants.
Store designs are unique store specific using many re-purposed furnishings.
Roy Street Coffee has unisex bathrooms with hand washing station in a common area and not in stalls.
Beverages feature latte art when served in for-here ware.
Speed of service is generally slower than at a Starbucks branded store.
Menu boards are chalk menu boards with changing offerings.
Occasionally these stores receive a limited number of coffee beans from subsidiary coffee brands such as Torrefazione or Seattle's Best Coffee.
Both stores feature live local artists/musicians at times.
Pike Place Roast is not offered in the whole bean selection (though whole bean selection rotates often.).
Neither streetlevel store offers any "pairings" discounts.
So why are all these details important? The devil is in the details.  The stores are working test stores on an extreme level. They hearken back to the time when beans were scooped out bins, and the Starbucks experience really was all about the coffee. Grind, Brew, and Share.  They are the starting point in a process of figuring out what can and cannot be launched on large-scale, what works, what customers like, and probably what's profitable too!
I have no doubt that if any customer asks the partners at these stores if they work for Starbucks, they'll say 'yes'. There is nothing sneaky about the stores. Of course, a customer particularly knowledgeable about Starbucks will recognize within two minutes that it is completely operated as a Starbucks business. Things like well-known Starbucks coffees such as Verona, Christmas Blend, or Gold Coast give away immediately that this is a Starbucks. And 15th Avenue Coffee and Tea has Via Ready Brew for sale!
Circling back to where this blog entry began, the point here was to distinguish these two stores from the "concept" design Starbucks stores. The "concept" stores are Starbucks.  Though they may have beautiful store designs and Clover brewers, they're truly Starbucks.  They offer the typical Starbucks beverages and food, and baristas wear green aprons, and they proudly display a green Siren in numerous places.
In a prior blog entry, I pointed out that innovative store design is happening all over Starbucks, but a few stores have been opened up as sort of 'showcase' store design stores, and so to list them, they are as follows:
All of the above concept stores are Starbucks.  I realize that I said that before, but it bears repeating. Though the above stores often have very unique store designs, their menu offerings are predictable Starbucks: Oatmeal, lattes, Pike Place Roast, Frappuccinos, and so on …
In short, I hope that I have been able to clear up some of the confusion surrounding the two non-branded streetlevel Starbucks.  Of course the most interesting chapter of this story has not yet been written.  It will be interesting to see how these two stores are functioning one year from now and whether they've been able to maintain labor intensive things such as daily cuppings, or whether they've given in to more classic Starbucks offerings such as more syrups, larger sizes, and more Frappuccinos.
Of course if you're in Seattle, be sure to visit Roy Street Coffee or 15th Avenue Coffee and Tea!  So what do you think?
[[Edit: How odd – I think the original Reuters blog link that I referenced at the beginning of this story has been taken down!]]
Related posts