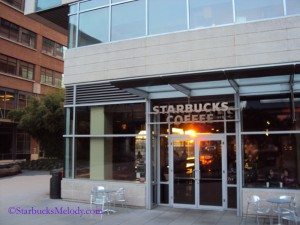 It's time to feature the Clover Starbucks in Seattle's International District.  It is actually at 505 Union Station, which is not to be confused with "Union Street" in Seattle, which is not near this store.  In early September this year, the store went through a major remodel, and so I thought it would be fun to show off the new and improved location.  By the way, this store has had a Clover for a very long time: It was one of the earliest stores to receive a Clover brewer back in August of 2008.
Here's the address, in case you want to visit:
Starbucks #3307
Union Station
505 – Fifth Avenue South
Seattle, WA 98104
(206) 381-8965
This store has two entrances.  There is a main front entrance, and in addition, there is a smaller door at the end of a hallway which leads into the adjoining office building.  That hallway has, over the years, traditionally been the place where this Starbucks showcases local artists' works.  I am really glad to see that that tradition is still ongoing, even after the major remodel: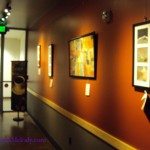 The store is actually on 5th Avenue South in Seattle, nearly at the west entrance into Seattle's International District, and only a couple of blocks away from an Uwajimaya.  The store's wall art reflects the character of its neighborhood:
This Starbucks is also very close to Seattle's two sport stadiums.  I definitely think this Starbucks gets a bit of a rush on game days.  You can kind of see a part of Seahawks Stadium as you look out the windows facing south-west: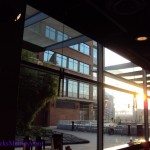 I took a variety of other photos to show off the store.  Here they are:
I want to mention one more thing.  If you're just outside the store's main entrance, and you look to the north, you have a bit of a view of downtown Seattle.  It's not a million-dollar-view, but it's not a bad view, if you're sitting right outside the store on the patio tables: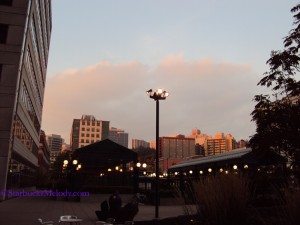 So this is definitely a fun little store to visit, and in a great location to stop for coffee and visit the International District area of Seattle!  For those readers who don't yet know, I am attempting to write about as many Clover Starbucks as possible.  I maintain a list of Clover stores, and all the links in this blog article go to my own store reviews.  Of course, at the rate I'm going, I'll be 90 before I visit all the Clover stores.  This list is not complete, but it does include the overwhelming majority of the Clover locations:
((The first twelve people to leave a non-spam comment directly on this blog article AND tweet this will receive a $5 Starbucks gift card.  Please note, the tweet MUST include "@SbuxMel" somewhere in the tweet.  No keywords permitted in name area.  "Nice article" and "Thanks for sharing" are both spam, as well as comments that do not relate to this specific content.  The contest ends at 11:00 a.m. (PST) on December 8, 2011, or at twelve qualifying comments, whichever comes first.  All winners must have an address either in the United States, Canada, or the U.K.  If you have questions about this contest, please email me at Melody at StarbucksMelody dot com.  Void where prohibited by law.  All winners must be over the age of 18.))
Related posts
Socialize

Subscribe
Join the StarbucksMelody.com mailing list to receive a weekly email with new posts.