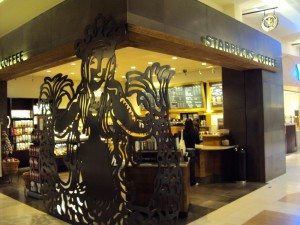 Starbucks opened a new store in Bellevue Square (a shopping mall in Bellevue, Washington) on Tuesday, November 17, 2009, and recently remodeled (within the past few months I think?) a long-standing store at Pier 55 in Seattle.  At one point, I was only going to talk about the Bellevue Square store but I dropped by Pier 55 and found that the two stores have enough things in common and to talk about both stores.
Both stores represent another chapter in the Starbucks story of recycled and reclaimed materials for some of the store materials, and creating unique-store specific designs. Both stores offer in-store recycling for customers.
But what's really worth talking about here is that these stores are just beautiful.  They are just beautiful. And neither store was opened/remodeled with the same fanfare of a showcase concept store like 1st & Pike ("Heritage Starbucks") or University Village. No, these are normal stores. This is an amazing thing to think about because what it signals is the wave of the future of Starbucks store design. Many stores taking cues from lessons learned from the early concept stores and integrated now into usual store design.
Pier 55 is stunningly beautiful. The woodwork throughout bar and tables, chairs, and bench is reclaimed from Seattle's pier region – pier logs. There is no way that store design could have selected a more befitting theme. The mural in the store is earthy nostalgic Pike Place/ Seattle themed artwork.  I heard from the barista that it originally hung in New Orleans at the 2008 Leadership Conference as part of a larger wall mural. It fits perfectly in that store.
Bellevue Square uses maple wood reclaimed from a local Magnolia (a Seattle neighborhood) property, and interior door frame wood from fallen trees in California. A huge set of thank yous to the baristas at Bellevue Square who assisted me in taking a photograph of the Shared Planet sign in their store. It tells more information as to the re-purposing of the cabinetry and store furnishings. Both stores had helpful baristas!
If you can visit these stores yourself, I recommend that.  Better to see in person the thoughtful woodwork; but hopefully you'll enjoy this photo tour: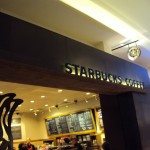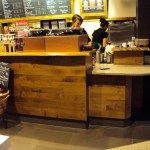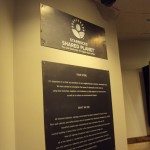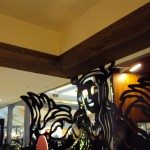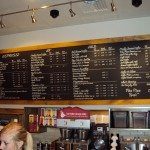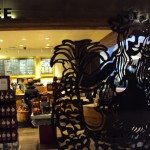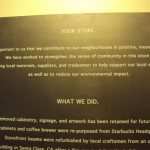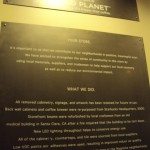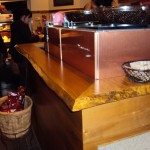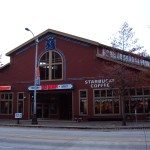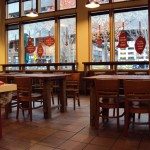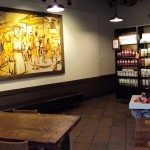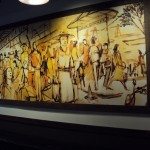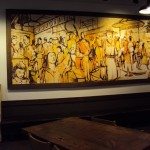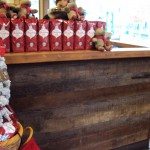 Related posts