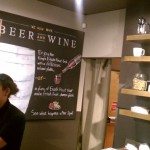 Starbucks has opened up their 5th store offering beer and wine on the menu after 2:00 p.m.  This  store is in Issaquah, and is an existing store just recently remodeled and relaunched as a Clover location, and a beer and wine location.  By way of a reminder, there are roughly between 200 and 225 stores with a Clover brewer.  Of those roughly 200 stores or so, five of them offer beer and wine in the afternoon and evenings.  The five locations are (1) the Starbucks also known as 15th Avenue Coffee and Tea (2) Olive Way (3) Madison Park (4) Brewery Blocks Starbucks and now the (5) Issaquah Meadows Starbucks.
The Issaquah Meadows Starbucks represents the first beer and wine store in a suburban market.  It's a café only location in a shopping complex area of Issaquah.  The store follows in the pattern of the newer design style which is intended to be LEED Registered, and has a "repurposed" appearance.  For example, the lighting in the store is almost entirely energy efficient LED and compact fluorescent lamps.  The café table tops are made of wood reclaimed from a gymnasium floor from a high school in King County.  This store has a fireplace!  I always think that's a great touch for a café Starbucks.  To be honest, I don't know if the fireplace was there before the remodel or not, but I definitely like it.  It's a beautiful store, and a must-see location if you're in the area!
If you want to go visit this store, here's the address:
Issaquah Meadows Starbucks (Store #3322)
1460 NW Gilman Boulevard
Issaquah, WA 98027
(425) 427 1890
I had a chance to visit the store, and took the photos below, on September 29, 2011.  The store manager was "Holly" who gladly showed me around her new store!  I met some very enthusiastic partners.  In particular, I felt like I could have spent an hour talking with "Mackenzie" who definitely loves coffee!  One partner mentioned to me that the store just got their Clover on September 23rd.  In case you're curious, this store first opened brand new June 24, 2000.  Coincidentally,  the other two Starbucks in Issaquah, Eastlake Sammamish and Issaquah Commons,  also got a remodel this year but neither relaunched with Clover, Starbucks Reserve, or beer/wine.
As might be obvious from the photos below, I stopped by a party in celebration of the relaunch and remodel of this store.  I got there really early so I could try and get a few photos before the store was packed with people.  So here are a variety of pictures of this store from my September 29th visit:
Related posts