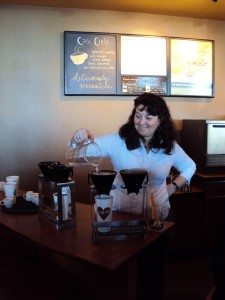 Starbucks previously announced exciting news that the "pour over" brew system is coming to soon all company-operated Starbucks.  Today (February 20, 2010) I had the chance to taste out a few coffees made with the pour over at a coffee event in West Seattle.  (West Seattle is actually part of City of Seattle technically, though it is a bit geographically distant from Seattle, and it feels like a completely different city). So I hopped in my car and drove for a full half hour, and I was there at the Starbucks store located in the Alki Beach neighborhood of West Seattle.
I arrived and immediately recognized coffee-master Zach working at the pour over brew station, who once upon a time, worked as a barista at 1912 Pike Place. He recognized me from there as well.  I met up with Sbx_Bean ("Cecile") from MyStarbucksIdea and I met Rachel A. who is on the brewed coffee team at the corporate headquarters.
Zach began by brewing up Sumatra for everyone to try through the pour over cone brewers.  For those who do not know, essentially with the pour over brew method, filters are placed in plastic cones, and water is poured over ground beans in the filter.  Sumatra is perhaps Starbucks' most popular single-origin coffee.  It is sourced from the island of Sumatra, in a semi-wash method, with farmers washing the coffee cherries handful by handful by dunking them in vats or buckets of water.  Sumatra is produced almost entirely by small farmers who often have coffee farms of less than one hundred coffee trees.  I highly recommend that my readers read about the unique sourcing of Sumatra in prior blog post here.
I took a tiny sample cup and definitely enjoyed having a cup of Sumatra.  The great thing about the "pour over" brew system is that it produces a flavor profile nearly identical to drip-brewed coffee in the larger brewers, but does so with almost no coffee waste.  At one time, about a year ago, I was mad that Starbucks does not simply brew bold all day.  Slowly, over time, my opinion changed a little bit. I was never happy with the experience of 'brew on demand'.  Let me be clear about this: 'brew on demand' was a very poor answer to the Starbucks problem of over-brewing coffee.  However, slowly between about spring 2009 and present, as I began to realize that more and more that the independent coffee movement is to produce a single cup of coffee for a customer rather than brewing large batches.  One important part of all this is the environmental impact of coffee sourcing.  It takes a full coffee tree at coffee harvest to produce one single pound of coffee.  The millions of coffee trees required to produce enough precious coffee for 40 million customers a week cycling through the doors of Starbucks … well, it's just stunning to think about the human labor involved and the millions of trees required.  On the island of Sumatra alone, in 2008 there were about 24,000 C.A.F.E. practices farmers.  Since coffee is a precious resource, it is important to think about how much labor is involved to produce it and the environmental considerations of farmers harvesting literally millions and millions of coffee trees each year.  Each farm may only have two harvests per year.
Following Sumatra, Rachel and Zach prepared Verona through the brewers and then African (Red) Blend after that.  Both held up very well as pour over coffee. The (Red) was particularly impressive.  There were lots of typical fruit like notes to the (Red) coffee.  I was excited to hear from Rachel that as the pour over rolls out nationally (will be in all Starbucks by March 9, 2010) concurrently Starbucks plans to emphasize bold choice, and finally offer some bold offerings that have not been seen in the core brew cycle for a long time: The  favorites Italian Roast and Yukon Blend will be back soon as part of the core rotating bold line up, as well as, (Red) brewed as a bold pick too.  There was chatter that at some point there will be a promotion featuring (Red) Blend in the afternoon with a nickel from each cup sold of it going to (Red), an organization bringing HIV and Aids medicine to Africa.  (Don't quote me on the (Red) promotion! I'm not sure of any specifics of that).
At the end of the event, the many customers in attendance received a little goodie bag, which had a mug inside, a Starbucks card, two CDs, and some chocolate.  Since technically, "StarbucksMelody" is media (though I have some difficulty thinking of myself like that) I have to disclose to you that 'Starbucks has provided coffee or other promotional consideration' for this blog post, meaning that, hey, Melody drank some free coffee, schmoozed with coffee people, and got a bag of goodies free from Starbucks.
If you enjoy this blog post, you might also enjoy the following:
And I hope that I'll get to hear from baristas everywhere already using the Pour Over.  Please do tell all about what you like or don't like about the pour over, and how the customers are enjoying it.
It wouldn't really be much of a StarbucksMelody blog post without a few pics to go with it, so here ya' go!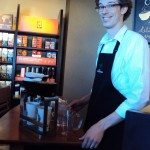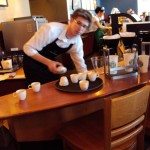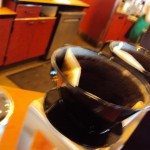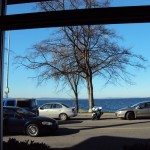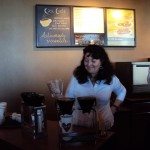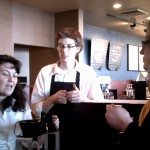 Related posts