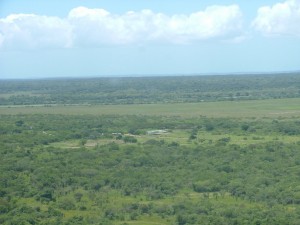 Andy is a fellow blogger in Mozambique running a bakery.  I follow his blog with great curiosity here.  I guess I have a great fascination with what he writes because every single blog post of his is like a completely different universe from the life of StarbucksMelody, who basically just works and spends an unusually large amount of time in downtown Seattle.  Andy, who originally comes from the UK, is running a bakery in Mozambique complete with a farm and paid employees.  I sent him some Starbucks coffee (Starbucks French Roast, Christmas Blend, Sun Dried Ethiopia Yirgacheffe, and Via Ready Brew) in late December (or perhaps early January, not sure exactly when it was now) and because the transit time from Seattle, Washington, to Mozambique  is rather lengthy, he only just now got to try it.  He sent me a great email (with permission to use it however I liked) about his own personal experiences with Starbucks.  Perhaps one of the interesting parts of his email is how he grew up on instant coffee, and loved the Via Ready Brew.  This blog post here is simply to share with you Andy's coffee story and a few pictures he attached with the email:
[This is his blog here – http://mozbak.blogspot.com/ and click here to read about the Starbucks coffee finally arriving in Mozambique.]
********************************************************
Andy's coffee story:
Trying to sum up my job description is something I have often struggled with. I guess it could be broken down to two main duties which share unequal amounts of my 14 hour work days.
My primary job is helping to run a 500 Hectare community development farm in southern Mozambique and NGO in southern Mozambique. Doing everything from paying salaries to our 80 staff, harvesting maize or rice that we grow, to catching poisonous snakes, cooking meals or unblocking a drain pipe!
Every day of the first 2 years I lived in Mozambique we drove a 16km (10mile) round trip to buy bread and fetch fresh drinking water from the local town." Why don't we have a bakery on the farm?" I used to ask my colleagues, "great idea" they'd say "but how's its never going to make any money" and "who's going to take the loss?". After pondering for some time about how I could help some of the poor people in our area, I knew that a small business start up would provide skills and jobs, but what business to do? I knew we needed a bakery but personally knew nothing of building or baking (not much help then!). So in a crazy moment I took the plunge, raised some funds, drew out a sketch of a building, looked up oven construction plans on the net and started building a bakery! That was 18 months ago and today we've baked our 20 000th loaf, employ 2 people full time and provide bread both for sale to the community and as donations to its poorest members, inmates in the local prison (who are not fed by the government) and local orphans.
Having grown up in the UK, hot drinks to me always meant 'tea' not coffee, a cup of tea being the British peoples' answer to everything! In Mozambique the only hot drink I initially had available to me was cheap instant coffee – stained by the addition of chicory. Avoiding the inevitable for a few weeks I succumbed and began drinking "the black stuff". Seeing there was something to it, a taste I enjoyed there somewhere I spent my holidays back in the more first world South Africa, looking through the supermarket shelves for a better coffee. Slowly I worked my way through the instant variety's all granulated and freeze dries, the "Gold" this, "platinum" that until I worked out it was no more expensive to try 'real' coffee after procuring the use of a cafetierre (French press or "plunger" as we call it here).
Soon I was Andy "the coffee nut" always arriving back from South Africa with various coffee's and new paraphernalia, the best buy of which would have to be my Solis "scala" coffee bean grinder. Recently I helped restore a tired espresso machine to its former glory and have enjoyed coffee's of the short intense variety. Still though, nothing beats a good filter coffee from French press for maximum flavour and enjoyment.
The last time I was in a Starbucks was probably a good five or more years ago. I have recently, through a generous gift package from Melody, been able to sample a few varieties:
Via – instant micro ground: The Italian is wonderfully dark and blows my mind as to how an 'instant coffee' can taste so good. I always found your classic instant ie. freeze dried, had a bland chalkiness to the aftertaste, not so with Via. Slightly acidic and perhaps too dark for my tastes, but wonderfully satisfying all the same..
French roast – Right up my avenue this one, dark with woody notes and not bitter to the taste, didn't work so well in an espresso machine though, better enjoyed through French press.
Ethiopa sun dried Yirgacheffe – I was told to watch out for the detectable berry flavour and I can see why, a definite light fruity aftertaste make this a must for my late evening cup, enjoyed by French press with friends in my little thatch roofed bungalow! Helped no doubt by knowing this coffee has worked its way from nearby (relative to me) Ethiopia, to the states for roasting and back here by special air mail!
Related posts