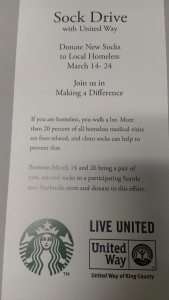 Starbucks is partnering with the United Way to host a sock drive for the homeless.  If you're in Seattle, between now and March 24, 2014, bring clean, new socks to any participating Starbucks store. (Generally that means all company-operated locations.) This morning, I noticed that the Sixth and Union Starbucks had a basket for socks. I will be sure to drop by tomorrow with some newly-purchased socks! As I've already mentioned, the socks will be distributed to homeless persons via the United Way partnership.
I like this kind of partnership and hope that if you happen to be in Seattle, you'll donate some socks too. By the way, I love hearing about this kind of thing, so please let me know if your neighborhood stores are involved in good community activities.
Related posts
Socialize

Subscribe
Join the StarbucksMelody.com mailing list to receive a weekly email with new posts.