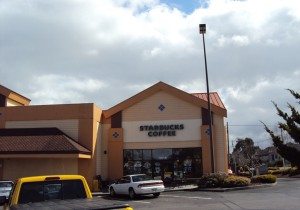 This blog post features Starbucks store 5970, in Eureka, California, on Myrtle Avenue.  But before I launch into the blog post, let me first give a quick background.  Some of you may remember that in my blog I featured an art contest. The winners were announced here:
Starbucks chalk art contests: Entries and Winners
I picked four winners.  Two winners live pretty far away from Seattle, and I mailed prizes out to those winners. One winner provided no address and gave instructions for me to donate the prize money.  One winner comes from Eureka, California, which according to google maps is a mere ten hours from Seattle.  I thought, 'no problem I can drive ten hours.'  So I pieced together a quick gift bag with some rare whole bean from 15th Avenue Coffee and Tea, the grand prize gift card, and a mug from the store at 1912 Pike Place.
The artwork from Eureka, California was submitted to my site by Jocelyn, although the actual artist is Lauren, also a partner in store 5970.  I began the long drive to California, not even checking whether I would find Jocelyn at the store when I arrived.  Unfortunately, I drove about half way, and realized that I got too late of a start and was starting to get tired, so I stopped in Oregon, and spent the night in a hotel in a small town. The next morning (March 21st) I called Starbucks 5970, and lucky for me, Jocelyn answered the phone.  She seemed a little startled that a customer in Seattle was driving to a Starbucks in Eureka, but nonetheless, excited, and my arrival time coincided with about the ending of shift, so it would work out fine to stay and chat for a bit.  When I said it was "Melody" on the phone she pretty quickly realized it was that blogger girl Melody calling!
For those who are unfamiliar with this drive, at one point one winds through the Redwood Highway (Highway 199) which is a two lane, windy, twisty road through a forest, eventually connecting to Highway 101.  I drove for what felt like an eternity, and finally came upon a city (not really city by my definition) called Crescent City in California.  I saw a Starbucks which appeared as an oasis to a weary driver.  I immediately pulled over and stopped in.  That store rocked too, though I may save that for a separate blog entry.
Finally, I made it to Eureka, California. Jocelyn and Lauren were there. Lauren was working (the barista responsible for creating the great art at that store), and Jocelyn was off her shift.  We sat in the lobby of her store and chatted, and three hours slipped by.  When the two comfy chairs became available, we took them over and just talked and talked. The more she talked, the more I knew I was in awe of what Starbucks calls "legendary".  This is what "legendary" looks like.
Allow me to give you just a taste of what those three hours were like:  We talked about coffee.  Jocelyn is a five-year partner who LOVES coffee.  When I mentioned that I had cupped Sumatra Siborong-Borong recently she was totally excited that it was coming back and remembered trying it before when it was offered as a black apron coffee.  We talked blogs.  She reads pretty much every Starbucks blog out there, even if not commenting on them.  She laughed and told me that she pulled the plunger out of the restroom after reading famed Starbucks store-reviewer Juan Valdez's columns.  She loves coffee and is constantly talking about coffee. Her store is the 'whole bean store' in town and she thinks they're doing about six percent whole bean sales which is definitely high.  She told me that in her store the customers love the store and are constantly bringing home-baked goodies into the store for the baristas. And much to my surprise, it happened while I was there! A customer came in with a plate of homemade lightly salted banana chips. I got to eat just one. I really wanted more because they were very good, but they weren't for me, so I kept my mouth shut.  Jocelyn told me this amazing story of a very rude customer that she turned around with fabulous customer service.  The customer was the type to throw money at the baristas. One day Jocelyn could see her car pull into their lot (this is not a drive-thru store) and Jocelyn quickly made her drink, and ran it out to her car and 'surprised and delighted' her with a beverage. She said that now that customer gushes over them, tips, and has done a 180 turn about. We talked about everything. Jocelyn knew her rewards backwards and forwards, coffee education, and promotions.  This floored me:  For a few customers who are really addicted to their Frappuccinos she has warned them that something new is coming and frames it like this, "hey I want to let you know that your drink might taste a little different because we're getting a new Frappuccino, but make sure you talk to me about what you like because we will find a way to still make your drink perfect."  I may describe many baristas as great baristas, but "legendary" is reserved for baristas like Jocelyn who know how to interact with people.  These are baristas in the people business serving coffee.
As an aside, in my own opinion, I tend to at least slightly believe that those baristas who take the time to read the variety of Starbucks blogs out there — whether the official blogs at MyStarbucksIdea or the many unofficial blogs like this one — are the baristas who are the most motivated to excel at Starbucks.
While we were chatting in the comfy seats, in came Sandy, an elderly customer who likes to plop into a comfy chair and drink a Venti Creme-based Caramel Frappuccino.  Jocelyn gave her the comfy seat, and Sandy joined us in the conversation.  I explained that I had driven ten hours to meet Jocelyn and Lauren, and Sandy said, in the tone of voice that only a woman in her 70s can pull off, "oh that sounds like something Jocelyn would do. You two girls are going to get along fine."  We drank beverages and talked, and soon I had to be on my way to drive the ten hours home to Seattle.
I took a few pics of the store, in particular focusing on the store's chalkboards.  As always, I'm attaching a few pics to this blog post.  When all was said and done, Northern California really rocked.  Starbucks should be proud.  I only hit two stores while in Northern California, but both were great experiences.  I only wish I could have talked more to Lauren who unfortunately was busy working her shift nearly the entire time I sat in the lobby chatting with Jocelyn.
If you like this store review episode at StarbucksMelody, you may enjoy these previous blog posts:
Related posts