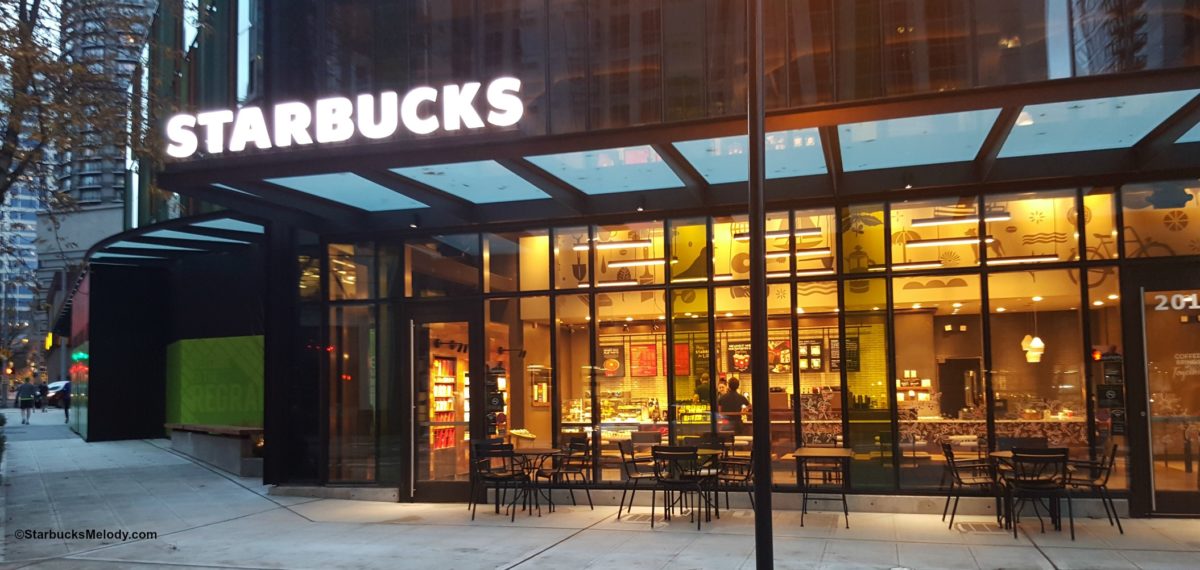 7th and Westlake Starbucks in Seattle: New & in the heart of Amazonia.
Melody, December 14, 2015
3
2 min

read
Seattle welcomed a brand new Starbucks on Saturday, December 12, 2015. It's in the very new office tower building at 2011 – 7th Avenue, in Seattle. As I understand it, this building is slated to hold many Amazon.com offices. (Much of that area of Seattle and South Lake Union are jokingly known as "Amazonia").
Seventh and Westlake Starbucks is slated to be a hybrid "Reserve Bar", and currently offers Reserve coffees brewed by a pour over or a Clover brewer.
It's stunning from the outside!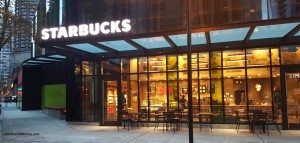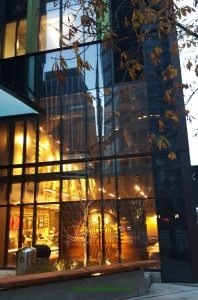 The store has a beautiful mural above the bar area of the store: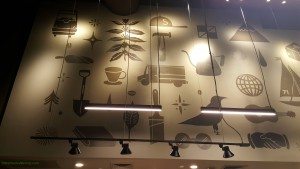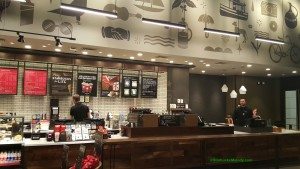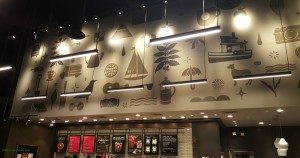 The symbols on the mural have meaning. Many of them are obvious coffee-related symbols, such as the French press, Jabena, coffee plant, and coffee beans. The umbrella and boats symbolize Seattle (rain, the Puget Sound and boats on Lake Union). Notice that the boat says "71" on it! The two vehicles that look like trucks represent early Starbucks coffee delivery trucks. The wavy lines (adjacent to the pair of holding hands) represent the coffee farmer's area where beans are laid out to dry and raked, leaving impressions in the dirt like the lines. The dog is "Rufus," representing a dog that either Jeff Bezos owned or hung out in an Amazon.com office building. (I've heard both versions of the dog story). Jeff Bezos is a known dog lover, and one of the Amazon.com office buildings in South Lake Union is called "Rufus." (550 Terry Avenue North).
I dropped by the store on Sunday the 13th. It was a little early and a few of the partners were working on coffee tastings: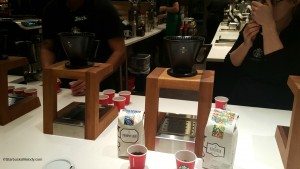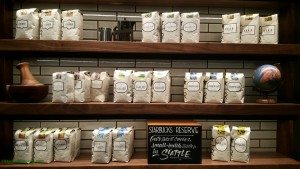 Enjoy a few more photos of the store: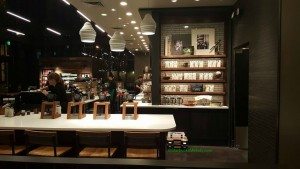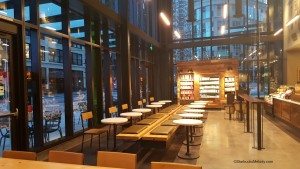 Last but not least, I want to point out two signs hand-drawn by shift supervisor Scott: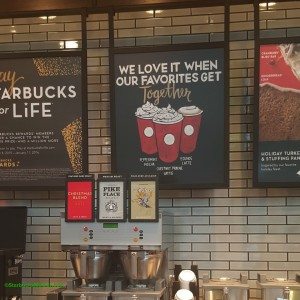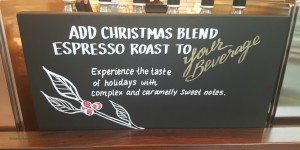 Scott has been a Starbucks partner for years, and I've featured him several times! I hope this store gets the chance to feature more of his talent – I am a huge fan of Scott! You can see more of artwork here:
Congratulations Mark and team on your beautiful new store with great partners! It was a delight meeting Coffee Master Bri today, partner Daniel, and seeing friendly familiar faces Bradley, Ama, Scott, and Store Manager Mark N.!
Here's the address:
Starbucks store 25577
2011 – 7th Avenue
Seattle, WA
(206) 496 8523
Related posts