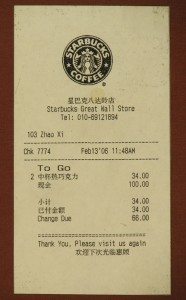 This is episode #3 of three of Starbucks Around the Globe.  Today's journey is a brief trip to the world of Starbucks in China, and is an introductory discussion of Starbucks in China.  Starbucks opened its first store in China on January 11, 1999, in mainland China at the World Trade Center in Bejing.  According to the 2009 Annual Shareholder report (reflecting data as of September 27, 2009), Starbucks currently operates 191 company-operated Starbucks in China, and there are another 283 licensed Starbucks in China for a grand total of 474 Starbucks locations.
The receipt featured in this blog post comes from the Starbucks located at the Great Wall of China which opened in September 2005.  In all honesty, I have no idea what this receipt says.  I was at my local Starbucks and noticed this receipt hanging on the community bulletin board.  I believe it has been hanging there, buried behind a million other things for four years. I have been a regular customer at that store for years, and I've noticed it before, and I really do think that receipt has been posted on the community bulletin board for years.  I asked the baristas if I could borrow it for a few days to take a picture of it, and that is how it ended up here in this blog post.
It is also worth mentioning that Starbucks produces a special coffee just for this market: It is called "South of the Clouds".  Many baristas are unaware that Starbucks produces many more coffees than what is on their shelves, and in particular, many international markets have special blends created and sold only in one market with beans sourced from the market. I previously had a brief discussion of these rare international coffees here in this post: Starbucks International Whole Bean: The rare and exotic.
South of the Clouds is a blend of whole bean with some of the beans sourced from the Yunnan province of China.  Normally this coffee is ONLY sold in China, and it was created in January 2009 to commemorate ten years of business in China.  Once in a very rare blue moon, the two street-level Starbucks receive a small quantity of the international whole beans, which is how I initially got my hands on a bag of it for this blog entry.  Just Wednesday this week, South of the Clouds was given out at the end of the Starbucks shareholders' meeting as a chance for customers to try this rare coffee.  My understanding is that the beans sourced from China are processed with a wash method (someone please correct me if I have this information incorrect) and this blend is properly classified as an Indonesian type blend.  I've heard it said from Starbucks coffee gurus that this is still a somewhat evolving coffee blend, as the beans from China are a new and not perfectly consistent source.  The jury is still deliberating about what this coffee will taste like in the future.
The other two 'Starbucks Around the Globe' episodes at StarbucksMelody are here:
Starbucks Around the Globe: Japan (Episode #1)
Starbucks Around the Globe: Mexico (Episode #2)
Please chime in if you've tried this rare coffee from China or if you know anything else discussion worthy on this topic!  I'm not particularly well-versed on the Starbucks international business, so this episode was just a fun short introductory discussion of China.  And here is what a bag of South of the Clouds looks like:
Related posts