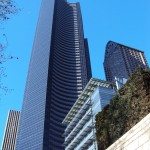 If you drop by the highrise building at 701 Fifth Avenue in Seattle, you will find two Starbucks stores. The Columbia Tower is Seattle's tallest building and stretches from Columbia Street to Cherry Street, and from Fourth Avenue to Fifth Avenue.  There is an observation deck on the 73rd floor, which is open to the public.  (It's good to note though, it's not free.  As I recall, admission to the 73rd floor is about $12.00).
Both Starbucks in the Columbia Tower offer you something fantastic, and so if you are in Seattle, I think you should visit this building!  (Both of these Starbucks are Monday-through-Friday stores.)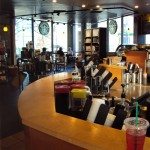 Starbucks store #101:
One Starbucks is on the bottom level of the building, with an entrance on the corner of Fourth Avenue and Cherry Street.  The ground floor Starbucks has been there since 1986, and is numbered store 101.  It is a Clover store, and you will get a beverage made by passionate partners.  The store itself has an enormous amount of history.  The current store manager is Kerrie – look for her and say a big hello to her.  She is very friendly!
I have written before about this store, and its unique history as Howard Schultz's first concept store.  Starbucks #101 is even mentioned in the book Pour Your Heart Into It.  (Please use the Amazon.com widget at the very bottom of this page. ;))  I highly recommend that you read the previous blog post on Starbucks store #101.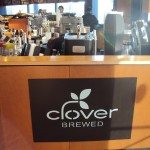 Starbucks store #10302: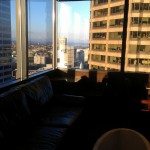 This store first opened in September 2006, and is located on the 40th floor of the Columbia Tower.  It is open to the public!!  If you're a tourist in Seattle, and you want to have a chance to get some free views of Seattle from a highrise perspective, this is it!  This is a must-visit Starbucks.  It's a large store with lots of seating, with million dollar views.  I dropped by on March 8, 2013, and took some pictures.  My little point-and-shoot camera does NOT do this store justice!
Imagine yourself sipping a beautiful latte, sitting on a sofa, taking in the city views.  (My latte below was made by barista Sarah who wanted it to be perfect!  Erin is the store manager.)  And at this point, I'll just leave you to enjoy the 40th floor Starbucks. (You will definitely want to click onto the photos to make them larger.)
Related posts