Disneyland (California Adventure Park) gets its first Starbucks!
Melody, June 18, 2012
31
5 min

read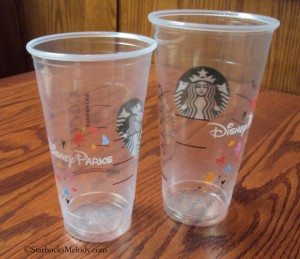 On June 15, 2012, the California Adventure Land (part of Disneyland theme parks in Anaheim) opened its first Starbucks!  It is a licensed store, and as such, looks very different than a typical Starbucks.  My mom and I went for a visit on Thursday, June 14, 2012 (a media preview day – full disclosure: Starbucks gave me a media pass).  This is the first Starbucks inside any of the original Anaheim, California Disneyland parks.  I've been awaiting this opening since its announcement back in April of this year! Interestingly, almost exactly three years ago, Starbucks opened their first store in Disney France.
The Starbucks is located inside the Fiddler, Fifer & Practical Cafe on Buena Vista Street, and as mentioned previously, inside the California Adventure Park.  One thing that is striking is the logo at the entrance of the coffee.  The Siren used is the 2008 version of the logo which was a limited-use logo for the launch of Pike Place Roast.  The 2008 logo looks almost identical to the original logo, however the Siren was redesigned with more flowing hair to cover up exposed nipples, and she no longer has an exposed belly button.  The original logo was almost exactly like this woodcut designed Siren, but with nipples and a belly button.
Here's the store's entrance:
Inside the Starbucks, I found the coffee menu which appears to include the most commonly ordered beverages.  There is a huge food menu because the store is operated by Disney and offers their food offerings.  My mom tried a spinach cream soup, and I had a vegetable sandwich.  The sandwich was good, and my mom said that she liked her soup.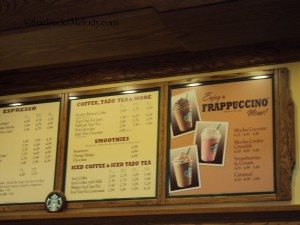 The food case has nearly two full rows of the usual Starbucks pastry fare, and then several rows of Disney pastries.  I was tempted to buy a big Mickey Mouse cookie, and I wish I had!
At the register, I asked the barista a ton of questions about coffee, the use of Starbucks cards, and operating as a Starbucks.  I was told that Pike, Bold, and Decaf will be offered all day long, and that eventually Blonde will be rotated in, but since they were brand new, they hadn't offered it yet.  Given the huge volume this store will do, it's not surprising to me that they will have the volume to offer a variety of coffees all day long.
With respect to the Starbucks card, this store has no ability to issue Starbucks cards, or reload them.  You can pay with your Starbucks card, but I was told that you are not earning any "stars" under MyStarbucksRewards when using your card as a form of payment.
It is a lovely, huge cafe, and a great place to get a Starbucks drink and some really good food. I have to wonder how they'll do with highly customized creative drinks!  I only ordered a tall coffee Frappuccino.  The lobby has two condiment bars, and both booth seating and table seating.  I realize that somehow the photos I took make the lobby look smaller than it really is!  It is huge.  I would note that there appear to be no electrical outlets anywhere inside the store!  You can't stop by and plug in a computer or recharge your phone.  However, you're at Disneyland! Why would you want to?  I had hoped for some co-branded merchandise of any kind, but there was really nothing to be found as a souvenir of visiting Starbucks in Disneyland.  I REALLY wanted to be able to take home some kind of "destination" mug from this store, and that perhaps was my only disappointment in this visit.
Here's the lobby:
Notice that the "baristas" don't wear anything close to typical barista attire!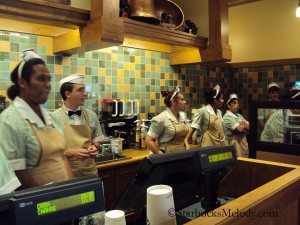 We walked all over the California Adventure Park and saw the new CarsLand area.  It looks like a lot of fun.  There is supposedly some kind of racer ride where you drive a fast car!  I took a few photos as we strolled through other areas of the park, and I will definitely be back again!
My mom and I rode the "Soaring Over California" ride while we were there.  This ride has been at the California Adventure Park for a long time, and it is still one of my all time favorite rides.  It really feels like you're flying over California!  You just sit in a chair, but you have this powerful sensation and experience that you just flew over the Golden Gate Bridge, over farm lands, through San Diego, that you were flying over the ocean right near surfers, and much more.  I have to give this ride a huge two thumbs up!  Don't miss this ride in all your excitement of CarsLand and Starbucks!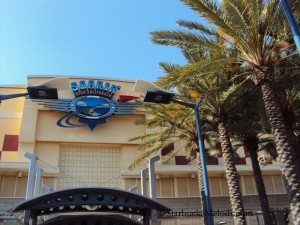 I took a few more photos while visiting this Starbucks cafe.  I kind of thought the Disney napkins were cute, by the way.  Here's a few more pictures!
This was a heavenly day.  My mom and I had so much fun.  Over the years, I've been to Disneyland many times, having grown up in Orange County, and still to this day, it is magic to go to Disneyland with mom.
Now it's your turn to weigh in…
Edit on June 24, 2012:
I decided to add a few more photos from this day – The group of photos below is just a variety of things inside the California Adventure Park.  The mug display photo is inside the Starbucks, and the lower left brown mug is indeed a Starbucks mug.  I took photos both with my camera and my phone, so I ended up with quite a few.  Here are just a few more, mostly off my phone so the quality isn't that great:
Related posts