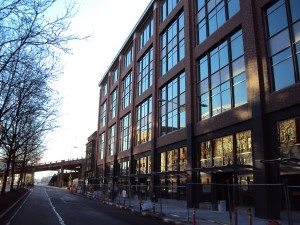 Starbucks Coffee Company owns a property on First Avenue South in Seattle, near Safeco Field and Qwest Field.  It's a little over one acre-sized property, and on it, they built a beautiful office building.  Construction was completed in 2009 by Lease Crutcher Lewis.  Starbucks bought the property in 2006, at a time when they saw growth of the corporation and possible need for increased office space for corporate partners.  I quickly looked at the King County Assessor's website and saw that the date of sale was April 4, 2006 for the sales price of $28,687,546.  The Seattle Post Intelligencer reported the sale here:
The article describes Starbucks buying two side by side buildings on First Avenue South, but not buying a tiny triangle tip of that block where the historic Triangle Pub currently operates.  The picture featured here on this blog shows the recently completed building still with a fence around it.  At one time, there was very unsubstantiated, and perhaps completely false, gossip that Starbucks intended to move Tazo Tea into this building, from their current Portland location.
The new construction was only at 505 1st Avenue South.  The historic building on the north side of the new construction already has Starbucks partners in it.
Wouldn't it be great if Starbucks would move their whole headquarters to the new building? It makes me giddy to think that Starbucks could relocate within a short walk of my office, and be even closer to "Starbucks Melody" than they already are. This neighborhood is a fun little neighborhood to work in.  From that building, it is a short walk to Grand Central Bakery, a wonderful little cafe in historic Pioneer Square.  And Starbucks could have great neighbors like Dry Soda which has their headquarters about one block north of 505 First Avenue South.  Another thought might be that Starbucks could add a third "mercantile" Starbucks on the ground level of the building.  That would make my day.  I would be able to go there almost every day!
The truth is, I have no idea what Starbucks plans to do with this office space. Your guess is as good as mine. Guess away…
And for those reading this who want to see a little more of the Pioneer Square neighborhood, a few pictures are attached:
Related posts