This year's Starbucks Casi Cielo: Try with strawberries.
Melody, January 26, 2013
41
4 min

read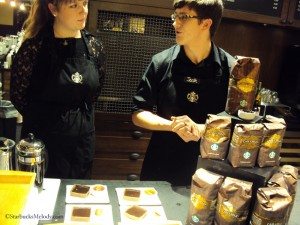 The Starbucks store on East Olive Way in Seattle has regular coffee seminars.  I invite you to join in!  If you're in Seattle, call ahead for their schedule – they're usually every other Monday at 6:00 p.m.  You can browse through past seminars by clicking through the Coffee Tastings category on this site.
If you want to join a coffee seminar at East Olive Way Starbucks, here's their contact information:
1600 East Olive Way
Seattle, WA 98102
(206) 568 – 5185
Now on to the event: 
On January 22nd, I went to a coffee seminar for Casi Cielo coffee.  As many know, Casi Cielo coffee is a seasonal offering that returns every January to Starbucks.  It has always been, and probably always will be, one of my favorites.  It's a medium roast Latin American coffee grown at high elevations in the Antigua region of Guatemala.
The big takeaway from tonight's event was that this year's Casi Cielo pairs perfectly with strawberries.  However, Casi Cielo is truly known as a versatile coffee that can be had with lemon flavors, caramel, cocoa, and even savory items like cheeses too.  This year's Casi Cielo has a lot of dark cocoa flavor to it.  This is especially true of the aroma – open up a bag and stick your nose right in it! 😉
At tonight's event, we had Casi Cielo both prepared as a French press, and from the Clover brewer also.  (This coffee is also known to work well pulled as a shot of espresso).
The press of it seemed a little spicier than the Clover cup of Casi Cielo.  The strawberries really helped to bring out the citrus-y side of this year's coffee.  We also paired it with a chocolate fondue.  Here's what's interesting to me – the chocolate fondue felt like it melted into the flavors of the Casi Cielo.  The chocolate fondue was not a terribly dark chocolate.  I know that one pairing that I hope to do (or attend) someday would be to pair Casi Cielo with a range of chocolates from very dark to very milky.  I think that would be super interesting, and I suspect that you'd find that the dark chocolates are best with it.  By the way, this is something that I just now thought of as I am writing this out.
Josh and Donna did a great job of leading us through this coffee tasting!  The walked us through all the steps, and we really talked a lot about this year's coffee. It's interesting but a couple of people in the group felt like this year's Casi Cielo was less lemony than in previous years.  I was still getting some lemon notes, though I got that much more with the Clover-brewed Casi than the French press Casi.
For those who don't recall, the four standard steps to a Starbucks coffee tasting are as follows:
Smell – Take in the aroma of the coffee.  What do you smell?
Slurp – Slurp loudly and aerate the coffee in your mouth.
Locate – Notice and locate where the flavors of the coffee hit in your mouth?  Do you taste it in the front of your mouth? On the sides?
Describe – Describe the flavors of the coffee.  Is it mostly roast profile? What origin flavors do you taste?  Is it smooth?  Is it juicy?  What does it taste like?
Here are the rest of the pics from tonight's fun event!
Decaf Casi Cielo: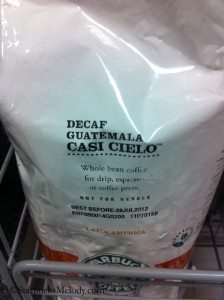 I want to just briefly bring up the topic of Decaffeinated Casi Cielo.  It's an interesting topic because it's a coffee that Starbucks produces, but is NOT sold in any Starbucks-branded store.
Traditionally, Starbucks has roasted a very small amount of decaf Casi Cielo year-round.  It's produced for a tiny number of "fine dining" establishments that officially participate with Starbucks in that program.  To be honest, I am not totally clear what the availability of decaf Casi Cielo really is.
One thing I do know is that occasionally, the "experimental" Starbucks-operated location known as Roy Street Coffee and Tea does get this coffee in.  If you are really looking for Decaffeinated Casi Cielo, all I can suggest is that you give Roy Street a call and hope that you can order some from them.  I make no promises as to whether that will work!
You may be wondering the story behind the photo of the bag of Decaf Casi Cielo.  A loyal California reader sent that to me – She said she saw it in her local Ross store, and immediately took a picture, knowing how odd it was.  About all I can assume is that a Starbucks roasting plant accidentally tossed a bag of the Decaf Casi Cielo into a box that was supposed to have retail coffee.  The photo dates from September 2012.
So now you know: Decaf Casi Cielo is real.  And yes, I'd love to see it offered in Starbucks stores.  I can even imagine that it would make a great offering for the Clover Reserve Starbucks locations.
Related posts