Should Starbucks bring back the mocha coconut Frappuccino?
Melody, May 7, 2010
47
2 min

read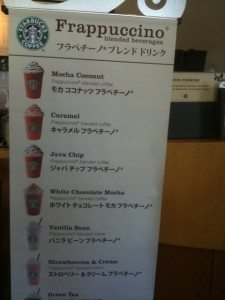 Frappuccino happy hour begins today (May 7, 2010), and it's time to talk about a Starbucks favorite: The Mocha Coconut Frappuccino.  Is it time to bring the Starbucks Mocha Coconut Frappuccino back to the stores as a summer drink?  This is one of those ideas that comes up repeatedly on MyStarbucksIdea as a customer request.  Here are just a few examples of those kinds of threads (some of these threads might be closed or merged, and obviously full of grammar and spelling errors):
Please bring back Coconut Mocha's for Summer 2010
Interestingly, the Mocha Coconut Frappuccino is a permanent year-round offering in Hawaii.  I was recently talking online with a partner working in Hawaii, and he snapped this pic for me, taken a Starbucks in Waikele.  Notice that the signage is both in Japanese and English.  I've seen this before on the packaging for 100% Kona Coffee which Starbucks offers year-round in Hawaii also.
This thread isn't intended to be yet another discussion of whether customers like the new recipe version of the Frappuccino, rather it's just an idea about bringing back to Starbucks the popular seasonal flavor of Coconut. It sounds awfully sweet to me! It doesn't seem like it is all that versatile of a syrup either.  Unlike the previous conversations we've had about orange and Valencia syrups at Starbucks, it seems like Coconut wouldn't be a great addition to an iced tea, for example.  I can't really imagine adding it to a black coffee either. Though it may sound a little odd, the dark cherry syrup at Starbucks is so good that I have added it to both oatmeal in the morning and even to Clover brewed Ethiopian Yirgacheffe.  (Yirgacheffe is known for its distinct blueberry notes to it, and amazingly a little cherry syrup in it is wonderful, though perhaps a bit sacrilegious).
My previous thread about the new and revised recipe Frappuccino is here, for those who want to talk about the recipe change:
The New However-You-Want-It Frappuccino is here
Should Starbucks reintroduce the Mocha Coconut Frappuccino back to the stores as a seasonal drink?
And while we're on the topic of Frappuccinos, don't forget that there is a current promotion right now for half-price Frappuccinos:
Come in to any Starbucks between May 7th and May 16th and you can enjoy a half-price Frappuccino between 3 and 5 pm! It's a Starbucks kind of a happy hour!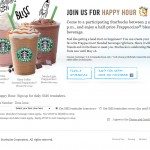 Related posts