Organic coffees by Starbucks [Open thread]
Melody, July 24, 2010
14
7 min

read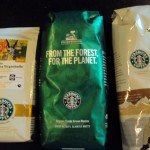 Recently, in a twitter conversation, I was asked the question, "what are all the organic coffees produced by Starbucks?" (not verbatim).  That one question has inspired this blog post.  Since Starbucks owns Seattle's Best Coffee, which offers several organic coffee choices, I have included their information too in this blog post.  It's possible that some of my readers might be unaware that there even are organic offerings from Starbucks, so that is part of the motivation behind this blog post.  If I have forgotten any organic Starbucks offerings, please let me know!
Here's what I came up with:
Starbucks Organic Shade Grown Mexico (Core coffee, widely available)
Starbucks Organic Yukon (Core coffee, widely available)
Starbucks Organic Ethiopia Yirgacheffe (Core coffee in UK, Ireland, Europe, Middle East Starbucks stores)
Seattle's Best Organic French Roast (Available at all Seattle's Best Coffee stores)
Seattle's Best Organic Breakfast Blend (I think that is available in grocery stores but was not cupped today
Seattle's Best Organic Twilight Blend (also available in decaf, and I think this might also be a grocery store item)
All of the above coffees (except the Breakfast Blend and Twilight Blend coffees) were cupped today (7-24-10) at 15th Avenue Coffee and Tea.  We had a great time, and three fun customers joined in.  One thing I will say, having been to many many cuppings at 15th Avenue Coffee, they do an amazing job of getting great customer participation in their daily cuppings.  If you're in Seattle, please join them – it's every day at 11 am!
First just a little information about what it means to be "certified organic."  It is important to realize that "organic" is just one of many certifications that a coffee-growing farm may undergo.  All certifications generally involve some process of the farm having an inspection, providing verification documents of certain standards, and usually payment of an annual fee to the certifying agency.  A coffee farm could be "organic" or "fair trade" or "C.A.F.E. practices certified" or even "bird friendly certification."  The farmer might be certified by just one of those agencies or any number of them, but in any event, it's a tremendous amount of work and effort for the farm to go through.  All have different standards and criteria, and the farmer will be involved in a large number of inspections, a lot of paper, and usually a lot of certification fees.
The confusing thing about the "organic" certification process is that there are many agencies that can certify a farm as "organic".  In general, the farm should have detailed records about soil, compost, shade-cover, and all farming practices.  The purpose of "organic" is to ensure that the farm product is produced without pesticides, or as by earth-friendly means as possible.  Essentially all of the above certifications have similar goals, though I believe "fair trade" is a little more concerned about wage fairness to the farmer than the environmental considerations.
The coffees: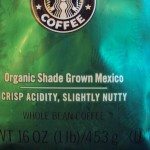 Organic Shade Grown Mexico – Starbucks – This is a single-origin coffee from the Chiapas region of Mexico.  Starbucks began working with Conservation International in 1998 to protect the El Triunfo Biosphere Reserve in Mexico, and out of that partnership was born this Organic Shade Grown Mexico coffee.  Guest reviewer Mike Crimmins previously reviewed this coffee here.  Look for the solid shiny green packaging in any Starbucks.  This coffee used to feature a light green package with a bird on it, and recently Starbucks changed it to just a plain solid green.  Personally, I like the picture of the pretty bird better, but fortunately, only the packaging has changed and the coffee is still every bit as wonderful as ever.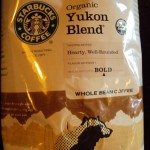 Organic Yukon Blend – Starbucks – This coffee is a blend and it is a dark roast, deep coffee.  Yukon had been a core coffee for many years at Starbucks and then was pulled off the whole bean menu in late 2008 or early 2009 (if memory serves me correctly).  In August 2009, Starbucks reintroduced this coffee as an "organic" coffee.  The My Starbucks Idea blog discusses the re-launch of this coffee here.  I'll be honest, I'm not even totally sure what this coffee is a blend of.  I think it's mostly Latin America beans with some beans from the Asia-Pacific growing region.  Starbucks calls this a "balanced" coffee.  Look for the familiar Yukon bear when searching for this coffee on your local Starbucks whole bean wall.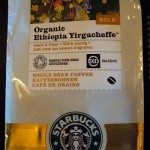 Organic Ethiopia Yirgacheffe – Starbucks – This coffee is available only in Europe, UK, Ireland, and Middle East Starbucks stores.  It is considered a "core" coffee for that region. On a few occasions, I have been able to get my hands on a bag of this coffee. Mostly I beg people to mail it to me!  I had one bag left and in all honesty, this coffee we cupped wasn't all that freshly-roasted considering it was mailed to me from afar, and sat in my hands for about a month, waiting for a special occasion (yes, I realize that's stupid to do with coffee – beans don't get fresher with age.)  When we were cupping this coffee, barista-Amanda picked out distinctive "pear" notes.  I still loved it even though it was slightly flat (due to being close to the expiration date).  I imagine if you're in Europe, this is a fabulous option. I too pick up the fruit notes in it.  It has a medium body to me.  Please note, this is NOT the same coffee as the "Sun Dried Yirgacheffe" offered in the United States off and on as a 'small batch Clover coffee'.  The organic Yirgacheffe is a washed coffee.  (This describes the method of removing the coffee cherry from the bean.  Washed beans are often not as heavy in body as the sun-dried coffees, and sometimes have a little more palate cleansing brightness).  It is roasted at the Amsterdam Starbucks roasting facility.  In all honesty, this was my favorite of the organic coffees cupped today.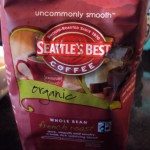 Organic French Roast – Seattle's Best Coffee – This coffee is a core coffee in the Seattle's Best whole bean coffee menu.  As with any "French roast" coffee the majority of the flavor comes from the roast profile and not the bean itself.  French roast coffees are always the darkest that Starbucks roasts their beans.  This coffee is no exception.  It might be a Seattle's Best Coffee, but it is a true dark roast, showcasing the flavor profile of dark, fully-roasted and caramelized coffee beans.  In all honesty, if I had to taste the Starbucks French Roast side by side with the Seattle's Best Coffee, I fear that my palate would not be able to tell any difference at all.  If you're looking for a true bold and organic coffee this is a GREAT option.  Hopefully my readers will be able to find it at their local grocery store, though I'm not sure if it is available there.
In a previous blog post I described the difference between a coffee "cupping" and a coffee "tasting" (two different things!) and in case some new readers are confused by my discussion of "cupping" coffees, here is the previous post (with some discussion of Arabian Mocha Sanani coffee):
Your introduction to a cupping: Arabian Mocha Sanani
And a big thank you to 15th Avenue Coffee and Tea for accommodating my request for an all organic coffee cupping day!
The three customers who joined in were fabulous sports about having photos taken and being featured in a blog. I could not have gotten luckier. Many thank yous to the three participants who joined in today's cupping event.  Here are a few pics from today:  (Now is your chance to talk about organic coffee, CAFE practices, or anything else Starbucks related).
Related posts