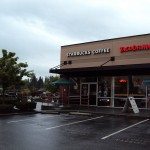 It's been a while since I have written a store review of a Starbucks, but with this blog entry I'll be reviewing the Starbucks at 200th North and Highway 99, right on the border between King and Snohomish County.  It is the "Aurora Village" Starbucks, near the Aurora Village Transit Center.  During this blog post I'll be mentioning my car now and then which might not make logical sense if you have not read "Episode 1" of the car story.  For the stolen car story, visit the blog post on Decaf Casi Cielo.
On Tuesday of this week, I received a phone call from the Seattle Police Department that my car had been located.  It had been dumped/dropped off in the Columbia City neighborhood of Seattle.  At the end of the day, my boyfriend drove me down to the location where we were told that we could find the car and pick it up.  At first, it looked drivable, but upon further inspection we discovered that the ignition had been jammed with something, the battery totally run dead, and the fuel line cut with a knife!  When I parked the car in Pioneer Square (the day it was stolen) it had a full tank of gas, and now it was close to empty.  All the contents of the car had been totally dumped out; they were gone, nowhere to be seen.  The car stereo had been ripped out also, and the carpets ripped out from the trunk too.  I had it towed to an Acura dealership in Lynnwood.  I want to make it clear this is an old car.  My car is seventeen but I'm the original owner.  Its reliability has been beyond belief phenomenal for me, and despite being old, it runs beautifully.  I refuse to buy a new car when I am able take a bus into downtown everyday, and I don't want to have a car payment – I can use that money at Starbucks!  So, I just drive my old, good-gas-mileage Acura Integra.
Acura of Lynnwood did a number of repairs to my car, some caused by the car thief, and some normal wear-and-tear due to the age of the car.  I got a call the car was ready and told them I would be able to come by Friday and pick it up (meaning, today, June 4, 2010).  From downtown, I hopped on a bus all the way up to Aurora Village Transit Center.  When I got there I had thought that I would be calling Acura of Lynnwood to come pick me up and take me the rest of the way, but due to the lateness of hour, and a very busy service department, I was never able to get someone from the dealership to come pick  me up.  When I got to the Aurora Village Transit Center the first thing I noticed is that there is a Starbucks only one very short block away, so of course, that's where I headed to wait for Acura of Lynnwood to come get me (as I had thought they would be picking me up).
I walked into the Aurora Village Starbucks and saw two black-apron baristas working. The store wasn't totally dead, but it definitely wasn't busy. It was just sort of a slow pace with a few people coming in and out.  I ordered the bold pick of the day (in a for-here cup), and a Strawberry Banana Vivanno with three pumps of dark cherry syrup.  I could not have asked for better luck:  Italian Roast was on the brew and ready to go.  So I got my beverages, sat down and tried feverishly to get through to a real person at Acura of Lynnwood.
I sat at the store for nearly a full hour, not really wanting to go back out in the rain, and wondering if I should just take a bus the rest of the way up to get my car, or call a cab, or something. I sat contemplating my options. As I sat, almost totally bored, I thought "there has got to be some way I can turn this experience into a blog post."  Hence, this blog post!  By the way, after sitting for quite a while, I went up to the register and asked for a refill of the Italian Roast and the barista happily obliged, and poured me another nice hot cup of Italian Roast, charging me the refill price, which of course was a card benefit.  The black-apron barista at the register was really pretty knowledgeable about card benefits and assured me, 'don't worry that'll come off when it is rung up.'  I got a little bag of Lucy's Cinnamon Thin cookies to use as dunkers into my Italian Roast.
While I was there I did visit the ladies' room, and saw that it was clean.  The famous "Juan Valdez," from StarbucksGossip.com fame, would have been glad to hear that there was no plunger in the restroom.  The store itself looked clean to me.  The only thing I wondered about as I sat for almost an hour was that I didn't ever see a barista come out and check the condiment bar the entire time I sat there.  I suppose it could've happened while I was in the restroom.  Though, it didn't seem too important because it didn't appear that customers were making a mess of it, and in fact, though there were customers coming and going while I was there, the condiment bar was never trashed or in poor condition.
Finally, after sitting a while, I decided to hop on another bus and head the rest of the way up to Acura of Lynnwood.  When I went back up to the register area, returning my for-here ware, one of the two baristas ("Ashley") smiled genuinely and practically invited me to come back again, asking me if I'd be back.  I answered "no" and then explained that the store was nice but that this just wasn't my neck of the woods.
I arrived at Acura of Lynnwood and picked up my car.  I have to say their level of customer service was on par with Starbucks at their very best.  I was blown away.  When I initially talked on the phone to the service person about the repair work to my car, I explained, "I have to have it detailed.  I know that's more, and all this is adding up, but it's been STOLEN, and someone strange has been driving it, and I don't know who, and it will only feel good again if it has been detailed.  It's like as if I have to get rid of car thief germies!".  The service repairman was extremely sympathetic to the fact that my car had been stolen, and  said, "We'll just throw in the detail."  I was totally touched by the gesture!  And then when I got there I explained about the mix up and needing a ride, and the clerk who rang me up for the repair bill was profusely apologetic, and wanting me to call the next day and complain when the right person was in.  Wow.  The customer service was amazing. They were so genuinely interested in making sure I was happy.  I thanked them twenty times over, and said that all was fine, and really I was already totally touched that they had added in the detailing service free of charge.
The funny thing about this whole story is that on Wednesday of this week I had run into a colleague and friend, curious about my car woes, and I told her the car was being fixed and where.  She started raving about how wonderful Acura of Lynnwood is, and coincidentally had just recently bought a car there, and was blown away by the fact that the salesman who sold her the car sent cookies to her afterward as a thank you for her business.  She said, "I would recommend Acura of Lynnwood to anyone."
My apologies for the long post that is half-way a story about a nice visit to the Aurora Village Starbucks, and half-way an Acura of Lynnwood story.  I promise my readers that in the future I'll stick more strictly to just writing about coffee and Starbucks!
As to the trip into the Aurora Village Starbucks, I'd rate it a B+.  The only reason I didn't give it an "A" was that I was puzzled not to see the condiment bar attended to during the hour I was in their store.  But the store was clean, the baristas were friendly and knowledgeable, the bathroom was clean, the coffee was fine, the Vivanno was delicious … I could not have asked for more!
Related posts