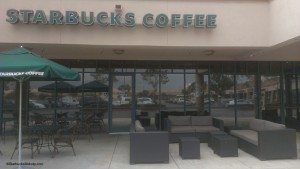 I dropped by the Clover – Reserve Starbucks in Fountain Valley (Orange County), California, on June 24, 2013.  What a gorgeous store!  I learned from the store manager, Christian, that the store went through a major remodel in February this year, and added the Clover at that time.  Store design put a lot of work into this major remodel!  Even the ceiling looks gorgeous – re-purposed antique tin was used, so I am told.  Just a comment on ceilings, I am glad to see Starbucks moving away from exposed pipes in ceilings.  I know that had its era, but I think a store looks more elegant with a thoughtful ceiling.
A barista named Anna made my beverage – a cup of Kati Kati from the Clover.  She took great care when making it, and told me that the amount of beans you measure out has to be perfect.  She reminded me that it's 40 grams of coffee beans for a tall – not 39 or 41, but 40 grams.  I loved her attentiveness to a perfect cup of coffee.
Overall, this truly was one of my favorite Starbucks visits on this trip.  Every single partner seemed excited to be there.  The store was huge, and lovely.  It was obvious that the partners had a lot of regulars who had enthusiasm for the store too.
This Starbucks  has comfy seating both inside and outside.  (You do not see cloth exterior seating in Seattle – I still marvel at that!)  I had wanted to get a good photo of all the leather seats, but they were consistently occupied by customers during my visit to this store, so I passed on a photo of them.  The store was indeed busy, and so I didn't get a photo of the community table either, but notice the iron steering wheel-type fixture that the community table is affixed to.  In fact, take a look at the leg stands for the tables – all look like great use of re-purposed materials!  Some of the table stands are sawed off lamp posts.  The base of the large community table is part of a train crank and railroad materials.
I have no doubt you'll have a fantastic experience at this store.  I have to give a quick shout out to partners Blythe, Anna, Julia, Patrick, and Christian, who all helped make my visit to this store perfect.
Here's the store's contact information:
Starbucks (Store #5969 – This store first opened brand new September 22, 2003)
Newhope & South Park
Costco Plaza
17850 Newhope Street
Fountain Valley, California 92708
714 979 5374
Related posts