Collecting Starbucks Cards and Howard Schultz's autograph
Melody, June 26, 2010
63
3 min

read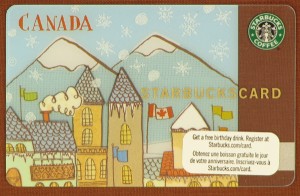 There are so many collectible Starbucks cards that it is time for a blog entry about them. I only wish I had been a little more aware of them before March of 2008.  At the 2008 annual Starbucks meeting of  Shareholders, Howard Schultz announced registered card benefits, and it was only then that I began to pay close attention to the myriad of Starbucks cards available in the stores.  On twitter and in pestering a few partners, I asked for help digging up Starbucks cards for this blog post. One partner in Canada sent me the Canadian card which I've featured for the icon for this blog post, which I hear was intended to celebrate the Olympics in Vancouver.
Other highly collectible cards that I've heard about, but do not have images for include the Paul McCartney, the Ichiro baseball, and the Ray Charles cards. Here at StarbucksMelody.com, I've talked about many cards and here is list of blog posts just featuring information on certain promotional or interesting cards:
List of previous StarbucksMelody.com blog posts on Starbucks cards:
And now for a few images (and if you look carefully, you can find Howard Schultz's autograph three times below, though on two of them it has nearly worn off.  In this blog entry, Howard Schultz's autograph appears four times in total: Three below, and the one beautifully framed Pike Place Card at the bottom of the blog post.):
Last but not least, this card displayed below is the "Pike Place store" card that one can only find at the store at 1912 Pike Place.  Below is one of several that Howard Schultz has signed for me, and I had it framed because it's a beautiful rare card, and a nice legible signature, signed by Mr. Schultz on July 24, 2009, while he was visiting 15th Avenue Coffee and Tea. Currently this framed card is hanging in my office.  The framing was provided by Seattle Custom Framing – They do absolutely beautiful work, so if you're in Seattle and need something framed, I recommend that you visit Seattle Custom Framing: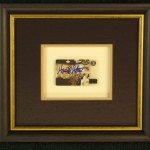 So what's your favorite Starbucks Card?
One more quick thing: Previously I wrote a blog post about Starbucks registered card benefits and four common pitfalls.  It is still a good read as a basic introduction to four areas of continual confusion about the registered card rewards. I recommend it highly:
The Starbucks Card now has its own twitter profile. If you use twitter, please follow @StarbucksCard.
Thank you to numerous friends on twitter who helped me gather a number of the cards shown above.  I had too much help to list every person.  And thanks again to Molly at Seattle Custom Framing – She helped with the photography (and the framed card) on this blog post.
One of the cards above came from an SSC partner (upon my specific request for help in obtaining a particular card), so to be on the safe-side in terms of "disclosure" I am adding to this blog article the disclosure "Starbucks has provided coffee or other promotional consideration" to this blog content.  I hardly count one gift card from Starbucks as "promotional consideration" but it did come pre-loaded with $5 on it, and it did add to the blog post, so I am "disclosing" it.  If Starbucks wants to do more for me, they certainly can. 😉
Related posts